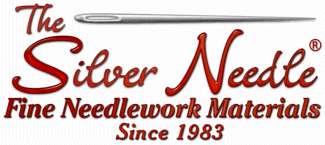 6068 S. Sheridan Rd. Tulsa, Ok. 74145 (918) 493-1136 (888) 543-7004
E-Mail



New

from Romy's Creations

The Seasons in Snowballs: Four little pics all nestled in snowglobe shapes... we think summer is really in a a seashell! Each of the 4 of these is stitched on any hand-dyed light blue fabric you like best... they measure 98 x 77, so will be 5-1/2 x 7 on 14/28ct. I didn't opt for the Romy hand-dyed thread packs... but I think some of the colors might be easy to match to your stash colors. Delightful scenes, each is offered in a separate chart. Please note: the 4 snowglobes really ARE the same dimensions; the pics we have are a bit distorted.
Christmas and Halloween Trains - A pair of fun little train cars... each chart has it's three train cars in the pack. Basically finished like pincushions, you could make these into solid little blocks as well - joining them with thread and adding the button wheels. Christmas features Santa as the engineer with Frosty in the caboose... their little train is full of presents. Wouldn't it be cute to make these boxes - with open tops? You could add a 'gift-car' for everyone in the family - stitch their names on each of the cars. Then attach the train, stick it on the kitchen table, and fill each persons little car with something special? Could even do it everyday in December! Halloween could be the same way - The Trick or Treat Train! Make eveybody in the family a car... I love that ghost driving it... and the silly skeleton too!

Christmas and Halloween Needlebook Sets
Another pair of cute designs... Measuring about 4 x 10 when opened, they'll be 4 x 5 when closed. Choose almost any fabric you like, and a little coordinating Weeks Dye works lining wools... these will stitch and finish in a jiff!


Vitamin Sea

from Romy's Creations
Here's a fun little piece to remind you of summer and sailing! By Romy's Creations, it's 100 x 100 in size - so 6 x 6-ish on 14ct.

Coded for Romy's hand-dyeds or regular DMC floss, it's just a happy design that'll be fun to stitch. Kind of fun to hang in the bathroom at your beach house! (Well, one can only dream!)


Home of the Free


Stitch this tiny street scene on Zweigart's 32ct Raw linen with white polka dots already printed on it. Colors used at DMC of 321, 3852, 312, white and 898.

Finishing just 4 x 8-1/2, she has red rik-rak on there that you could always run the other direction - and change the shape of your finished piece. Presented in a chart.





The Christmas Alphabet


from Romy's Creations - All the way from Italy!
The Christmas Alphabet - This is the first half of the alphabet stitched into pin cushions or ornaments - one for every letter. By Romy's Creations, they come two letters to a chart pack... and so far we have A through L! Super cute... you can peruse the set so far, and see of you want just some or all of them. Romy is from Austria... and she does her own line of hand-dyed flosses, so we'll have those available for this Christmas set for a limited time. The charts are coded for DMC as well. Each letter finishes about 3 x 3... and you should invest in about a half yard of fabric to make sure they match. We have an auto-ship for he remaining letters ... check out that option, too.


Cozy Winter Samplers

from Romy's Creations
A cute little puppy dog is stitching under her lamp, feet perched on a stool, with hot chocolate near-by. Not sure what makes it all so cute, but it is!

Presented in chart format, this is coded for DMC and finishes about 4-1/2 x 7 on 32ct Country Vintage Mocha linen.