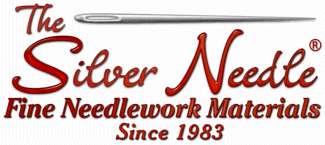 6068 S. Sheridan Rd. Tulsa, Ok. 74145 (918) 493-1136 (888) 543-7004
E-Mail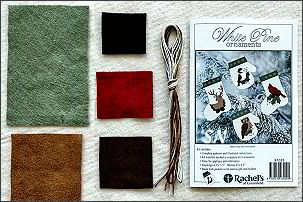 White Pine Felt Ornaments


Rachels of Greenfield has a new set of charming retro-flavored felt applique ornaments. We have several other fun sets, Gnomes and Forest Critters pictured here... and this set of birds and a deer join them. Offered as complete kits, you get the wool pieces and actual sized cutting templates for them to cut your individual pieces, and necessary flosses.

Follow the colored diagrams inside the kit for placement... each mitten or stocking ornament can be finished leaving the 'top' open to hold money or gift cards from Santa! Straight or Blanket Stitches - you decide - either way these are fun to make and make you feel good!





Christmas Gnome Felt Ornaments


We have a new set of 4 to 5 inch felt ornaments... little mittens and stockings decorated with Christmas Gnomes. Presented in full kit format of felt and threads, you get a full-sized color pic in the instructions of the design, full sized color templates (to help you cut from the correct felt piece), and assembly order and steps to create these little guys!

They are darling, and join our endearing collection of old-fashioned felt ornaments. You can finish them with the tops open... and then they will hold gift cards or candy from Santa!


Christmas Critters


The 2019 set Felt Embroidery Ornaments by Rachel's of Greenfield are here! This year's set features forest animals on small 'woolfelt' mittens and stockings. Each ornament measures about 3 x 4, and is done with small pieces of the felt that you buttonhole stitch together. The complete kit contains the actual sized cutting templates, cutting layout info, threads and embroidery instructions to make all 6 ornaments in the pic.

You can finish them as open mittens and stockings if you wish - that way Santa has more things to fill! We have lots of other cute ornaments sets available - make sure to check them out. Always favorites for an old-fashioned Christmas tree!





Merry Mugs


Rachels of Greenfield - (our little felt ornament kit lady) has a new set of 6 ornaments ready! Presented in complete kit format, each opens at the top for candy-cane or gift-card storage! A mug of steaming coffee, creamy hot chocolate or spicy tea... those treats warm your soul like these little guys can!

Kit includes the wool felt, floss, gold hanging strings, patterns and instructions to make the darling little blue, red, green, gold and white mugs! Easy stitching - no sequins!


Charcoal Mittens


Oh we love the felt ornament kits we carry by Rachel's of Greenfield! Primitive stitched felt ornaments... this is the 8th set that contains 6 designs... so there are TONS to choose from! Small 3 x 3-ish old-fashioned felt pieces, all you do is cut the shapes from the included wool, blanket stitch them together, and beautiful little creations are the result.

Remember the wool ornaments that used to hang on your family Christmas Tree? Here they are (minus the plastic sequins!) Gold string to hang them, full-sized cutting templates and all the correct sizes and colors of the wools, and flosses to add the small embroidery touches, these complete kits are good to go!

VERY cute, this new set features a charcoal gray background on mittens with red cuffs. They join *Warm Hands* (more mittens), *Warm Feet* -- which are mini-stockings, *Snow Folks* -- which are snowmen (even a snow kitty and a snow puppy!) and the set of gift bag ornaments!





Felt Christmas Ornaments and Mini-Gift Sacks!


Ornaments Galore! We have 6 new kits to make a total of 36 different mini stockings, mittens and gift bag ornaments! Something fun to hang on the tree, each and every one of these measures approx 2 x 3 when finished. Traditional designs in classic reds, greens, navy, black and white, each kit contains its templates and pattern shapes with cutting instructions for all the ornament pieces. They also include all the felt, threads, beads and button embellishments (if any are needed) and the gold cord hangers! You'll do simple Blanket Stitches and a couple of Straight Stitch Holly springs, and attach a few beads, but that's it!! REALLY CUTE, the snowmen wear a 'backpack' back pocket to store treasures! (Maybe for Christmas $$?) Very small and quick... these might be good for a scout troop project... they'd be so retro and fun as a large collection on a tree, cute package ties, you decide! Buy all 6 and get a discount!
Warm Hands is a set of mittens.
Warm Feet is the set of stockings.
Christmas Woolens is a mixture of mittens and stockings.
Mittens is a set that features only backstitch embroidery rather than blanket-stitched motifs.
The Gift Bags are a perfect size for gift cards.