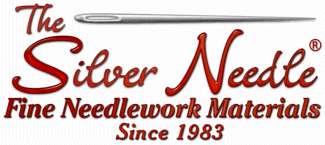 6068 S. Sheridan Rd. Tulsa, Ok. 74145 (918) 493-1136 (888) 543-7004
E-Mail
Holly Jolly Buffalo


This was Melody's annual ornament in the Just Cross Stitch Ornament Issue last year. He's perfect for anyone who loves 'where the buffalo roam!'

Stitched on white 14/28 (or anything else you like better), he finishes 3-1/2 inches. Presented as a single small card chart - the cover picture is nice enough to cut out and hang on the tree! (But stitch him instead!)





Sepia Celebrate America


Wow... what a fun cabin-in-the-woods to spend a week's vacation in!

Finishing about 7 x 9 on 14ct, it uses DMC floss. I can't believe that cat on the doorstep hasn't found a hole in the building somewhere to squeeze inside! Offered in chart format.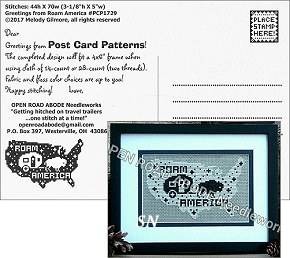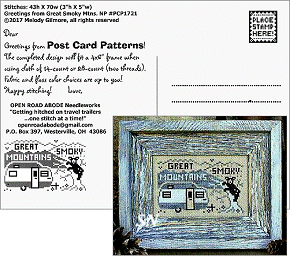 Cute 'Postcards' from your Travels!


Open Road Abode's cute little campers go all over the USA! What a fun reminder of the travels that lay ahead of us! This is a fun little collection of campers - all of them finish about 4 x 6 in size.

Stitch them in one color - or go through your stash and find some colors you like. They are meant to be cute and quick. Fun to frame with trip pictures, or hang 'em in your camper!

Open Road has a whole collection of National Parks and cute RV designs... you'll see 16 more like these on this page, some of which come 4 to the pack, and a few larger cabin designs as well. Here we have 7 offerings that are actually 'postcards' - small charts on postcard sized cardstock. Summer IS coming!





Memories of Camping


We have found a delightful set of 24 cute and easy designs all centered around camping, trailers and little *Canned Hams!* Tucked at the Cabin, Camping under the fireworks on the 4th, or Doing the National Parks, Open Road Abode Style. We have several chart options in this series of "Post Card Patterns."

Fun remembrances of summer and family vacations... with a 'retro flair!' All can be worked on any fabrics and although they all call for one color, you can choose another or use several. They are cute as can be!
Here we go... click the pics to see them all! Some are presented as individual charts, others are grouped together -- 4 designs in one set.

(NOTE: Not all of the charts are named(!) or numbered(!) so I had to kind of make up names to tell hem apart. Chart #1801 has a truck in it, but campers as well, so we chose the word TRUCK to identify it from the others.)


Campers -- Chart #1802 BISON
This one features a bison towing the little camper, Neighbors for a Night, your little camper beside the mountains and pines, and another little camper scene with another little flamingo in the yard! Again, all 3 x 5... see how the dark fabric reminds you of night time?
Campers -- Chart #1803 SEASONS
Here you go camping at Christmas, Halloween, over the 4th, and Valentine's Day! Camping is delightful all year long!!!
Campers -- Chart #1804 NATIONAL PARKS & MONUMENTS
Have you been to Badlands? Devils Tower is featured with a mean motorcycle and little bitty trailer!!! The Tetons and Yellowstone are in this one too.
New *Road Trips*


Melody Gilmore has a delightful collection of retro-flavored designs that feature Campers, RV's, the State Parks, all the things that just make you want to pack your bags and gas up the car! Summertime, here we come! Cute for the camper... or fun to remind you of all your favorite summer, fall and weekend adventures, make sure to see all her cute, super-simple fun designs on her page. Here are a couple of new ones we've added...
To and Fro - Stitched in a single color and garnished with buttons... this finishes 8-1/2 inches on 14/28ct. Might make a cute pillow for the camper especially if you have someone in the group that just HAS to stop at everything halfway cool... ALL the time!!!
Happy Horse Hauler - Now that's just cute... but I think the horse is happier OUT of the hauler! Just 4 x 7 on 14ct.




Bison & Moose Crossings


Well... these are CROSS STITCH Crossings!!! How fun to stitch one of these for your camper or cabin!

Both charts on the card, each measures 70 x 70 in stitch count and calls for black and yellow orange DMC.


Camper Sampler


What a cute Camper Sampler -- full of different styles of roaming homes! All the local animals in the camp grounds, lots of special names given to your adventure abodes!

This measures 12 x 9 on 14ct, and can be stitched with one color or any of your choice. So much fun to display in your Camper... it'll make you Camper-Sick if you hang it at home, and long for the call of the open road!!!


Camp We'll-Be-Gone


Oh gosh... don't you want to be here NOW? What a fun little piece to hang at your cabin in the woods!

Finishing approx 8-1/2 x 6-1/2 on 14ct, this one is charted for DMC floss but has some hand-dyed Weeks Dye works suggestions for the signs and areas that are supposed to be wood.You can personalize this with your cabin's name... just the neatest memories come to mind with this picture!


Safe in Tow


*No matter where I rest, no matter when I go, My travels are so blessed, for He keeps me safe in tow.* Measuring 9 x 7 on 14ct, stitch this on dark for a night time feel, or light color with dark lettering for daytime. (We had a station wagon like this when I learned to drive! I had to back that thing down a long driveway, and it was really cool when Dad bought one that finally had power steering!)

Anyway, back to business! A lovely sentiment that every traveler will appreciate! Presented as a chart, coded for DMC.