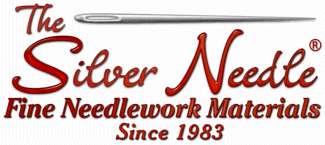 6068 S. Sheridan Rd. Tulsa, Ok. 74145 (918) 493-1136 (888) 543-7004
E-Mail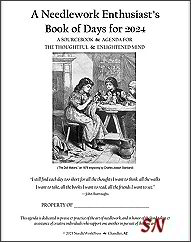 It's HERE!... The Needlework Enthusiast's Book of Days - 2024


*A Sourcebook and Agenda for The Thoughtful and Enlightened Mind*
This year's necessary stitching journal has been ordered and will be here in just a few weeks! By Needlework Press, this is a softcover full-double-page monthly calendar for 2024 - designed for us stitchers! Lots of space for notes, lists, comments and contacts, the idea is to use this as your GO-TO calendar for stitching projects, meetings, events, trips, shopping lists. Keep track of anything fun you want to remember about your needlework.

Vicki has included a pyn keep chart this year as a bonus as well. Super handy to have, she's decorated the inside pages with vintage needlework artwork, and given you lots of space for your special notes. She adds just for fun: This agenda is dedicated in praise and practice of the art of needlework, and in honor of the kind talent and assistance of creative individuals who support one another in pursuit of this fine art!


Be A Friend & Lilly Bates is My Name


A pair of charming designs are coming our way from the Spring Show.
Be a Friend - A Quaker-inspired piece, this shares the same color palette with 'In All Thing's and 'Be Kind to One Another.' The verse reads 'without a friend the world is but a wilderness.' Beautiful and balanced, I love eveything about this one, and check out that bottom box on the left - I see a little cushion out of that, and I see this whole thing as a stitching mat - leaving off the houses and baskets area. Presented as a leaflet.
Lilly Bates is My Name - Lilly Bates is a reproduction of an antique pin cushion. It measures about 3-1.2 inches in size, and features her name and date she stitched it on the reverse - which will now be YOUR information! Charming octagonal shape, even though this is dreary in color - you DO have the right to change it up a little if you have a favorite fabric or some yummy threads you're dying to use! Presented in a leaflet format with full-sized finishing templates and the chart for the fun back treatment.
Two New Designs

from Needlework Press
1889 Alphabets Vickie writes, "This long, narrow sampler lends itself to be wrapped around a large old spool or framed to be placed above a door." Whatever the choice, she hopes you'll enjoy the quirky alphabets - missing letters and all! She selected floss to match the original, but lets you know it's OK to change to your colors... and suggests a neutral hand-dyed linen so it looks aged and original. The stitch count for this is 436 x 40 - so it finishes a delightful 2 x 21 on 40ct.. or 2-1/2 x 27 on 32. But you can do it over one too... so find your spool and then choose fabric count!
A Tisket A Tasket - a Book of Stitched Baskets Just a few basket designs in this half-sized booklet - all taken from antique samplers. Different finishing ideas for each, a small publication by Needlework Press.




And Be Kind to One Another


This is a companion sampler to the Quaker-inspired horizontal sampler "In All Things Be Exceedingly Diligent." It uses the same color palette, so you can display them together. The model is stitched with Classic Colorworks overdyes, and DMC numbers are also provided.

Stitch count is 95 x 380. Design size is 5.5" x 21" stitched on 36ct.



In All Things Be Exceedingly Diligent


Here is a charming sampler by Needlework Press. It's long and thin, blocky and bold, and looks to be super easy to stitch. Stitched on 32ct Natural linen, it'll finish approx 25-1/2 x 6, and it'd make a really cool pillow on your couch!

Coded for DMC floss, just don't let any one SIT on this!!! The smaller take-out part of the design -- minus the alphabets finishes a mere 3 x 10! Presented as a leaflet.





Mary Ann Eynon 1858


A Recreation of a mid-19th century Woolwork sampler with traditional motifs and a charming scene... this was originally stitched on 21ct canvas with wool threads! This presentation by Needlework Press is stitched on Doubloon colored linen by Picture This Plus.

It is charted for silks or DMC... but you could search for some conversions to Gentle Art's Simply Wool, and see what you could find! Very pretty, lots of design irregularities, it finishes about 10 x 11 on 32ct.





Set Your Mind...


At Ease. Just something to stitch to match the 'flavor-of-the-day' right now!

Actually from an antique sampler, though! Finishes approx 6 x 6 on 36ct, coded for silks or DMC.





Spring Time


The fifth little clock design in NP's Time to Stitch Series! We have the 6-inch plastic fake alarm clock frames for these... Spring joins Christmas, Halloween, Sampler and Stitch Time designs!

Each finishes approx 3 x 3... so if you don't want a faux clock, make them into little pin cushions! We even have clock hands to attach if you want!


Sampler Time


Here's another alarm clock design to decorate your stitching area! Needlework Press has charts like this for Halloween, Christmas and regular stitching... this one celebrates Samplers. It is stitched over one on 28 or 30ct linen and fits into an empty casing of a fake alarm clock!

Cute as can be, you COULD find a real clock to frame this into.. but the fake ones are cute too. The hands are stitched... we also have some clock hands embellishments, black on front and white on back -- $4 a set!


Christmas Time!


Needlework Press has a third clock design -- this is a fun piece stitched with Weeks Dye Works flosses or DMC on Weeks 30ct Aztec Red Linen.

It fits that fake alarm clock frame it's shown here -- the little clock is actually a few inches deep and sits on the shelf like a real clock!
So... get the clock frame, and then stitch *Time to Stitch* and *Halloween Time!*... and change them out in the frame.


Halloween Time


Needlework Press's second design in their Time to Stitch series, this mini clock is stitched on Weeks Dye Works 30ct Grasshopper linen over one thread. It'd be cute just as a round pin cushion, but what makes it so charming is the fake clock frame it is mounted in!

A real-live 5 x 7 x 3 empty, old fashioned alarm clock (that is hollow inside -- so a fake!)... you mount the needlework inside of it -- too cute! Presented as a single card chart, the clock is offered separately -- cool to display other trinkets inside that cavity, as well!


Time to Stitch


Oh wow... we ALL need this pattern!!! Choose a favorite color of thread -- and decide how big you want this to be. The chart suggests 28ct to fit into the top of either an 8 x 8 or 6 x 6 Lone Elm Lane Shaker Box. They have used Lady Dot Creates hand-dyed cotton chenille for the edging to trim and cover any edging issues.

NOW... THINK! Choose a bitty fabric, and go over one if you want -- stitch count for this is 90 stitches -- make pin cushions!!! You can either fit this into a Lone Elm smaller cushion base --or just finish this into a round stuffed cushion! It's the sweetest thing! A button box would be neat, but so would a pin cushion! We have TONS of options for you! Presented as a chart.


Stars & Stripes - Lucy Moore - 1865


Oh, wow... this is an awesome sampler that has survived from 1865. Re-charted by Needlework Press, there is LOTS of history in here about the stitcher, her life and family, and the times she lived in. It finishes approx 25 inches wide by 8 inches high on Week's 30ct Straw Linen. It features alphabets of Algerian Eyelets, one-over-one and Four-Sided stitches.

All the names you see are real ones... but, for heavens sake... DON'T FEEL BAD CHANGING THEM TO YOUR OWN FAMILY NAMES! It's great to feature other people on your walls... very noble and historic... but nobody in your family knew them... and it's OK to make it your own!!! So... think about adding *Family Established* and names and dates or something like that. The sampler is neat.. cool shape, awesome story behind it... presented as a leaflet with great pic of the finished piece!