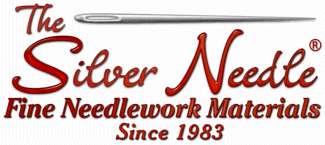 6068 S. Sheridan Rd. Tulsa, Ok. 74145 (918) 493-1136 (888) 543-7004
E-Mail

A beautifully sophisticated selection of county primitives, by artist Shawn Williams, these are worth a second look... and definitely deserve your needle's attention! Over-the-top luscious DMC flosses (NOT funky overdyeds that are hard to find!) are used to create her bold and classic designs! She includes a HUGE piece of pre-stamped weaver's cloth so you can fit these in a large hoop or frame easily, and stamping are clear and dark.

I think Threads That Bind is the best Punch Needle Artist in the industry... our shop models are ALWAYS showstoppers, and she commands that attention with good 'ol DMC!!!



Spooktacular Night


Just a bitty Punch needle design - 5 x 5 in size. This would be a nice and easy one to begin with, because it's not too involved.

Lots of curves that follow each other, and lots of 'solid' spaces.





Jack & The Boys


What a fun fall design... this Wool Applique design finishes approx 14 x 22 in size.

The pattern is a FULL-SIZED line drawing... you just add pretty bits of wools from your stash - or our lovely selections! Cut out the pieces, tack them on the base wool, zip-zap - you're done!





Three New Punch Needle Designs


Punch Needle is totally different than Cross Stitch... it produces pieces that look like miniature hooked rugs. We have an in-shop demo gal, but U-Tube can also offer good instruction for this. Designs are printed as line drawing on Weaver's cloth -- a muslin that has synthetic in it for strength. You need a super-tight-holding hoop (which we have) and the special needles (which we also have), and all you do is poke the needle up and down into your fabric to make the bitty loops of thread.

Threads That Bind has tons of charming designs... these are three of her newest! Stage Fright finishes approx 5-1/2 x 5-1/2, Joyous Offering is 5-1/4 x 5-3/4, and Bee Grateful is 6 x 9.





Fun New Offerings

from Threads That Bind
Shawn does the BEST Punch Needle designs... and here are three of her newest!!! Always very clearly printed on khaki Weaver's cloth, you are provided with a HUGE cut (like 14 x 16) of fabric -- because Shawn likes to use Morgan Stands and wants your entire working design to be visible in the frame. Not too involved or intricate, you are punching with NORMAL DMC floss -- so leave the expensive overdyeds for other projects! You get all the hand-dyed look just by changing DMC colors.
Glory Bee finishes approx 5 x 5-3/4, and is worked with 3 strands. I love the golden colors in the hive -- 3828 and outlines of 869.
Next comes Spring Break Out -- I love this one! Finishing into a 5-1/2 x 8-12 oval, this one is done with 6 strands. You'd think it was too coarse, but this one is STUNNING!
Finally, American Roots -- a cute house-on-the-hill scene, I love the Penny Rug detail down in the yard. Punched with three strands, you can see lots of color movement in this one -- that is simply alternating colors of DMC in your needle as you change threads! This one finishes 5 x 5-3/4.
Beautifully presented patterns of line drawing printed on fabric... if you like Punch Needle, or thinking about trying it... Threads That Bind continues to be our best selling line of designs!


Garden Tour


Luscious colors of goldens and mosses in the center garden and all different sheep colors -- 739, 822, 3024 and 3866 -- you could even punch a dark gray one!!!

This finishes 10-1/4 x 6 and is drawn on a huge 18 x 20 cut of weavers cloth. Uses a 6-stand needle.


Spring Preserves


I love the stylized flowers in that little crock! Uses a 3-strand needle, DMC 3371 background sets off the 552, 3041 and 3834 purple and orange flowers, this finishes 6 x 6.

The weaver's cloth cut is 14 x 16, with design printed on it, ready to go!


Fresh Eggs


How cute for a kitchen??! The background of this is worked with Week's Swamp Water, and the pig is Peach, but the rest is a medley of DMC. The chickens are a tweed of 3033 and 611. Very cute and *fresh!*

Finishes 4-1/2 inches square and is punched with the #3 needle -- which is #1 on the Cameo.


Fall Festival


Oh Gosh... this is SO COOL! It is finished as a 3-dimensional pumpkin to possibly use as a door hanger. Our model is backed with hand-dyed wool, and we have an oasis inside to hold the dried twigs and leaves.

The pumpkin finishes 4-3/4 x 5-1/2 -- using your 6-strand needle. This one has some variation on pile depth, too!


Pumpkin Hallow


How cute... the 'yard' is actually a pumpkin top, and the 'laundry on the line' are really little ghosts! The tree in the yard is really the pumpkin stem with only a single leaf! I don't know if the ghosts have thier mouths open howling... or if those are black ties. But gosh, this is imaginative!

Punched with a #3 needle, this finishes 5-1/2 x 6 and is presented on a 14 x 16 cut of weavers cloth.


Yuletide Trimmings


What a gorgeous little rug! Presented on a huge 18 x 20 cut of Khaki Weavers cloth, this is punched entirely in DMC floss using a 6-strand needle, or #2 setting on the Cameo.

Finishing into x 9 x 6 oval, frame it or leave it sit on a small table... threaten anyone who dares to set a cup of coffee on it!!!


Winter Festival


Here's a companion to Fall Festival! Another little 3-D door hanger, again, we have the wool backing and raised pile for the nose.

This is a SUPER GOOD beginning piece to do... you can see the easy shapes and even follow the contour of the punching path! Love this one... it finishes 4-1/4 x 5-1/2!!!


Reindeer Cheer


How stinking cute? Finishing 3 x 6, it's just pretty straightforward and fun. Choose any browns from your stash, or follow her suggestions -- just get that second nose from the left to be a brighter nose than the others!

Punched with the #1 Ultra Punch Cameo Needle -- or your #3 Strand.


Snow Drifters


How stinking cute? Finishing 3 x 6, it's just pretty straightforward and fun. Choose any browns from your stash, or follow her suggestions -- just get that second nose from the left to be a brighter nose than the others!

Punched with the #1 Ultra Punch Cameo Needle -- or your #3 Strand.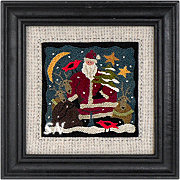 Santa's Helpers


Quite the fat fellow, surrounded with his brown sack, some reindeer, his cute little snowy tree, and the birds, this is a busy scene.

Punched with 3 strands, it finishes almost 6 x 6.


Reindeer Route


Oh, we like this one! We like that hill, and the houses and trees cascading right along it. It's light and colorful -- the sky is a mixture of 522 and 524.

Again, all DMC flosses, 3-strand needle, this finishes 5 x 5.


Up On The Housetop


Well, I'd say so! This addresses that age-old question about Santa fitting down the chimney!!! The sky is a wintery 648 gray, his suit is 816 and the happy little house is 3768! Don't you love Santa's skinny little legs?

Finishes 4 x 7 using a #3 Needle -- or the #1 on your Untra Punch Cameo.


Wacky Willy


Quite an unusual snowman, that is his charm. He could be a little less 'Christmassy' if you change the color of his stocking hat -- just an idea.

He is punched with a #3 needle and finishes 3 x 5.


Bless This House


11 x 6-1/2, The sunflowers in this are bright and bold, lots of browns and dark greens... very funky and fresh!


Grandma's House


A neatly-kept house, lavish garden and lots of birds... the flag is a little saggy, but Grandma has been busy tending to that property!!! Finishing 4 x 8.


Grand Champion


Well... sheep are always a favorite in the Punch Needle World, and this one will be no exception! 5 x 7, the checkerboard background is 371 and 422.

Sheep is a medly of 310, 844, and 645. Isn't he awesome???


Hilda


Is she over-the-top, or what???

Hilda punches approx 5-1/2 inches square, and features a row of light-colored punches all around to highlight her!

Remember, the roiling background is simply different colors of DMC!





Trick or Treat


I LOVE this green cyclops spider... he's leaving the web, complete with his Jack-O-Lantern Trick or Treat pail... to get the goods!!! How Charming!!!

He measures approx 5-1/2 inches square, and is punched in DMC #580 green! Talk about personality!


Flourishing Bounty


Stylized flowers -- very funky and young! Using regular DMC flosses, the green leaves look different because you alternate using #730 and 731 in your needle!

Finishes approx 2-3/4 x 5-3/4.


In The Pasture


Threads That Bind has released 4 new punch needle designs that are awesome! In The Pasture is just one... and definitely my personal favorite! It's a round piece that finishes approx 10 inches in diameter -- quite large compared to most PN pieces -- and is punched in DMC flosses, not overdyeds! Eight sheep surround the wildflowers in the pasture. So full of color and charm!

Pre-stamped onto an 18 x 20 piece of weaver's cloth, this is punched with a larger needle, and uses all six strands of floss at once! Check out the other three new pieces, as well!


Frosty Flakes


Well, here's a little guy that we refuse to believe is made from old snow! He's not quite the whitest of snowmen.. but he is so cool (pardon the pun) anyway!!! Punched with a background of Bayberry Sampler Threads and a body of Wood Smoke... the colors make it look like dusk.

After the punching is done, the pattern calls for Mill Hill frosted white glass beads, which are sewn on in a random pattern. It's amazing how those tiny beads catch the light, and look like wet snowflakes against the evening sky! Offered as the outline prestamped onto the weavers cloth, this finishes approx 4-1/2 inches square.


Pumpkin Pie


I guess this little crow is "bringin' home the bacon" for his Thanksgiving pie!!! Classic checkerboard border... this finishes apprx 4-1/2 x 10. The included chunk of Weaver's is a whopping 18 x 20!

Background is punched in 830, 831 and 832... she tells you not to even mix it in the needle... just punch with a length, then change colors here and there.


Prize Pumpkin


A luscious punched penny rug by Threads That Bind... our charming little piece is worked entirely in DMC flosses, and finished with a Weeks Wool piped edge, and wool backing. One of Shawn's two newest releases, this comes with the line drawing already stamped onto your weaver's cloth. The little rug finishes a generous 6 x 8-1/2, and is FULL of awesome fall color.

Rich greens, cinnamons and rusts, she's used some teals, burnt reds... everything just blends so beautifully... the shop model is a SHOWSTOPPER! Threads That bind is one of our favorite punch needle designers. She has great color sense, and designs with a classy and contemporary flair!


Sunday Social



Another exquisite 11 x 3 design, punch the flock of sheep in Harvest Basket, Shaker White, Flax, Parchment, then pick something for that darker little guy! Flowers are Gingersnap and Mulberry colors!


Billowing Blooms


A commanding basket of stylized flowers measuring an impressive 11 x 3, this would be stunning as a cube-shaped stand-up on a bookshelf, or framed in an elaborate antique frame!

(You'll need a larger hoop for this one.)


Shepard's Shade


Finishes approx 6 x 12, DMC flosses, lots of gray, and sage green, it's bordered by a band of burgundy that really sets off the colors!

The design comes stamped onto weaver's cloth. She gives you a huge 18 x 20 PIECE, so that you can get the entire design into your hoop or frame all at once. Actually quite a simple design to punch, this one lets the DMC flosses do the work of the color changes... simply thread the needle with a new color in the background and grass.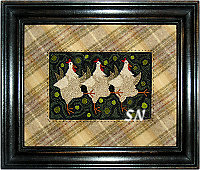 The Drumstick Dancers


4 x 7, The background on this is a mixture in your needle of 310 black and 934 dark green.

Chartreuse spots in the background, soft tan for the hens... pretty darn classy for a chicken-kitchen!!!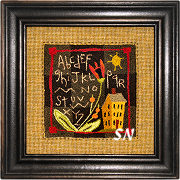 Chalkboard Lesson


A smart alphabet is punched amidst a checkerboard chalkboard! Super-hard to see in the pic, but the background is a checkerboard of DMC 3021 and 3371. The house and flower seem to sprout in an instant... bursts of color against the dark background. Very striking, this is a very pretty piece!

Finishes approx 5 x 5 on the weaver's cloth, the piece is then 'matted' with a piece of Weeks Dye Works hand-dyed houndstooth wool.


Queen Anne Sampler


A stylized floral basket, complete with blocked alphabet... Persimmon seems to be the up-and-coming design color these days in home decor... Apple Cider and Brandy are the featured background and the persimmon colored flowers. They sound elegant... but then add Tin Bucket for the urn!

(I love the names of the overdyeds... the pattern name is graceful, the colors sound wonderful...then you get 'Tin Bucket!' Actually, it's a wonderful color, too... the names just bring tease your mind!!!) Queen Anne Sampler measures approx 6 x 6... sophisticated/primitive.


Checkered Bouquet


Another floral urn with an ATTITUDE! This piece is done in regular DMC flosses - something we don't see too much of in the Punch Needle World.

Finishing approx 6 x 6, there are different pile depths in this one... really adding to texture and excitement!


My World


This is a really cool punch needle piece that we have had in the shop this Fall... but I've somehow missed showing you on-line!!! One of my personal favorites... it is a round scene of a village in the four seasons! By Threads That Bind, it punches into a 6-inch round little rug, that we have perched on top of a painted shaker box.

Look closely... you see the city in the Fall, farmyard in the Spring, seashore in the Summer, and mountains in the Winter. Lots of fun detail and pretty colors, this design is so unique and really charming! Offered as the design stamped onto khaki-colored weaver's cloth, you supply your punch needles and floss.


Night Watch


I think this scarecrow is dressed in PJ's! Great color -- all punched with the #3 needle in Sampler Threads, this little guy finishes approx 5 x 5. Offered as the design stamped on weavers cloth, this is very classy!