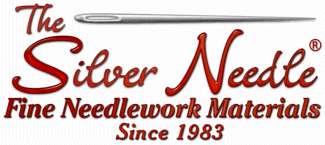 6068 S. Sheridan Rd. Tulsa, Ok. 74145 (918) 493-1136 (888) 543-7004
E-Mail

Presenting a tantalizing collection of Samplers by Heart's Ease Examplar Workes!
Needle Artist Theresa Baird has been designing spectacular samplers and sewing baskets sets for a number of years, but finally exhibited at Market this Spring! We have so many lovely things from her - all offered in chart format. She lives in Delaware, so a lot of her designs feature motifs and the history of her area.

I cannot begin to describe these designs in detail to you... they are all exquisite... and I hope you can see that from the pics! Everything is coded for silks, DMC or hand-dyed flosses, so you have quite a few thread choices, and of course fabric choices as well! The instructions are EXTENSIVE - with MULTIPLE pictures of the actual stitched pieces inside, as well at lay-out design. Just gorgeous things...




Antrim's Folly


This has been one of Theresa Baird's exclusive class pieces that is now available in chart format. Just a gorgeous piece, Theresa's inspiration came from a Betty Ring sampler that sold at a Sotheby's auction for over a million dollars in 2012.

She was enchanted by the mansion with the cedar trees, the barnyard with the animals, the young lady sitting straight and proud atop a horse, the farmhouse on the hill, and the flanking baskets of fruits and flowers.

It measures 257 x 355, and is worked in silks. The chart is 38 pages... it is full of stitch diagram detail, and actual close-up pics of some areas. Not for the faint of stitcher - not the quickest stitch either! Just an EXQUISITE needlework design to tantalize the brave!


Cottage by the Sea Sampler finishes approx 19 inches square on 36ct. But oh, to live in a rose covered cottage on a hill overlooking the sea, Where I'd patiently watch the tall ships sailing by 'till my love returns safely to me Such a charming scene...!
Cottage by the Sea Sewing Set This little sewing set of smalls that companions it is delightful! It needs a 1/2 yard cut of linen, and features a Huswif that opens to reveal a petite scissor sheath with fob, needle book and pin cushion, a stacking set of 3 pin cushions, a thread/tool case; a ruler and a scissor sheath that holds a 3-1/2 embroidery scissors with fob. There are a few specialty stitches in all of this - but all are diagrammed in the 42 pages of instructions!
A Delaware Inspiration finishes approx 13 x 18 on 36ct. Silks or DMC, tons of special stitches featured in the sampler... this is a neat remembrance piece! This work I leave to those I love, when I have flown to worlds above, Where all my sorrows will be o'er, Where loved ones meet to part no more.



Mayflower Rose Ornament


Only 8 shades in the sewing set - Belle Soie of Old Crow, Chester's Blue, Oatmeal Scone, Creme de Menthe, Sister Scarlet, Her Crowne, Rosebud and Pecan Pie! The set of smalls includes sheaths, biscornus, needle books, fobs, a mattress cushion, ruler... all kinds of tiny treasures that are all stitched on both sides!

The ornament that is the rounded shape is a separate design - offered separately - but it goes with the smalls set.





Fraktur Huswife and Sewing Set


A 2-part (2 chart design) the Huswif is the rolled long case with charming stitching all over it!

Like the matching smalls, there's just way too much in here for me to even TRY to describe!!! Pages and pages of instructions and pictures... you have to be a READER to digest all of this, but these are just lovely!!!
Float your mouse over the images above so you can tell which is which.





Stone House on the Brandywine, Queen City Sampler and A Maryland Inspiration


Oh my gosh, a trio of samplers that might take a lifetime to stitch.. or not! Each of these features local history in it's design... all are coded for silks or DMC, and they all feature special stitches. You can't go wrong with any of them... just pick one you like best and GO FOR IT!
Stone House finishes about 16-1/2 x 25 on 36.
Queen City is about 19-1/2 x 21-1/2 on 36.
Maryland is 21 inches square on 36.
LOTS of stitches in these beauties -- but so worth your time!





Mary Sophia's Pennsylvania German Sewing Set


Another crazy-gorgeous sewing set full of a million tiny pieces all garnished with teeny-weeny quilt motifs! Everything is two-sided, everything is covered with tiny stitches that all coordinate.

The colored lay-out sheet shows 23 different pieces, and there are pictures of the finished pieces included with the instructions. A little overwhelming for me... I know some of you will LOVE these and actually finish them beautifully!