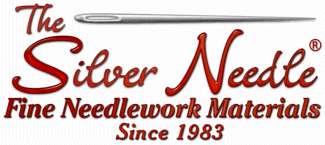 Counting Puddles
6068 S. Sheridan Rd. Tulsa, Ok. 74145 (918) 493-1136 (888) 543-7004
E-Mail
Several New Designs Coming From New Designer -- Counting Puddles!
Santa's Moonlight Ride - Grab some darker navy fabric - something you can see on - to create your night sky. There is a lot of stitching on here... but it's Santa, so he's worth it! Measuring 154 x 186 - on 14/28ct this will be 11 x 13. The larger fabric is fine to work this on - it's definitely going to be an annual family favorite - so if your eyes need Aida - GO FOR IT! Coded for DMC, we think it's delightful!
Spooktacular Party - Another fun Holiday piece n a dark background... gunmetal is called for - much easier to see than black! Lots of bright DMC color, lots of geometric patterns in everything - this measures 10 x 13 on 28/14.
Squirrel's and Rabbit's Bright White Winter Night Ornaments - Two different charts, these are done on Blue Spruce linen with DMC. On 28ct - 4 x 4, on 32 a bit smaller. They're pretty cute in their matching sweaters!
Sweet Summertime - Changing seasons to NOW, this looks cool, refreshing and delicious! LOVE all the patterns imbeded in the cantelope, lemonade and watermelon. What a a pretty way to give them depth and add lots of charm and happiness to this piece! Measuring 112 x 137, stitched with DMC this will finish approx 7 x 8-1/2 if you use 32ct. LOTS of stitches in here, but I love the colors!