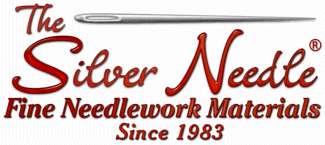 6068 S. Sheridan Rd. Tulsa, Ok. 74145 (918) 493-1136 (888) 543-7004
E-Mail
Cabbage Rose Seaside Manor


By The Bay has a new design - a peaceful house-on-a-hill beside the sea! Donna has embellished her design with a lavish blue tree blooming with huge Cabbage Roses. Quite a different take on greenery... it's just a pleasing tiny scene!

Finishes approx 7-1/2 x 5, it's coded for DMC and Weeks flosses.
Donna has included one of her new Design Cards in here along with the plastic storage/display case!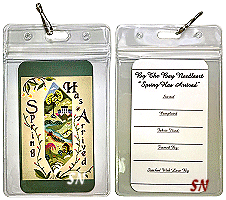 Two More Stitching Treats
A Homestead Welcome - A single design - just in case you don't want to commit to a 12-part thing! This is a prefect welcoming homestead - just like the title implies. Finishing approx 7 x 9 on 14/28ct, the border is pretty. But cover it with your hands... this takes on a whole different feel. You could even cut off the welcome cloud and the top layer of the tree... either way, very pretty. Coded for DMC, would be pretty on a hand-dyed light blue background fabric.
Spring Has Arrived This new design is a take-out panel from a previous work and is just cheerful! Coded for DMC, it finishes about 9 x 12 on 32ct - but much smaller if you leave off the words. Something new she is adding: Design Cards! Included with this chart is a small card with the project pic on the front and lots of room on the back for your notes. There is a clear plastic protective case this first time around (available separately for other projects!) that you can clip onto your project bag so you know what's inside, or clip to your thread ring to help identify which project they are for.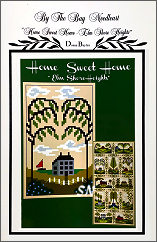 Presenting Home Sweet Home - Now Completed!
Donna Bayliss is beginning a new mega-piece - this one features 12 different *home scenes,* one chart releasing each month till next November. The small parts measure only 42 x 70 each, but together, the entire piece will measure 168 x 336. You can choose whatever fabric you wish... on 32ct, it'll all finish 10 x 21 - so not really so overpowering and 'mega' at all! Donna always has neat trees. Look at this... every month's house has different landscaping...but they all go together with her willowy-billowy trees!

Coded for DMC, the entire 'threads needed' and layout info is included in the first chart... and all charts (during the stitch-along-year) will run $7.00 each. (Next year, when they are all released and the is finished, they'll all go up to $9 individually.) Charts are not sold 'single-y' this first year, which means if you want to pick and choose your favorite houses... either register to get the whole set and skip some, or wait till next year to get single charts (at the higher price.) Just so pretty... we're taking Sign-Ups now to begin shipping the day ours arrive to us! Maybe wait until your first chart comes to decide fabric color and count?






I am a Needlesmith Pin


By The Bay has printed her artwork in miniature and made it into a wearable pin.

Measuring just 1-3/4 x 2-3/4 in size, it'd be neat inside a needle or sewing case or pinned to the outside of your stitching bag. Kind of fun as a decoration for a stitching placemat as well. Just a fun little-something.





New England Winter


By the Bay has a charming winter scene which we love... just as long as it's in New England and NOT in Oklahoma! We're finished with our cold and snowy weather... and are happy to send it all along to New England - they do a better job with it than we do!

This pretty piece is stitched on a medium blue fabric - so the snow shows up, and everything looks frosty, cold and kind of bleak! The snowbanks are pretty, the stone wall, little snowman and frosty aqua sea all look inviting. This was originally published in 2010... and it still draws your eye and makes you feel good! Presented as a chart, it measures 7 x 9 on 28ct.





Mountain View Bay


Harbor Haven and Serenity Harbor IN MINIATURE! (well almost!) By the Bay's Donna Bayliss has released this fun piece that measures a mere 9 x 7 in size. It has her same design flavor and personality as the huge Serenity Harbor and Harbor Haven patterns we have... without the other 11 patterns and lifetime-stitching-committment.

Worked on 28ct Star Sapphire linen, don't you just want to LIVE in this picture? Coded for 24 shades of DMC, it's delightful, and offered as a single chart!







Serenity Harbor - The Complete Piece


This charming scene was designed in 2014. Just as Harbor Haven, it was designed as a 12-part stitch-along thing. We have everything together now in one set... so you're good to go.

TONS of information inside about thread colors, fabric choices, but basically, the entire stitch count is 171 x 557 - so a commanding 6 x 20 on 14/28ct. Lots of stitches, this is so pretty when it's finished... several of our ladies have stitched it!








Harbor Haven - The Complete Village


Donna Bayliss' 12-part Harbor Haven is FINISHED - and we have all the parts! Stitch just one or two sections - joined or singly for a bitty village - or do the whole thing, it's charming! Finishing 5 x 42 on 32ct, changing fabric size will really give you finished size options. The single scenes are only 3-1/2 x 5.

Charted for DMC floss, there are no special stitches in here... but she says you can add anything you want... and sub hand-dyeds if you have something you want to use.





Stitch an Inch Garden


This is a fun collection of 24 different flowers that are all 28 x 28 stitches each. Donna presented them in 6 color families - 1 color set of 4 flowers each month. She has all sorts of borders in the charts, so you can stitch flowers individually or grouped just about anyway you want!

That big box of the 24 shows everything in the set, but you can arrange THAT piece any way you wish as well! A little confusing because there are so many options... but basically you are getting 24 different-but-coordinating flowers... all an inch or two in size... in a rainbow of colors! This series began in January of 2019 and finished in June of 2019.