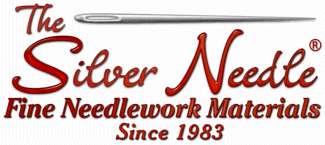 ArtMishka - Cross Stitch Patterns by Anna Gutova
6068 S. Sheridan Rd. Tulsa, Ok. 74145 (918) 493-1136 (888) 543-7004
E-Mail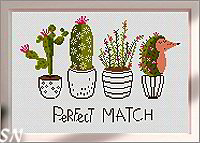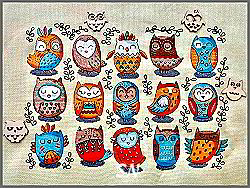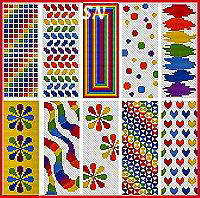 Perfect match, Everyone Needs an Owl, Cats and the Sea, 10 Rainbow Bookmarks


We have 18 new Charts in the Shop by Artmishka Designs of Italy! I couldn't put them all here... so how about 4 as a preview? Scroll down for the rest! All are presented as charts with a big, clear colorful pic on the chart front, and very clear multiple pages of the charts inside. All coded for DMC.
Perfect Match - Isn't this little guy the cutest? He knows he fits right in! Approx 11 x 7 on 14/28, coded for DMC. You could even leave off the words and you'd know what it 'says!'
Cats and a Sea - Love that water of hearts! A pair of kitties reflecting on life and love... this measures approx 8-1/2 inches square (round!) on 16/32 ct. DMC.
Everyone Needs an Owl - What a darling collection of little birds! Someone for everyone! Each owl measures about 40 x 50 in stitch count - so only about 2-1/2 x 3 on 16/32ct. Perfect for individual stand-up blocks or little individual cushions... you can even arrange these into a long row or tall skinny piece! DMC, choose your favorites or stitch them all!
10 Rainbow Bookmarks - Don't stitch these to hide in a book... forget the bookmark idea and make these into larger pieces - make pillows, or basket bandings, or little cushions... anything! Do 20ct over 2 with metallics... do 28ct over one. What I like about it is the fact that you get 10 super-colorful repeating patterns to stitch over and over again to make anything! DMC.

Are you a traveler? We love this little set of designs! Whimsical, and small enough to finish to remember our travels! Each finishes somewhere in the neighborhood of 4 x 5 or 6. Coded for regular DMC.

These might be fun as the cover on a photo album, or inside the second panel of a frame. Add to a collage with your trip pics... or you could make a travel cube - an open-topped box with stitching on the sides to hold pics! I've visited all these places... we loved saying 'Chicken Pizza' climbing that pyramid (years ago when they were still letting tourists climb it!)


Here are another 4 that are just happy and full of love.
Bear in Love is shown on several different colored backgrounds; he finishes approx 3-1/2 x 8 on 14/28ct.
Bunny Rabbit and Balloons - Stitch this little guy and change his jacket and balloon colors to match your room. I just love him, and he'd make a darling birth announcement! Finishes approx 9 x 10 on 14ct - lots of empty space there for personalization.
The Spirit of Nature - How can one not love this? SO MANY occasions to stitch this for! Fabric is a light blue - we have TONS of great sky-hand-dyed options for this! Finishes approx 4 x 5 on 32ct.
Bouquet of Flowers - Another small and cheerful design - stitch someone some pretty flowers and personalize your message to make it last forever! This measures 6 x 6 on 14ct.
Animal Alphabet - A darling collection of whimsical little animals all dressed up for rainy weather - or sunny ice-cream weather. Cute as can be, the whole thing finishes about 11 x 17, but each animal is only about 25 x 35 - so they'd make darling stuffed toys or little stand-ups! You could have your grandkids choose their favorite animals and make a bedroom sign for them!
Cactus Cowboy - Isn't this the cutest!? We think he might be able to double as a pickle - all except for his little prickles. The ladybug 'horse' is kind of fun, too. Finishes about 6 x 6 on 14/28ct.
Door - I love this one! A lovely European doorway... what gorgeous courtyard is behind this door? Finishes 7-1/2 x 11-1/2 on 14/28.
Daisy - A delightfully delicate and relaxed floral, this measures 3 x 6 on 32ct. Just sweet!
Christmas Cards - A set of 9 designs, these all measure about 70 x 70 in stitch count - so finish approx 4-1/2 inches on 32ct. You could make a set of pin cushions. These might be a little large for individual ornaments - unless you did them over one on 28ct Lugana or something like that.
Sampler Saint Patrick's Day - Here's a medley of St Pat's designs... multiple sizes, lots of color. See what your stitching-time budget is, and maybe do that pot of gold for this year, and the rest for next?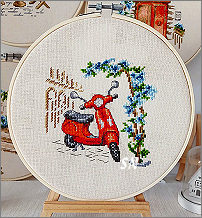 A trip to Italy via your Needle!


from Artmishka Cross Stitch
Isn't this a charming set of 4 small designs? By Artmishka Cross Stitch... directly from Italy... I just love them!

Presented as 4 individual charts - each measures 68 to 71 stitches - so just about 4 inches in size on 18/36ct. Coded for DMC, she has provided you with two charts in each - one without the backstitches, so you can SEE the regular crosses on the charts, and then the second chart with backstitch placement. Just makes me want to go to Italy!






Christmas Stamps


This design measures 197 x 189 - so will finish approx 12 x 12-1/2 on 16/32ct. Coded for 13 shades of DMC, each individual stamp is only 37 x 45... so you definitely have design options with this!

I love all the little Santa faces, but the little birds are darling too!