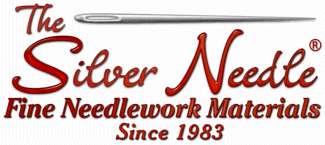 Anabella's Needleart
6068 S. Sheridan Rd. Tulsa, Ok. 74145 (918) 493-1136 (888) 543-7004
E-Mail



New Fun Patriotic Pots!


PF has four florals all lined up - you could stitch each individually if you want... and Bowls & Berries offers that 5th vase of flowers! Makes me want to clean off my kitchen counter and decorate for the 4th! Stitch counts for each row are 192 x 64 - so 12 x 4 on crisp or soft white 32ct. Presented as two individual leaflets.





This is a pretty set of very inspirational designs, each measuring just 84 x 56 - or 3-1/2 x 5-1/2 on 32ct. Stitched with only two Classic Colorworks flosses of Frosted Sage and Queen Bee, I like the different finishing presentations on each leaflet. Presented in 4 separate leaflets.


All The Things Halloween & All The Things Christmas


Anabella's has several new designs - here are two. Both are coded for DMC floss. There are also 4 new smalls, featured on our Anabella's page.
All The Things Halloween features 5 designs - 3 of which are in the cover pic. Although they are all done on white - you can choose other fun fabric colors or counts and add beads or bright metallics just for fun. Everything in here is cute, and a lot of the motifs could stand alone in small cute stand-ups or pumpkin pokes. Lots of potential with this one!
All The Things Christmas isn't so comprehensive... but can still handle your fun threads and embellishments. 100 x 180 - if you are the creative sort... find a stocking outline you like and fill it in with this! It'd make a cute stocking!



Halloween Simple Smalls


Single 5 x 7 card charts - each has a small design that will stitch in a jiff.

Charted for DMC, they all use the same colors - black, white, 820 blue, 606 orange, and 3340 apricot. Simple but cute!





St Patty's Day Trio

from Anabella's
Here's a new leaflet that features three designs for St Patrick's Day! A little too late this year to get them finished in time... they are TOO CUTE to miss this year though!

*Pinch Proof,* and *Lucky Charm* are fun, but that little owl is lucky and blessed and is dressed in his festive green. All three designs are coded for DMC, and quick to stitch!


All the Things Cross Stitch


This is a single leaflet that features a larger stitching-themed piece and then 4 smaller cushion-sized designs to coordinate! At first you think the 4 singles are just copies of the larger, but they have re-arranged the motifs to make them all a little different.

Coded for DMC floss; all designs are worked on white. They would be cute mounted onto the front of a stitching pouch - you could even stitch parts of this on the plastic plaid pouches that Shepherd's Bush uses. Just colorful, organized and cute.