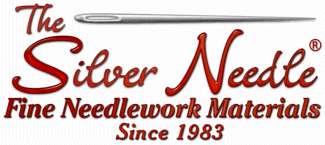 6068 S. Sheridan Rd. Tulsa, Ok. 74145 (918) 493-1136 (888) 543-7004
E-Mail


Michele Sayetta is a 'Master Chart-tress!!!' Her company, Heaven and Earth Designs, takes famous and favorite works of art -- most that are very familiar to us -- and charts them for cross stitch. NOT FOR THE WEAK-OF-HEART STITCHER, these charts are huge and incredibly detailed.

Solid stitching, each chart is presented on 8-1/2 x 11 sheets of paper, printed on both sides. Her charting software has told you how many stitches of each color the piece features, and figured approximate floss usage. Kind of fun to read just THAT part! The designs really don't need many words... each is more lovely than the last!!!
Exquisite Ornaments!
Here is a set of 4 *Ornament* designs -- they each measure 175 stitches in diameter -- so over ONE on 25ct, they finish 6 inches in size! Pretty generous for ornaments!!!!!! SOOOO.... what about gorgeous framed pieces worked over two on something reasonable like 32? That'd make them 11 x 11! Scott Gustafson's work is showcased in the Decorating The Wreath piece, while Donna Gelsinger's work appears on the other three.

89 and 90 Colors of DMC floss in each, as you can see the shading and design details are incredible. The charts are very involved... clearly printed... but challenging to follow because of all the design detail and color changes. Blow up the charts, and get a highlighter to mark areas you've already stitched. Just amazing charts and designs to look at... some of you can stitch these, and you are just as amazing!!!





A Ride in The Country


Artwork by Jane Wooster Scott, Stitch count of 625 x 490... 87 colors of DMC, this finishes approx 19-1/2 x 25 over one on 25ct fabric.

Totally charming, how could you NOT love this scene???





Xmas Skating


Artwork by Sandra Kuck, this vintage piece measures 525 x 424 stitches, so will finish approx 21 x 17 on 25ct over ONE. A generous 94 colors of DMC used, you've got a lot of white-ish going on here!!!

The charting software gives you a usage count -- 30,000 white stitches in here -- 9 skeins! (That doesn't count the shading in the ice!) But I love it just the same!





Santa and the Reindeer


Artwork by Scott Gustafson, this one features a happy Santa with that quintessential sack of goodies on his back.

Stitch count of 400 x 341 -- a mere 88 colors of DMC floss! The light on Santa's face is so eyecatching in this one -- the reindeer are just faint visions in the night sky.





Winter Companions


Artwork by Dona Gelsinger, this has a soft, magical feel to it.

The stitch count is exactly square -- 400 x 400 -- and like the rest, features a ton of DMC colors. I just now see the kitty in here!


Santa's Bag of Toys


Adapted from artwork by Ruth Sanderson, this masterpiece measures 450 x 444 stitches, and is worked in 88 different shades of DMC floss.

Enchanting... QUITE the challenge as far as chart-following and color-changing... you have to be a special stitcher to get through one of these! Definite family heirlooms!!!


Clowning Around


Another of Jane Wooster Scott's charming scenes of rural Americana at its best... this turn-of-the-century circus-in-the-park scene measures a HUGE 625 x 520 stitches -- 25 x 21 OVER ONE on 25ct!

It calls for 89 colors of DMC... and 89 months (or years!) of your patience to get it done!!! Too charming for words! Offered as the chart.


Candied Apples and Candy Corn


Jane Wooster Scott -- another super-busy fair scene! Remember in the old 'State Fair' movie with Ann Margaret and Pat Boone... all the family kept adding the whiskey to her Mom's prize-winning mincemeat??? Mom's probably down there in the front celebrating her blue ribbon!

Just full of details... think about that small take-out stitching idea if you're entering your own fair and haven't the time to finish this! 450 x 364 Stitches.






Road Rage


By Jane Wooster Scott, the old meets the new in this corner of American countryside! 450 x 377 Stitches.





Santa's Best Friend Bear


By Dona Gelsinger, we have a set of 4 Santas... you may need them all... the jolly fellow is looking straight at YOU with his seasonal favorites! This one measures 330 x 468. Very Vintage.





Tis The Season


Another cheerful Santa... he's hanging the greenery boughs. 400 x 500... a little more on the generic side of Christmas... no children around... he's a lovely Christmas piece.
Dona Gelsinger, artist.





Deck the Halls


What a festive Santa face!!! Check out the reindeer inside the ornament!!! 400 x 320, this one is *only* 13 x 16 over one on 25ct. *A Breeze!*

From artist Dona Gelsinger.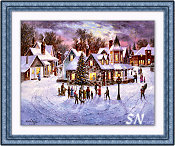 Holiday Eve


Artwork by Dennis Lewan, this reminds me of my miniature Dept 56 village houses, and Thomas Kincaid!
450 x 359 Stitch count, the play of light on the snow and rooftops is charming.





Town Christmas Tree


Very Victorian, very large -- a whopping 450 x 502!!! Early dawn on Christmas Morning... lovely.
Artist Ruth Sanderson.





Santa and The Mouse


Can you see the pic? Santa is handing a little mouse (dressed in his pajamas!) a tiny Christmas gift! His elf helper is there getting the rest of the presents under the tree... but the family cat is curious!

Artwork by Scott Gustafson, this measures 450 x 524.





Up On a Rooftop


Can you imagine? The elves, the reindeer... and even the children peeking out the nursery window!

Quite the classic, it measures 400 x 324 and is by artist Scott Gustafson.





Boots


This one is more contemporary... who's boots are those??? By artist JM Leotti, this measures 350 x 412.
I thought it was a good addition to our collection simply *because* the lines are newer, the shading simpler... the 1950 and 1960 appeal -- that lots of us were around for!!!