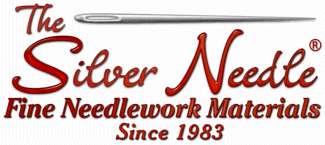 6068 S. Sheridan Rd. Tulsa, Ok. 74145 (918) 493-1136 (888) 543-7004
E-Mail
The Kitchen and The Florist

from Lilli Violette
I think these two scenes are enchanting!
Da Teresa (From Teresa) is a Christmas Flower Shop. The blue kind of throws you off a little, until you find the snowman, the wreath in the window, the tree, and nutcracker. No special stitches or anything... and just regular DMC... you could garnish here and there with a few beads! Finished size is 172 x 152 in stitch count.
Le Cose Che Amo (The Things I Love) looks like the washroom off the kitchen! Lots of pretty linen towels drying on the rack beside the baskets of flowers, and I guess the two girls are washing those gorgeous dishes? I'm not real sure, but I think it's charming anyway! Colors are DMC of 817, 815, 963, 435, 433, 938, 3347, 3325, 3716, 334 (lots of that), 3345 and white. The finished size could be a whipping 10 x 13 on 14/28ct, and they've stitched it on natural so the white would show up.
Practically Perfect in Every Way


from Lilli Violette
Here's a darling pic of Ms Mary Poppins against her London sky!!!

Just a darling picture -- stitch count is 214 x 122, so approx 15 x 9 on 14/28ct. Using nine shades of DMC, this is presented as a chart.


Le Linge de Blanche

from Zaza Picque
Oh my gosh... I think this is laundry day!!! By Za Za Picque,(these come from France) this measures 110 x 79 stitches, is worked on an antique white linen, and coded for DMC or Gentle Arts Sampler Threads.

I just love this piece! Wouldn't it be pretty in a laundry room... or even better... sewn onto the front of a lingerie traveler bag? If you are an *organic gal* -- stitch it for the front of your wooden clothespin basket! Offered as a chart.


Les Beaux Boutons

from Zaza Picque
Something cute for the sewing room, this would make a pretty top to a button box (if you are an over-achiever) as well! With a stitch count of 97 x 112 and coded for DMC floss, you'll want to add some vintage buttons and maybe a few old pins to garnish.

Designed by Zaza Picque from France, the chart does NOT come with the buttons, lace or scissors shown, but does include the template for the finishing shape. I am sorry to say that the price on this is really $26... just because it comes from overseas (I guess?) Super expensive... but super cute, so I had to buy some!


L'armoire du Pere Noel

from Zaza Picque
Santa's Outfit! Here are all the pieces and part the Big Guy has to remember to don on Christmas Eve! I don't know if you can see the striped green socks of the stand his hat is resting on, but this is cute as can be. There are rounds of felt -- it looks like -- on the trees.

I cannot read the French in the chart to tell what those are -- you could do spiderwebs, stitch them, do buttons or beads instead -- anything I would guess! follow the pic as your guide. Stitch count on this is 166 x 104, coded for DMC and Sampler Threads and again, I am sorry to say that this chart also costs an arm and a leg!!!


Les Coucous

from Lili SoleilCou-Cou
Clocks! Another charming design by Lili Soleil Designs, presented in French and English -- with DMC flosses suggested -- we never see Cou-Cou clocks!!!

I love them... my parents had one... Dad was in charge of winding it up! Pretty little charts, each clock averages 60 x 60 stitches. Charming!