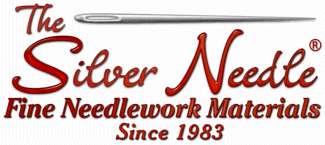 6068 S. Sheridan Rd. Tulsa, Ok. 74145 (918) 493-1136 (888) 543-7004
E-Mail


Adapted by Kate Hoyle, from Artist Amanda Loverseed's artwork, comes this eccentric, whimsical set of cut-away homes! Absolutely delightful in creativity, color, detail and subject, these four are the beginning of Silver Needle's collection of her designs!

Offered as charts, each is charted for DMC flosses and is stitched entirely in regular cross stitches...with a few French Knots and lots of 'displaced' backstitch. Each package contains the master 'background' chart, as well as another that shows the backstitch relationships to everything else. It really makes the stitching of these a LOT easier... because the main chart isn't garbled up with all the extra stitching.

Each chart is broken up into 9 sections. Bad because sometimes they are a little harder to count; but good, because you can carry just the chart sections you're working on. All are offered as charts... even though packaging talks about kit contents. (I think these are marketed in Europe as kits only!)
Row of Christmas Fairies


This is precious! You can stitch the entire row, or choose your favorites and place them beside the tree! Check out the tiny cat and mouse! THEY would make a darling ornament all by themselves!

Offered as a chart, this DOES include white wool thread to stitch the fur trim on the fairies coats. There is a little nap raiser disc in it, too, so you can brush at your stitches and make the thread even more furry! Snowflake sequin embellishments included as well... these busy Christmas Fairies, dressed in bright red, just make me smile!


Rows of Cats


Oh my gosh... if you love a little family member with 4 legs and some fur... maybe you can find them among these collections!!!

Designed by June Armstrong, enjoy stitching the entire rows of kitties... or choose just your favorites, and re-name as needed! Offered as charts, but DO include white, grey and dark grey wool thread, as well as a little 'velcro' tabby thing, so that after you stitch the animals in the wool, you can brush the stitches a little, and make them FLUFF!! Finishes approx 15 x 4 on 28ct. Just too cute!