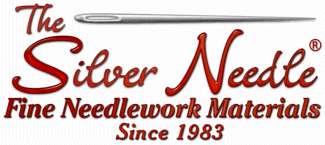 Bent Creek Kits
6068 S. Sheridan Rd. Tulsa, Ok. 74145 (918) 493-1136 (888) 543-7004
E-Mail

Note: our Bent Creek pages have grown so large in size that we have divided them up into two pages: Charts and Kits.
New things are added to both pages, so don't miss out!
| | | | | | |
| --- | --- | --- | --- | --- | --- |
| Snappers | Rows | Branches | Ubers | Stockings | Other Cute Charts |

Snowglobes
Zippers

Mantles

Things of Things

Photobooths

Big Zippers

Other Cute Kits



New Arrivals

from Bent Creek
HOPE - You might have to look hard to find all the lettering in here... but it's there! Fun and swirly, this is worked on Country Vintage Mocha - and since that comes in just about every count, this can be as small or large as you want. DMCs or Weeks hand-dyed flosses... this was originally published in 1999 and now being re-released. 111 x 102 on 36ct, it finishes about 6 inches in size.
Starlight Berry Sampler - Here's another design format you might recognize from Bent Creek. 'Back in the Day' - I think around 1999 or 2000 - they did a whole bunch of these - blackbirds and pumpkins at the top... I'm sure Christmas. We haven't had them for years and years, but here is a new one for Americana Summer. Just little - 38 x 104 - they put fancy stitches between the alphabet rows, and button flowers as the vine garnish. Presented as a chart, you supply buttons of your choosing.
Snowglobe Zipper Kits



The Narwhal Globe Kit


Bent Creek's 21st annual snowglobe design is here... a little different from past years... but it does feature ice, water and snow! We googled Narwhals to find out that they are called the 'Unicorns of the Sea.'

Presented in their complete kit format of 18ct linen with #5 Pearl Cottons, this finishes the same size as its 20 companions at 5 x 5.


The A-Frame Lodge Globe


Bent Creek's annual snow globe design is HERE! Don't know if you collect these or not, but this is about number 20 in this delightful set of glass globes - all full of something Christmassy or Wintery. Always stitched on 18ct natural Linen over two using #5 Pearl Cottons, they stitch up in just a couple of hours and make fun little block stand-ups for a windowsill.

All the previous designs are available on our Bent Creek kit page... so take a peek. Complete kit includes the chart, fabric, pearls, needle and a few glass beads for those floating snowflakes!


We Built a Snowman Globe


This is the 2020 Annual Snowglobe design by Elizabeth and Marsha. (actually the 19th in their series!!!) Every year, we are treated to a snowglobe design stitched on 18ct linen with Pearl Cottons and flosses. We've had Eskimos, Gingerbread Houses, Skaters, Elves, Reindeer and Cozy Cabins... the Nativity, Polar Bears and Penguins... 19 different themes!

All kits, including the fabric, threads and chart. They all finish about 5 x 5, are super fun and quick to stitch, and finish into festive holiday decorations!





Sledding All The Way Globe



Bent Creek's Annual Snow Globe design is here! Just the cutest this year, it's a pair of snowmen barreling down the hill... the one in the front is the daredevil, while the one in the back is covering his eyes! Just a 50 x 50 stitch count, this finishes about 6 x 6 on 18ct linen - because you are using #5 Pearl Cotton and working over two threads.

The complete kit comes with the chart, fabric, threads and a smattering of glass beads and buttons for the little flakes. This is globe #18!!! There is an Eskimo and penguin couple ice fishing... a gingerbread house... they're all pictured on this page... just scroll down!


Shake It Up Globe


BC's annual Snow Globe release we have 15 others in this series - so this is year #16!

Presented as a complete kit of easy-breezy-to-see 18ct Natural Lite linen with #5 pearl cottons and a few button and bead embellishments, this is perfect for travel because it's easy to see. Cute snowmen are floating around in the snowstorm inside your 5 x 5 globe... the flakes in the background are the little glass seed beads with a matte white color.


Ice Skating Globe Kit


Almost not-in-the-Nick-of-Time for Christmas... you'll be a whole year ahead of schedule with these!!! Ice Skating Globe -- Here is the 15th annual Snow Globe design! Always something wintery or Christmassy, this year's features an ice skater with her cute little penguin friend watching from the sidelines.

Offered as a complete kit of fabric, embellishments and thread, she's worked on 18ct Natural linen with #5 Perle Cottons. Embellishments of beads and some little flake buttons are included. Ice Skating Globe finishes approx 6 x 6.


The Perfect Tree Globe


Bent Creek has sent their annual snow globe design - it's another cutie this year to join their collection. Presented as a complete kit of 18ct natural linen with pre-sorted #5 Pearl cottons, a star button and a bit of the 'rope twine' to tie the tree to the top of the car, this finishes approx 5 x 5 in size.

These are fun to finish as square stand-up blocks to stack up - there are something like 15 different globe patterns by BC to mix up! Really nice design for a beginning stitcher as well -- think about that. Fabric is easy to hold and count, the needle is generous and there is no thread splitting... it's cute and everything is HERE!


Gone Fishing Globe


Oh I bet there are lots of you out there that would rather be fishing than staying home to work this week!!! Bent Creek's annual Snow Globe kit arrived in the mail today, and it is darling!!! An Eskimo ice fishing with his little penguin buddy... the hook is a CANDY CANE!!!

Offered as a complete kit, this is stitched on 18ct Natural Linen with flosses and size 5 Pearl Cotton, it is embellished with tiny beads for the snowflakes and golden star buttons. Like all the rest of these (I think our set is up to at least 12 now) it finishes approx 6 x 6. Too Cute!





Good News Snowglobe


It's our Lucky-13 Year for Bent Creek Snowglobes -- this year's has just arrived -- and its a little angel advertising Good News! Offered as a kit -- just like the previous 12 others -- she's worked in one strand of Perle Cotton on the 18ct Natural Linen, and finishes approx 6 x 6. The *Snow* floating in the globe are white glass seed beads scattered here and there.

Quick to stitch, these look good finished into small stand-up cubes. Cute as can be, I estimate 3 hours stitching time -- TOPS!


North Pole Globe


Bent Creek has released their annual Snow Globe design for 2012! I've lost count as to how many of these we have... but they are all on our BC web page... and we carry them all! Stitched models are in the shop! (As a matter of fact, Michael shipped these overnight to our hotel in Houston last week...because we were at the big Quilt Festival... and Angie stitched the model in the evenings while we were down there -- so we had it on display by Saturday!!!!!!)

A pair of cute elves decorating the North Pole with a wreath... they even brought their tiny penguin travel guide! Stitched on 18ct Star Sapphire Linen with DMC #5 Perle Cottons, all is pre-sorted for you, and neatly bundled in labeled bags. This year's globe finishes approx 6 x 6 -- the same as all the rest -- and is just pretty darn CUTE!!! Mona says -- Make it a Cube!
PS... Autumn Mantle Part Two is here... pic and description follows in a day or so!


Home in the Globe


Bent Creek has some new things... this is their 11th annual Snow Globe design... and it's one of their best! Stitched on 18ct Waterlily Linen with DMC and hand-dyeds of size 5 Perle Cotton, there are milky-white beads scattered in the sky to simulate all those floating snow crystals in a real globe.

The roof is a series of Satin Stitched blocks to make the shingles look real, and the backstitching around the window panes is done with two strands of DMC, so they aren't too heavy. Offered in complete kit format... you get the chart, linen, beads, charms and threads.


Reindeer Snowglobe


Bent Creek has a 10th Snowglobe design in its set of Christmas Snowglobes... and it's here! (There are really 12 snowglobes if you count Wedding and Baby... technically speaking.) Offered as a complete kit, Little Reindeer is stitched on 18ct Natural Linen in both DMC flosses and perle cottons of bricks, denims, juniper greens, and chocolaty brown, and features a star button and glass seed bead embellishments. (The beads are the background snowflakes.)

Just as cute as he can be, Marsha charted a little red bird perched atop his antlers... but she says in the instructions she forgot to stitch him on the model, and didn't realize it till Mr Reindeer was finished and photographed! Finishing approx 6 x 6, we have all the other Snowglobes in stock (!) so you can choose a few, and probably really get them stitched in time to display at Christmas! (These are so easy and fast to stitch, that 18ct linen with perle cotton is a delight!) Joins: Christmas Tree, Snowman, Cabin in the Woods, Santa, Penguin, Red Bird, Nativity, Gingerbread House and Polar Bear!


Polar Bear Snow Globe


This year's Snow Globe design is here... a cozy polar bear, curled up on his bed of ice!!! This is Bent Creek's 9th Annual Globe... (they have a Wedding and Baby set, but those aren't on the same 18ct linens, so I didn't count those.) always offered as a full kit, always on 18ct Natural linen, always with perle cottons, so stitching is a BREEZE!

Some of their most endearing designs... most of these include glass seed beads for the falling snow inside the globe. Kind of hard to see on this pic, but they're there. He just looks all balled up and really warm... and just possibly waiting for Santa with his decorated tree!


The Gingerbread Globe


Bent Creek does an annual Snow-Globe design... and this is our 8th Annual treat for 2008! A charming gingerbread house, complete with the billowing snow swirling inside the globe, this year's is perched on a peppermint base! Offered as a complete kit, it's stitched on 18ct Blue Ridge linen in hand-dyed and solid shades of #5 Perle Cotton. Embellishments include 2 peppermints and a wrapped hard candy. The kit includes the chart, linen, threads and embellishments.

You can browse down our Bent Creek page to see the rest of these cute globes -- they are some of my personal favorites! (In this day of one-over-one stitching, you could resurrect one of your older 'used up' kits and do it over one and make a teeny-weeny ornament! How cool would that be?) Anyway, look for Nativity, Penguin, and Christmas Tree Globes, along with Santa, Snowman, Cabin in the Woods, and Red Bird Globes. (Baby doesn't count as an annual, because it doesn't contain the threads.) Very cute!





TheSnow Globe Zippers



Complete kits, these are packaged in a plastic pouch with a zipper across the top -- hence the name: Zippers! Always stitched on 18ct linen, usually with #5 perle cottons, most of the designs each time include overdyed colors, or hand-made embellishments.

All of the previous kits are still available, so take a look at them below! Prices have changed occasionally with these kits, so we've listed them individually. Put your cursor over each image to see its name.


Mantles
Patriotic Mantle


Bent Creek has a new Mantel Series of designs -- they haven't presented one of these in a few years -- but you might remember the other ones that go with this: Snowglobe (by far the favorite!), Autumn, Christmas, Home Sweet Home and Halloween. All the Mantels are supposed to be 'decorated fireplace mantles' -- that's why there is a 'bar' (the mantle) across the bottoms of them all.

Patriotic, like all the rest, is stitched on 18ct Natural Linen with a collection of DMC #5 Pearl Cottons along with a few snall button embellishments. It finishes approx 21 x 8 and is presented in three parts. The first kit has the entire cut of linen and chart with threads for the Liberty Bell panel and mantle bar. Next, came part two -- it has the bird, star and part of the flag along with threads. Finally, this part - #3 - has the rest of the house and flag, Uncle Sam and the Sign and threads for those.

Each of the three parts can stand alone -- but they are fun joined together. Super easy to stitch on the 18ct with #5 Pearl Cotton -- it'll stitch in no time at all!!


The Autumn Mantle


Bent Creek has delivered their third and final part of their Autumnal design in the Mantle series. Originally, these started out to be a fireplace mantle setting... hence that thick dividing line between the top and bottom of the design. We were getting a scene of the decorations on your fireplace mantle. The last couple of sets have down-played the 'mantle woodwork'... but they will still work BEAUTIFULLY perched over your fireplace or on a bookshelf.

Stitched on 18ct Natural Linen in #5 Perle Cottons -- extra thick threads that require only one ply to cover -- this set is colorful, and each part can stand alone -- especially if you can't manage to finish the entire thing! Offered in 3 kits... part one has the main fabric chunk... parts 2 and three finish the design.
The entire Autumn Mantle has a stitch count of 189 x 71. (One of our customers has done these mantles over one on 28ct... they are precious! She didn't want to devote huge walls to huge pieces... and these all look great on smaller counts of fabric!)


The Noah's Ark Mantle Series -- Live by Faith


Part Three -- the last -- in this cute Noah's Ark scene has arrived. The animals are disembarking the ark 2 x 2... we know that because the rainbow is in the sky and the dove with the olive branch is on top of the ark. Fun animals in this, they really did a good job of designing the cute little monkeys, the crocodiles, the little rhinos, and the porcupines -- I love those!

Offered as the chart with necessary threads to stitch this particular part of the design... Part one has the border chart and main cut of 18ct linen, with threads, and part 2 features the ark and its threads. Stitchers coming through our doors in the shop have really liked this design as our model has been progressing -- pretty colors and lots of good design detail.. The entire Noah's Ark piece finishes approx 8-1/2 x 21 -- real cute! And... that animal in the Ark is an Okape -- a giraffidd mammal native to the Ituri Rainforest, located in Central Africa. (I read that inside the chart!)


Snowglobe Mantle


Bent Creek has outdone themselves with a frosty winter snowman scene, and if this winter brings half the snow that last winter did... most of us will be able to display our stitched piece till MAY! A charming mantle scene... we begin with a cardinal perched on his mitten post. Next is a bitty penguin next to his bitty igloo in a bitty snowglobe! Then, a snowman in another globe... part two features some evergreen trees patterned like the mitten -- kind of a knitted coverlet look, and more penguins. Part three finishes with a busy little snowman -- is he holding a snowflake sparkler? Finally, another mini-snowglobe... this time with a wintery cottage tucked inside.

Offered in their Mantle-Kit format... Part one includes the main 13 x 27 inch 18ct Natural Linen cut of fabric, the chart for the left-hand 1/3rd of the design, and #5 Perle Cottons and bead embellishments for it. Finished design will be approx 7-1/2 x 21. Very fun... you can take out lots of the motifs in here and stitch them individually -- like those globes over one on something little! This one has been a favorite!





Spooky Halloween Mantle


Bent Creek is beginning a fun Halloween *mantle* scene (the *mantle element* is downplayed, and now we have a cute row that can be anywhere!!!) House of Jacks is the first of three designs that features a crooked little cabin, complete with bats and jacks. The fall vine that trails along the bottom is the 'connecting border' to the rest of this piece -- the other two parts will release in the next months.

Can you see from the black and white teaser pic that shows we're going to get a spooky owl teacher with his lesson of leaping cat, and a witch with her tricks and treats, a ghost, and more Jack-o-Lanterns? The whole thing is stitched on 18ct Natural Linen with a load of DMC #5 Perle Cottons.

The first part -- House of Jacks comes with the left-hand chart, 13 x 27 Cut of Linen (actual finished pic is 24 x 8!) the Perles for the first design along with star button embellishments. Definitely cute enough to be stitched by themselves, these are full of great take-out designs! House of Jacks runs $44 because the linen is included. The other two are $20 each, and include the threads.


Sweet Home Mantle


Bent Creek has sent us a fun new series -- same format as their favored Christmas Mantle set -- this one is like a HOME SWEET HOME Mantle Scene! All the neat things you'd find on Grandma's Mantle.... the first design of three -- Daisies from the Garden -- features the huge 13 x 27 Cut (Mike cuts these babies *straight and right on* the threads!) of 18ct Natural Linen, the chart for the beginnings of the Mantle scene, a pair of button embellishments, and enough #5 Perle Cotton to stitch the first part, shown. The verse that Grandma has stitched and perched on her mantle (beside the daisies from her garden) reads:

'There is no such thing in anyone's life as an unimportant day.'



Sweet Home Mantle will finish approx 8 x 21. Part two features the willow tree, classic dog bookends, and a candle under the globe. Part three has her tomato pin cushion!!!!! If you move this up on the linen by an inch or so, you'll have room to add a family name and date established if you want! (need to add your own #5 Perle for that part.) Comes packaged in a neat 10 x 15 gussetted frosted plastic envelope with the fun and retro round rivets and string closure.

Bent Creek's 3rd and final piece of their Sweet Home Mantle piece has arrived. All the *cute and cluttered things* that Grandma might have on her mantle -- they all 'say' Home Sweet Home to us! Of course, as a stitcher, my favorite trinket on there is the tomato pin cushion on it's black stand!

'There is no such thing in anyone's life as an unimportant day.'

Cool verse, this needs to hang in a hallway or family room.

Offered as 3 kits... the first part features the daisy vase and verse on the left-side, the 18ct natural linen cut, with threads and charts for mantle base as well. Part two has the pups below the willow, and part three includes the pin cushion, bird and clock part.


Christmas Mantle Set


The third and final part of Bent Creek's Christmas Mantle scene, this is such a bustling, colorful, FUN Christmas piece! An entire village is set up on top of the mantle, and all the family stockings are hanging below! Each stocking has a bit of room at the top for some backstitch personalization -- pick your 5 favorite members of the family (!!) -- or leave names off.

You can also take each stocking from the design and stitch it individually as an ornament! (They run approx 30 x 40 stitches -- so a perfect size for an individual piece.) The entire scene is now published. The first kit also offers the red button embellishments and the linen cut. The 2nd and 3rd kits offer the rest of the chart, and necessary threads.


Things of Things



Santa's Hat of Holly


Bent Creek's next 'thing of things' design is here. Santa's hat is stuffed full of all sorts of enticing packages and what-nots.

Finishing about 6 x 6, it's stitched on 18ct natural linen with DMC's #5 pearl cotton. The kit comes with the fabric, threads and tiny heart button embellishment - and you'll finish it in a jiff!


Basket Full of Easter


The next *thing of things* design... here's an Easter basket stuffed with two cute chicks, a pair of carrots, 5 decorated eggs, 5 flowers, a butterfly and that cute little blue bunny.

There IS a lot on there! Complete kit contains the presorted #5 Pearl Cotton and cut of 18ct Natural Linen to make this cute 6 x 6 basket!


A Witch's Hat of Bats


Marsha and Elizabeth have finally done another design in their *Thing of Things* Series! Just in time for Halloween - which really IS just around the corner - stitch this cute little hat full of bats, cats, pumpkins, and a little spider! Lots happening in there! Presented as a complete kit, you get the 18ct natural linen and DMC #5 Pearl Cottons. Measuring just 6 x 6 when finished, make a box stand-up for a cute holiday decoration.

These kits are just like my Secret Needle Night designs - same size, same fabric, same threads (only we toss in some Rainbow Gallery specialties.) A great size for in-the-car-stitching... everyone loves something fun and quick to stitch now and then! There are at least 10 other Things of Things in this series - Candy Canes, Candy Corn, Snowmen, Ornaments, Pumpkins and Leaves, Easter Eggs...





Candy Cane of Christmas Kit


A 6 x 6 design -- this candy cane is filled with snowflakes -- big, lacy X's, along with bits of poinsettia leaves. Presented as a kit, it's a breeze to stitch because you're using only one strand of DMC #5 Pearl Cotton on the 18ct.

A quick holiday decoration... it'd be cute as a weighted door stop!


The Candy Corn of Mischief


Bent Creek has sent a fun new design -- in plenty of time for Halloween -- which is really an awesome feat for them! It's cute as can be... and we're thrilled we'll actually have tine to get it stitched for the holiday!!!

Presented as a complete kit of 18ct linen, you get pre-sorted and labeled #5 Pearl Cottons that require only 1 strand of thread in your needle for stitching. The corn finishes approx 6 x 6, and sports cute little ghosts in the white part, jack-o-lanterns in the orange, and the moon and stars in the yellow section. Candy Corn of Mischief companions their other kits like Pumpkin of Leaves, Heart of Hearts, Snowman of Snowflakes... and lots more!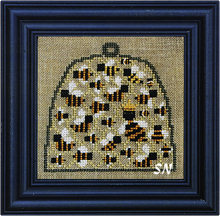 Skep of Bees
Another fun design worked on 18ct linen... this one companions the heart of hearts, pumpkin of leaves.. that series. Golds, black and white of #5 pearl cotton, this finishes approx 5 x 5 - like all the rest in it's series.

The little hive is full of dedicated bees, and you can identify the Queen -- she has a crown on! Presented as the kit of chart, linen and threads.





Egg of Eggs


Cute little pile of eggs, they look like they're going to topple over onto the little chick!

Presented as a kit of 18ct linen, #5 Pearl Cottons and Mill Hill glass seed beads, this is another of Bent Creek's 5 x 5-ish designs on the large fabric with the easy-to-work-with threads.


Yarn Ball of Kitty Cats & Dog House of Puppy Dogs


Bent Creek has two new 'somethings of somethings!' -- more additions to their set of these cute designs. Offered in kit format. you are working on 18ct natural linen with #5 Pearl Cottons. Each of these includes a tiny heart button embellishment as well, and they finish approx 6 x 6.

Super-easy stitching, they are fun to grab and go on a trip. I can recognize the dogs on here... and wouldn't it be fun to stitch some of the animals in Simply Wools or Rainbow Gallery's Wispers and Alpaca threads???


Snowman of Snowflakes


Bent Creek has sent a new design -- a little snowman full of snowflakes! A companion design to Heart of Hearts, Clover of Clovers, Flag of Stars, Tree of Ornaments and Pumpkin of Leaves, this little guy is worked on 18ct natural linen with dusty blues, crisp white and soft brown #5 Pearl Cottons.

A total breeze to stitch, he finishes approx 6 x 6. (We kind of miss a hat on him... dig out a little black or brown thread and maybe add one???) Offered as a kit of chart, linen and Pearl (probably not enough to add the hat.)


Christmas Tree of Ornaments


Bent Creek has a new Holiday design... continuing their set of things worked on 18ct linen. #5 Pearl Cottons, this one is a tree shape filled with ornaments. Cute and very quick.... you could even leave off the word 'Merry' and finish this as a triangle stand-up -- or even poke it onto a stick!

Offered as the kit of chart, linen, threads and needle, the stitch count is only 52... so if you do another version of it on little fabric, it'd be a darling bitty ornament!!!


Pumpkin of Leaves


Bent Creek's 5th design in this set... Pumpkin of Leaves joins Hearts, Shamrocks, Easter Eggs, and Flag of Stars -- all fun designs stitched on 18ct linen with hand-dyed #5 Pearl Cotton.

Finishing approx 6 x 6, the colors in this are yummy!!! DMCs of 921, 976, 301,400, 869, 3021 and 822... everything is worked with only one strand, and because of the large count linen... this will finish in really just a few hours!! I love that little owl on there, too! Offered as the kit of chart, linen, and Pearl Cotton -- but you'll need your #20 or #22 needle!!!


Flag of Stars


Bent Creek has a new kit -- a red, white and blue confection of stars that make up a flag. It finishes approx 6 x 6 over two on 18ct Natural Linen, and is worked with DMC #5 Pearl Cottons.

SUPER easy to see and stitch, make sure you have a large #18 or #20 needle... I don't see one in my package! Something fun to finish in a jiff!





Clover of Clovers


Just like Heart of Hearts, the name tells you a lot with this piece! Offered as a kit of 18ct Natural Linen with #5 Pearl Cottons to stitch the little guy and his shamrock, he's only 50 x 50 stitches.

He'll finish 5-1/2 inches square -- don't forget to add his pot 'o gold nuggets!!!


Heart of Hearts


Wow... this is nice! #5 Perles on 18ct Natural Linen over two, the stitch count on this is 50 x 50. The heart features 'inside hearts' of different red shades and a pair of Love Birds. The two-tones of hearts really make that part 'pop.' You could actually add a bride and groom's name on here and it'd make a neat remembrance.

Offered as a complete kit of the linen which is SUPER easy to work on, the Perles, needle and heart button.


Photobooths



Irish Luck 2U Photo Booth Kit


*Say Cheese!* Bent Creek is continuing their series of Photo booth designs with this one celebrating the Luck of the Irish! Presented as the chart with 32 Natural/Opalescent Belfast linen, the stitch count for this is 32 x 109.

You can stitch it all in one strip -- like the ones that come out of those super-fun photo booths, or you can split them up and stitch the individual squares for ornaments, cushions or fobs -- over one they'd be an inch square!!!!! We're having a debate in the shop -- the gals say pic #2 is the Irish guy with his hat off... I SAY he's Mr Irish Potato Head!!!
There is also a little Irish Cottage chart that we've tucked onto our inside chart pages...





It's Fall Friends


A new Photobooth design, this one has an owl, black cat and two jack-o-lanterns clowning around in their bitty photobooth.

Stitched on 32ct natural linen with Weeks hand-dyeds or DMC flosses, this finishes just like all the other Photobooth designs by BC. Presented as the chart with linen cut and bitty star button for the sheriff!


The Old & the New


Another Photobooth Design by Bent Creek, something to celebrate New Years... we have Father Time and the Baby New Year clowning around, by switching party hats and blowing New Year's Party horns! Offered as the chart with cut of 32ct Summer Khaki linen, there is a clock charm included (time reads 11:40pm!) You'll need a few bits of flosses from your stash -- nothing too significant that you won't have.

Something fun to celebrate New Years, we simply don't get many New Year's themed things, so this is a welcome addition!!! (Next holiday is Valentine's Day, you know! We already have a Photobooth for that...Love Happens... and it's precious!)


Pilgrim Pals


The next Photoboth design is here... this time, we have a turkey and his Pilgrim buddy horsing around in that tiny photobooth! The Pilgrim is OK... but the turkey steals the show!

Offered as the chart with linen cut and beads to decorate the turkey feathers, like the rest in this series, it stitches real quickly, finishes into a darling little skinny stand-up, giving your admirers something to study a bit! YUMMY hand-dyed floss colors from your stash!





Flags & Friends Photobooth


Bent Creek has another cute Photobooth design... just a snapshot of the silliness that always happens in those little portable photobooths you see at the Fairs. This time, Uncle Sam and an eagle are in there... and all of the sudden, they've switched hats! The eagle looks great, I'm not so sure Uncle Sam looks so good without his hat...

Offered as the chart with cut of 32ct linen and a blue star button, you add overdyed flosses from your stash for this 2 x 7 piece. We're making our model into a stand-up to look like a firecracker!





Easter Surprise Photobooth


Bent Creek has lots of new releases... this Photobooth design is only one of half a dozen! **(Click these links to see the rest; we have charts and two kits to show.)** First photo pic... the magician is going to pull a rabbit out of his hat. Second pic... ta-da... the bunny! Third pic... what's this? A pair of white ears? Pic #4... out comes a little chick dressed up like a bunny!

Very cute, this is offered as the chart and includes a cut of 32ct Belfast. You'll need bits of thread from your stash for this quick holiday decoration!





Northpole Party Pics Photobooth Kit


Bent Creek has several new releases... and their Photobooth edition is just TOO cute! Joining the Snowmen, Halloween Monsters and Chickens and Eggs, we have Santa, Rudolph and a teeny weeny elf! Hamming it up in one of those cheap picture booths you find at the Fair... they're all clowning around, and even though you're not in there with them... you're having fun just enjoying the strip of pics!!!

Offered as the chart with cut of 32ct Natural linen, there are two red buttons here, as well, for noses! You add flosses from your stash -- overdyeds or DMCs. Finishes approx 2 x 7.


Photobooth Frank & Boo


The third in this small series of designs... remember all the silly photobooths you used to pay 25 cents to get into, for 4 pictures? (OK... maybe $1.00?) THIS is what you got! Nobody looking... crammed on that little bench... the camera kept shooting away, whether you were ready or not!!!

Frankenstein and his pudgy ghost friend are in there -- up to no good, I am sure! Offered as a chart/linen and button eye embellishments, this finishes approx 2 x 7 on the provided 32ct. Stitch it for a skinny wall!


Bacon & Eggs


Another Photobooth Silliness Session... caught on film! Bent Creek has stuffed a chicken, hen, eggs and a baby chick into that teeny photo booth... and look what happened! The first pic is fine, the second probably shouldn't be shown to their moms, in the third... someone has ruffled the curtain because there was too much noise and laughing going on in there... and the last one, well, it's time to settle down.

Themed after all those fun photo booths we used to do (but I think they STILL have them!), this is a quick 2 x 7 piece stitched on 32ct (provided) with your own overdyed flosses from your stash. The chart comes with the linen and three rose-colored button embellishments. Companion to the little snowmen -- the winter version -- this is Spring!


Photobooth Snowmen


Remember the fun shots that you get... all in a long strip... from one of those temporary photo booths? Well... we have two snowmen horsing around in one, and here are their pictures. Check out the second and third shots, which we all think are darling! Bent Creek is starting a new set of PhotoBooth designs... this one is the first. No word on how many, or how long they'll take to design... so just pick 'em up as you see them.

Chart is included along with a few glass beads (the background snowflakes) and the cut of 32ct Confederate Gray Belfast linen. You supply the bits of overdyed floss from your stash. Finishes approx 2 x 7.


Big Zippers
The Big Round Zipper!


Well, everyone knows Zippers aren't round... but they *can* gather, organize, and contain... all with their straight, little spines. (ZIPPERS... what on earth do they have to DO with anything anyway???) Bent Creek originally designed their collection of *Zipper Kits* and presented them in meshed plastic zippered pouches (hence the name Zippers). OK... years later... we now have tons of Zipper Kits... and this is the first of the new Big Round Zipper Series!

Presented in *WHAT ELSE* but an 11 x 14 Zippered Pouch (for project storage) ... you get a simple round border featuring a verse that advises to 'Go With All Your Heart,' along with a big empty middle!!! In the 5 additional smaller installment kits that came, that empty middle is filled in with all sorts of fun places to go (with all your heart and...) with your favorite people!

Stitched on 18ct linen with one strand of #5 Perle Cotton... this baby is HUGE and easy to see!!! Design measures approx 21-1/2 inches round, and is full of cross stitches and button embellishments.

The border kit contains the border chart, necessary #5 perle cottons, button embellishments and a huge 28 x 28 chunk of 18ct Natural Linen.



Each is offered contains the inside charts, buttons, and all threads. Life is good -- especially if you go into it with all your heart!


The Big Zipper Series


Lessons for Life... big and bold! Bent Creek's multiple-part Big Zipper is finally finished! Stitched on 18ct Natural Linen, it finishes a whopping 24 inches square, I believe. Offered in lots of separate little kits, you get that main border and fabric in the first installment, and then each block comes in another package. A little confusing... but the finished piece is worth the efforts!

Lots of #5 Perle cottons and overdyed flosses, and a smattering of little button embellishments. We did have an auto-ship on this that is now ending... but you can still pick up any individual parts as you need them!


Other Cute Kits




The Seasons POP!


This is a 4-seasons set of 4 seasonal trees... Spring Summer and Autumn are here, with Winter coming soon.  (We are assuming December of 2022 or January of 2023.)   Presented as full kits, they include the 20ct linen cut, pre-sorted #5 Pearl Cottons, a needle and each season's tree chart.  Cute and quick, these finish approx 4 x 6.






JOY


Need a quick ornament for a gift exchange??? Whip up this little guy, and FINISH in a jiffy! Presented as the full kit WITH a 3-1/2 inch metal finishing form included, it is stitched with Weeks hand-dyed flosses on 32ct natural linen.

Embellished with three gold star buttons, you even get the red felt and ribbon used in the finishing. Everything is here... except the needle! Stitch count is 48... so this finishes 3 inches in size.






Holiday Hang-Ups -- Tricks No Treats Kit


Tricks No Treats is the Halloween version.

Along with the chart you get 32ct natural linen, pre-sorted hand-dyed and DMC flosses, a trio of star buttons, a 3-1/2 metal finishing form, ribbon hanger, and the cut of brown feltĀ  to assemble the Hang-Up.










6068 S. Sheridan Tulsa, Ok. 74145
(918) 493-1136 Fax: (918) 493-1933
Toll Free Order Line: (888) 543-7004
Store Hours: 10 - 6 CST, Monday - Friday
10 - 5 CST, Saturday
E-Mail
Need help with the website or with logging in?
Contact webmaster@thesilverneedle.com
© 2022 Silver Needle Ltd.
You may not reproduce, copy, or redistribute the design or layout of this web site, individual elements of the web site design, or Silver Needle images, designs, adaptations, charts, instructions or logos without the express written permission of Silver Needle, Ltd.
View our company's Privacy, Shipping and Return Policies
Prices are subject to change without notice.