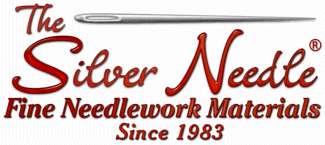 6068 S. Sheridan Rd. Tulsa, Ok. 74145 (918) 493-1136 (888) 543-7004
E-Mail



Sew Happy


All Through the Night has several new things... I chose 10 of them... simple and cute... all are offered as charts. Sew Happy finishes 8 x 10 on 30ct Weeks Putty linen... he is worked in Gentle Art Sampler Threads.

I think he'd make a cute doorknob hanging for your stitching room! If you aren't lucky enough to have a *Stitching Suite*... maybe you have a thread box that needs a stitched top?





Smitten


This little guy is back in stock after we lost track of him for several years! THE CUTEST thing, he is stitched on Weeks Dye Work's hand-dyed Onyx linen in shades of Gentle Art's hand-dyed cotton Sampler Threads.

Finishing a generous 4-1/2 x 7 on 30ct, we've always loved the colors in this. It's another pattern that could go two ways... do just the mitten, or just the snowman, greenery, star and flake!

If the black is too dark for your eyes, consider one of the various deep gunmetal fabrics available now. Lots of other cute designs by Bonnie Sullivan on our inside All Through The Night page!


Stockingful and Noel


Christmas designs... Stocking is small -- only 45 x 48 stitches. It features a cut of wool or fabric as the stocking! I could see a JABCO bell button on the end of the hat.. a carrot nose button, and red beads for all those berries! Cute!

Noel is larger -- 101 x 162. Lots of Gentle Art flosses, I love the distressed dishes holding the ornaments -- but those glass balls would be neat presented by themselves, as well. A neat, unique design. All are offered as charts.


May I




'May I a small house and a large garden have'

is the verse on this charming, overgrown, turbo-lush garden-lover's piece! A secret wish of anyone with a green thumb!

Stitched on Weeks 30ct Onyx linen in 16 shades of Gentle Art Sampler Threads, this uses only Cross Stitch, but you could always add some Rhodes or Eyelets in the flowers and some Satins on the beehive. Such a pretty piece, finishing approx 7-1/2 x 9-1/2, very unique and eye-catching, it is offered as the chart.


Blackbirds


108 x 137 Stitch count... this is worked in one color of hand-dyed -- your choice!

Pick a neat black to get some pretty variation. Finishes approx 7 x 9 on 30ct.


A Sheltering Tree


Another pretty one, this finishes approx 6 x 7 on 30ct. Check out all the little things that are sheltered by that winding tree... the squirrels, birds, bunnies and flowers!

This is done in an overdyed olive green shade of your choice.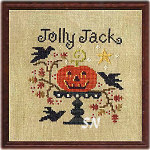 Jolly Jack


We found a new designer to the cross-stitch industry at Market a couple of weeks ago -- All Through The Night. They've been in the quilting end of things, and have begun to chart some designs! Their first, Jolly Jack, is offered as a 5 x 9 chart, with a beautiful glossy model pic,and he's awesome! Worked on Weeks 30ct Putty Hand-dyed linen, in 9 different shades of Weeks flosses, he finishes approx 5 x 5.

Most of All Through The Night's designs are actually wool with primitive stitching! Since we carry all of Week's hand-dyed wools, we thought these were worth a look! Besides... they are simply beautiful in person, and we fell in love with them! (In fact, Mary and I agree we don't begin to do them justice with the images below.)
Jolly Jack is Cross Stitch... the rest are basic embroidery!