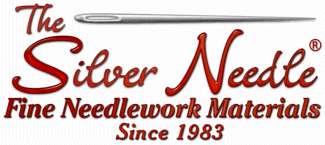 6068 S. Sheridan Rd. Tulsa, Ok. 74145 (918) 493-1136 (888) 543-7004
E-Mail



Beggar's Valentine, Painted Threads & Growing Love


Here are three designs by Threadwork Primitives that are not new... but we have finally organized them together for you! All presented as charts, everything uses hand-dyed flosses and various neutral shades of hand-dyed linens.
Beggar's Valentine measures approx 5 x 7. Only Onyx, Chamomile, Weathered Barn and Wood Trail in this one...
Beggar's Luck - That same blackbird checking his plentiful horn-of-clovers. Finishes 5 x 7 on 32ct Picture This Plus's Legacy - Onyx, Garrison green, Pecan, Moss and Olive.
Painted Threads finishes 7 x 4-1/4 on 36ct. Just 7 colors on here... really sweet. The center floral urn would make a stunning pin cushion -- it's only 40 x 40!
Growing Love finishes 6 x 8. Inspired by an antique oval needlebook, the design shape lends itself to that treatment -- pretty and unique.



More Primitives...


Choose your fabrics, and after stitching is finished, distress them a little if you like!
Sunbird measures approx 4 x 4, just 5 colors of hand-dyeds.
My Treasures finishes just 4 x 7 and is dedicated to stitching friends. A super-easy stitch -- your friends would love you!



Halloween Menagerie & Bittersweet October


A pair of quick designs for Autumn.
Halloween Menagerie is actually stitched as a flat band that is then wrapped around a felted wool drum-shaped pin cushion. Just 5 or 6 colors of hand-dyed threads... neither one will take you long to stitch.
Bittersweet October is shown tucked into a wooden shaker carrier, and would also make a cute oval cushion -- it's only 3 x 5.
Quaker Holly and Where Liberty Dwells
Quaker Holly -- This little round greenery design is finished into a pin wheel -- which would make a REALLY COOL stitcher's ornament! Get a pair of our finishing forms... cover, glue, add some trim and poke in pins and zip-zap you've got a super-cute ornament with a no-sew-finish!!!
Where Liberty Dwells is on the super-primitive end of things... at least the spaces between the alphabet letters give that impression. Finishes approx 8 x 9, you could stitch the house one side of a little cushion and the verses on the other as another design option.