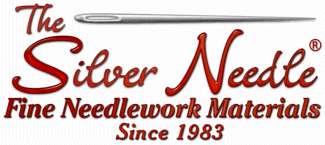 6068 S. Sheridan Rd. Tulsa, Ok. 74145 (918) 493-1136 (888) 543-7004
E-Mail

Teresa Kogut's charming primitive style is a customer favorite! We have her designs in cross stitch chart format, and SOME of those are also available in Punch Needle! She loves Week's Dye Works hand-dyed linens and flosses for everything... we have all of that available separately for you as well!

The Cross Stitch designs are listed first on this page. If you click on the Punch Needle Block above, it will simply scoot you farther down this page to that area! Happy Browsing!



New From Teresa Kogut - Hello Autumn
Teresa's newest book, Hello Autumn features 8 fun seasonal designs to stitch. There is a very happy dancing scarecrow surrounded by all sorts of glorious sampler motifs, sunflowers, pumpkins and birds. 'Harvest Scarecrow' has another scarecrow tucked in his pumpkin and sunflower patch. Both are super charming! Then you get Harvest Ted and Harvest Tina - the chubby pumpkin-head couple are wearing matching gingham clothes.

Another 'Sunflower Sam' scarecrow (I guess she's giving you lots of scarecrow options this season!) and a pretty white manor house all decked out for Halloween. DMC and Weeks for everything... multiple hand-dyed fabrics will work on most of these as well. Always cute, full of Teresa' artistic talents and personality!


Teresa has a Few New Designs
Pernice Manor - Presented as a single chart (vs in a larger book), this was originally presented at a Retreat last fall. Teresa wanted a sampler style design with worn, faded colors. She started with her border, built the house, and then that bird - she LOVES her bird! Pernice is Italian for partridge - this little guy claims artistic license! Manor meaning a large country home with lands. This pernice roosts every morning on the roof of his favorite manor to greet his friends who frolic around the grounds. This measures 221 x 156 - so finishes approx 11 x 8 on 40ct, and is stitched with a combo of Weeks hand-dyed and DMC flosses.
Harvest Friendship - A book featuring three designs... 'Friendship grows from the seeds planted. The harvest is a kindred spirit.' You get the main sampler, and then a biscornu shaped cushion as well as a standing drum piece. Pretty Autumnal colors of DMC, there is just one Weeks thread in here - Indian Summer color. Look at those three friends - gotta love those body-types!
Teresa Kogut has anounced several new designs!
Sewing Tomato - A very prim and PA Dutch bird perched atop her very special tomato cushion. She's the second Stitchy Bird in her series... and measures just 90 x 66. Stitched with Classics and Weeks hand-dyeds. Offered as a chart.
Fall From Grace - for the Adam and Eve fans among us... the dark fabric against the red, green and tan colors looks kind of elegant, but certainly olde worlde too. 137 x 136 In stitch count... choose a darker fabric you can see!
Seaworthy - A nice fat book of gorgeous pics and colored charts for three charming designs! The main Seaworthy Sampler is done with DMC and measures 200 x 113. LOVE LOVE the colors - we received some fabric by Fibre on a Whim today - Steel - in multiple counts, I think it' be great for this. The smaller designs are also on the same fabric, same color palette - just depends on how much time you have to stitch something little or large!
Dwelling Place - Another nice fat book with glorious pics and huge colored charts - 4 designs included. Mostly DMC with a little Weeks tossed in... the 3 small pin cushions are take outs of motifs from the main sampler. Choose any lighter neutral fabric... it finishes approx 14 x 15 on 40ct... so it's quite impressive!



Teresa's Newest Arrivals!


As always, cute designs and beautifully printed charts to dream about getting stitched!
Stitchy Bird - 84 x 59 - Could be 4-1/2 x 3 on 40ct, or 5 x 3-1/2 on 32ct. Stitched with hand-dyed flosses, coded also to DMC, it'd make a cushion for your next event exchange! Presented as a single chart, Teresa says this is the first in a new series of designs.
Rapid Growth - 107 x 109 - Liberty - When it begins to take root is a plant of rapid growth. This would be 7 inches square on 32ct... but if you did 28 Lugana over one... you'd be at under 4 inches! Beautiful colors, there is a lot of shading in that background, so perfect for a piece of hand-dyed that has a light area in it! Presented as a single chart.
Sweet Land - LOVE this one! 165 x 159 - this finishes about 9 x 9 on 36ct. A lot in here, coded for DMC and hand-dyeds, you could break up the design areas and do pin cushions, one long band... even mattress pillows stitching the festoons all along the edge band of the pillow! Very festive and eyecatching! Presented as a single chart.
Wisdom - 181 x 159, this measures around the 9 x 9 size on 36ct. Words of wisdom form the surrounding border - stitched in a very light color to reward the reader! The inside urn of flowers is gorgeous, alphabet scattered throughout. Another box with a verse warns that it is not fruitful to lift one up by belittling another. Pretty colors, this uses only DMC and Kudzu handdyed by Weeks, presented as a single chart.
With Thy Hands - This is a larger book containing three companion designs. Stitching is the theme... the main sampler reads: With thy hands I thee wrought. Measuring 10 x 12 on 36ct, I see lots of individual bands in here that could stand alone as long frame weights or pin cushions. And what a great use for a dustpan (instead of actually cleaning with one!) to finish that Hands to Work, hearts to Love piece! DMC and hand-dyeds.

Teresa Kogut's Spring '23 Arrivals!
Seven new cross stitch pieces and 2 punch needle - they are so attractive!
Strawberry Manor - Finishing approx 12 x 8-1/2 on 36ct, this is worked on a lovely neutral with gold undertones to highlight all the reds, gunmetals and greens in it. Coded for DMC and Weeks.
Nature -- I just love this one! Finishing approx 14 x 11 on 36ct, it says Folkart and Whimsical right in the design! Regular DMC floss, pretty birds and lavish flowers.
Beauty Fades - This one is fun! I see four separate parts on this - it measures 7-1/2 x 16-1/2 on 36ct... so the top bands might need an inch or two on the ends if you make them into squatty pin drums, or you could duplicate one of the urns and alternate a few colors.
Remember Me - This one as the prettiest border surrounding such a happy house and yard! Love it! Finishes approx 13 x 14-1/2 on 36ct... Regular 'ol DMC can look really nice, can't it!?
Needle & Flax - This one measures 119 x 83 - so 6-1/2 x 4-1/2 on 18/36. Full of red, gold and gunmetal gray and cute 'creative' motifs, it's a darling pin cushion finish as well.
Egg Collector - Something colorful for Spring, it's pretty big - 10 x 10 on 18/36ct. Regular DMC against a mangy hand-dyed background helps with the primitive look.
Kindred Spirits - Finishing 10 x 11-ish on 32... love the patterns and colors in the dresses - aren't you glad we don't have to look like antique artwork? Makes me smile!



Lots of New Designs

coming our way! Everything is due next week, so here we go!

In Our Home - "Let love abide and bless those who step inside." This was our Summer Event piece from Teresa (summer of 2021)... so if you wanted to come and missed it... here's your second chance! Model is worked on 40ct hand-dyed... just about any count and neutral color will work for this. It finishes about 11-1/2 x 14 on the 40. DMCs and Classic Colorworks... pretty colors, very eyecatching!
Tabby's Halloween - Our 'generous' kitty is all dressed for a Halloween party. On 40ct, she measures only 4 x 5-1/2... and here she is simply mounted onto an old book, and trimmed with rik rak! A 2-minute finish that is charming, gentle on the budget, and unique!
Whimsey Witch's Angry House - The witch doesn't look angry, and the cat and pumpkin aren't copping an attitude - but that little house IS! Finishing just 4-1/2 x 6 on 40ct, this uses DMC. It's mounted onto a craft pumpkin board from Hobby Lobby, and trimmed with Lady Dot mini ball fringe trim.



Hello Halloween Book


This is a book that contains 11 full color Halloween designs. The main Sampler shown the cover is so cool! I love love love all the repeating rows of motifs, and the repeating cat border. The differently dressed witches are cute, and the haunted house at the bottom makes a great pic of it own - especially if you add that tree over on the left. 220 x 330 - This finishes approx 12 x 18 on 36ct... a mixture of DMC's and hand-dyeds.

Shown above are just 3 of the included designs: Vintage Cats are in here... stitched on Weeks Tiger Eye hand-dyed linen... each measures a generous 4-1/2 x 7-1/2. Onward Black Kitty is quite the vision! Looks like it came from an antique postcard... I think kitty is more scared of the moon than the witch! The Goode Witch - another offering in the book... here's another that you can split apart - do just the kitty on pumpkin, or leave that part out, and now the scarecrow is getting the prize offered by the witch!





Three Little Stars!


Rudy, Jingle Bells and Jolly Truck - these three are offered as individual charts. Each is 70 x 61 and stitched on 16/32ct, they finish approx 4-1/2 inches in size. Rudy and Jungle Bells are done on 32ct Onyx by Weeks Dye Works, and are trimmed in dark navy mini-ball fringe. They probably won't show up much on a green Christmas tree - so be thinking bowl-fillers here!

Jolly is done on Confederate Gray but still trimmed in the same dark blue ball trim... and I think I'd stick him in the same bowl as his buddies. Teresa also have a few other 'star' pieces (that we have available on her page)... so I think we're working on a collection here!





Broad Stripes and Bright Stars

from Teresa Kogut!!!
Teresa Kogut has released a beautiful new book featuring 7 of her original Americana designs. Full of gorgeous project pics, the charts are huge and in full color. Everything is coded for hand-dyed floss and DMC, and every page is prettier than the last.

All the designs are featured in the cover picture, so you know what's inside. Teresa has designed a line of fabric: Bright Stars by Riley Blake Designs which releases in the Spring of 2023. The watercolor art in this book is taken from that new fabric line!




TONS of NEW from Teresa Kogut - I can't believe all that she is coming out with (I counted at least 30!) - and I have no idea how you can get it all stitched in a lifetime! However, I am here to remind you that Cross Stitchers don't have to stitch EVERYTHING in their stash... half the fun is appreciation of all the cool stuff out there!
Introduce me to a fix-it guy who has used all his screws or a golfer who has hit all his golf balls... or a photographer who has taken all the pictures he ever will... and we'll be even! Meanwhile ENJOY Teresa's talents! She has several books with multiple designs in each! Click the Punch Needle block above to see 2 new PN designs.



Love Lives Here


Nine designs in here - All use DMC, all on different counts and fabrics! This book includes the charts and finished stitched pics for all of these!
This Small Sampler, Basket of Joy, Love Lives Here, Our Whimsey Housse, Home, My Big Bird, Tweet House, Quilter's Home and Saltbox!





Flurry


This book includes 9 designs as well! Stitched models all shown inside by the charts, all are stitched on various fabrics and counts - all using DMC!
Flurry includes Snow Family, Welcome, World Go Round, Snow Clown, Pray for Peace, Winter Bouquet, Merry Birthday Jesus, Bearing Gifts and Be Merry.





Let Love Reign


Three designs in this book as well.
The main sampler, Let Love Reign, has two smaller designs to compliment it - Love Your Family and How Much I Love You.


Gather


Three designs in this book... love, love them... all coded for DMC. YOU choose color and count you like best to stitch them!
Book includes ABC123, Gather, and Sally Emerson.

Thoughts & Dreams


Three designs in this book too!
Daydream Believer, My Darling and Flowers or Weeds.

Newcastle Bouquet Biscornu


I am a little confused by this one... cover shows one-two-sided design, but then 3 more below... with no other information.
Jury is still out on this one... but i think you get all 4 designs in the book!

Madonna & Child - A Work of Heart


This gorgeous design belongs with Teresa's Angels! SUPER DETAILED stitching in these... they are not easy to follow, but so worth the effort if you can do them! Solid stitching, color changes everywhere - choose any fabric you like!
Madonna and Child measures 126 x 135 so finishes approx 8 x 10 on 32ct.



Lots of New Designs

from Teresa Kogut!

XS220 Fabulous Monsters #3 - Two new monsters are joining the pack. Creepin Jack has a stitch count of 44 x 70 and Crabby and Cookey is 130 x 70. They are stitched on 32 count Murky. They're just fun!
XS 231 Santa and Reindeer Ornaments - These holiday ornaments are full coverage so you can pick any fabric and any count. Stitch count for each is 39 x 82.
XS 232 Snowman and House Ornaments - Another new set or holiday ornaments. Full coverage so any fabric and any count will be perfect. Stitch count for each is 39 x 82.
XS 301 Plump Snowmen - Snowmen and foxes playing in the snow as they wait for Santa...how delightful! Make into a pillow for your holiday dough bowl. Stitch count is 145 x 94.
XS 302 Oh What a Sight - Santa and his reindeer have their sleight loaded with gifts. Do you think they will stop at your house? Stitch count is 141 X 94.
Lots of New Lovelies
Soul Sisters - Finishing about 4-1.2 x 6 on 32ct... (I'm the one with the smaller butt!) Something cute to stitch for a friend!
Two in a Bush - Teresa likes Pennsylvania Dutch Fraktur designs... thus the inspiration for this little piece! Approx 5 x 8 on 32ct... pretty cranberries, cream and greens on a deep gold.
Up on the Housetop - Choose a wild and fun blue hand-dyed fabric for these little guys! They're up there dancing on the rooftop - they'd better not fall! 6-1/2 x 7-1/2.
Hazel's Halloween Friends - Quite a cute stack of little buddies here... this measures about 4 x 5 when finished. Cute finishing treatment on a little pre-made board.. turn under the edges, choose a little fun trim, a little glue and you're done!
Pumpkins & Bats - This one would be fun to add some glitz to. Metallics for the moon and stars, Straight stitches for the broom bristles, fuzzy for the cats, and beads for the bat eyes... finishes about 6 x 4-1/2.
Tis Near Christmas Day - Finishing 6 x 9... what a fun thing to display the whole month of December while waiting for Christmas! Perch the 6 x 9 pillow in a little wooden sleigh, or finish this into a box and 'wrap it' with a bow on top!
New Releases

from Teresa Kogut
We were treated to EARLY RELEASE of two of Teresa's next patterns while she was here last week presenting at our Summer Event! I don't think the rest of the industry gets these for a couple of weeks, so we're thrilled to be able to present them now! Both are presented in booklet format with wire-spiral edging so you can open the charts flat to stitch from them.
Cotswold Fields - *The birds of the air God takes care, Our world with abundance it yields, He delights in the creatures of the land and sea, but mostly the sheep of the Cotswold fields.* Measuring 324 x 256, this finishes a generous 16 x 13 on 40ct linen (so slightly larger on 32 or 36.) Worked with DMC and a few hand-dyeds, this is stuffed with charming animals and flowers everywhere. Teresa talks about her inspiration for this piece, so it makes all the design elements 'belong!' Colors are awesome, the shape, the flow, it was lovely to have the model in person for just these few days... definitely something you'll want to stitch!
Remembrance - Teresa's first reproduction piece! She found a cute little piece... I don't think the original was stamped, but it kind of reminds me of those old ones... that finishes 8-1/2 x 9-1/2 on 40ct linen. Coded for DMC and Classic Colorworks hand-dyeds it features a sweet verse: Remembrance is the sweetest flower of all the world's perfuming. Memory guards it sun or shower, Love keeps it blooming.



Several New Cross Stitch Arrivals

from Teresa Kogut
Ms Teresa has been busy charting up a storm for us... of note are Wilbur and Tilly (previously released in Punch Needle) in CROSS STITCH! Her newest Punch Needle designs - Sweet Land and Folk Quilt Stars - are featured farther down.
Silhowitches Quaker - Kind of a fun design, this is stitched with just Swamp Water (3371) and touches of Guacamole (733) Weeks hand dyed flosses. It's full of cute little motifs hiding everywhere. You could separate a bunch of them out of here and make bitty ornaments and fobs if you wanted.
For the Love of Nature - This one features a cute squirrel, racoon and little fox. The trees are all patterned (they remind us of bits of wool) and the border is full of happy hearts. The chimneys are even billowing love hearts! Stitch count is 198 square - so it'll finish an impressive 13 inches on 32ct! Coded for hand-dyeds or DMC, you'll need quite a few multiple skeins of some colors.
Wilbur & Tilly - Well, aren't these two just the cutest? They both measure 111 in stitch count, so finish under 7 x 7 on 32ct. Charted for hand-dyed flosses.
Prim Hen in Basket - Here's one I found in the shop, but it missed the website! Hen has been in punch needle - but now charted as well. She's stitched on gunmetal or a blackboard color - all that brown border area is your stitching - not the fabric! It kind of teases your eye!
Outstretched Arms - We LOVE Teresa's signature angels - but this one is NUTS! Stitched on Cornsilk linen, it measures 170 square. The background is STITCHED with #310 but can you see the teal highlights on there to make it look distressed? They are stitched too! It distresses ME to look at the chart. Some of you guys can really do a nice job with a chart like this... this one is for YOU! It's simply gorgeous! But wow!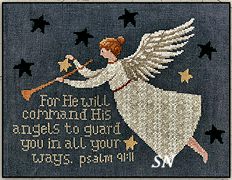 Lots of Lovlies

from Teresa Kogut!

Rise & Shine finishes about 6 x 8 - choose a light background like the morning sunshine!
Whimsey Halloween - 4 x 6 on 40ct... this one is upside-down!
Psalm 91:11 - Measures 9-1/2 x 7 on 32ct. Choose a dark fabric you can see on... notice the monochromatic design in her dress?
Peacemaker - Another of Teresa's signature angels... this one is about 9 x 10 on 35ct. LOTS of color changes in these, but so worth the effort!
Come Into The Garden - Love all the details in this! Finishing 11 x 14-ish on 40ct... 'Come to the Garden, Thy senses shall be overjoyed.'



More New Designs

from Teresa Kogut

Rejoice Rejoice Snowman is worked on a dark blue background... finishing 5 x 7-ish on 32ct.
The Heifer is a bitty thing! Just 4 x 4 on a rich red background.
Don't miss the new Punch Needle pattern, This is the Day, down the page in our Punch Needle section!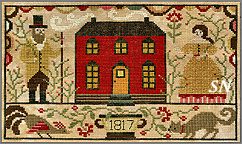 Teresa Kogut has New Punch Needle and Cross Stitch Designs
Our Humble Homestead - We like this! It reminds us all of the first small-ish houses we all lived in when we first married - because the people are as big as the house! That first house was a HUGE CASTLE, regardless! This finishes about 6 x 9-1/2 on 36ct - you can put it on anything you want - the model pic is Picture This Plus's Ale color.
You Are Worthy - Good encouragement... this finishes approx 7 x 8 on 32ct fabric. The linen in the model pic is quite distressed, but if you don't like that look at least use something on the darker side of colors so the beige whites will show up nicely.



New Stars

from Teresa Kogut
Three new charts are coming our way this week... each finishes about 4 inches on 30 or 32ct fabric. Not many other details yet, just cute little cushions and ornaments!
Vonna Pfieffer is releasing a video finishing tutorial on these today, too!



Just SOME of our 8 New Arrivals by Teresa Kogut

Old Friend - Isn't this little guy the cutest? The background of this is not stitched - so that is the linen color. Dark is harder to see, so maybe think about filling it in if you work on a lighter shade. He finishes just 5 x 6 on 32ct - so really, there's not much background to do if you go that route.
All The Things - This is a cool piece... do it all, or just the center Santa section... or make ornaments and cushions out of the border motifs! Stitched on Picture This Plus's Gingerbread, we have that color in several counts. Big, it finishes 8 x 10 on 32ct! DMCs and handyeds.
Lincoln's Eagle - This is worked on Weeks 40ct Straw linen - with Weeks and DMC floss. It finishes just 5 x 7-1/2 and would make a neat piece to hang in an office or family room.
Home For Christmas - This is a little one - worked on Country French Rain Linen - a light smoky blue. It's only 4-1/2 x 5, and it'd be fun to add your family name and maybe date established to the bottom of this to help celebrate every year.
Tilly's House - Tilly is Teresa's little punch needle sheep! And this is her house! Super-organized repeating border tulip motifs... even Tilly-in-the-trees... is cute by herself! This finishes 4-1/2 x 7-1/2 on 32ct.
Character - A quote from Abraham Lincoln: Character is like a tree and reputation like a shadow. The shadow is what we think of it, the tree is the real thing. Stitched on 32ct, this finishes approx 10 inches square... full of gorgeous reds and golds.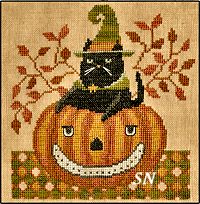 Teresa Kogut has Five New Sampler Designs
We have a few new charts and a punch needle design.
XS219 Fabulous Monsters #2 - How funny are these little guys? Groovy Gary and Frightened Fred finish about 4-1/2 x 5 each... stitch them together in a line, or singly... they are the second pair of Monsters, and go with Skelly and Party Pete!
XS252 Snarky CatSnarky Cat - I love this one - how disgusted does he look? And the Jack is HAPPY about it all! Everything is fun about this - the leaf shapes in the background, the contrast of the cat, the shape and stripes on the pumpkin and yet more geometric shapes on the bottom border. Snarky and his Jack finish approx 5 x 5 on 40... or under 6 x 6 on 32.
XS4004 Land That I Love - This is another of Teresa's bigger samplers - it measures 288 x 292 - so 16-1/2 done on 32ct. SO MANY cute motifs and borders on this... everywhere you look on this, the houses are neat, the baskets are cool, the colors are all rich cranberry and brick reds, navy and denim blues and rich golds. Stitch it in its entirety or split up the elements - this is lovely!
Fabulous Monsters XS218 #1 - Our monsters are Skelly and Party Pete.
Faith Peace Hope & Love - This finishes 13 x 16 on 40ct Weeks Dye Works Straw hand-dyed linen, so it'll be even larger on 32 or 36! Coded for a few hand-dyeds (you'll need 2 skeins of everything) of Barn Door, Colonial Rose, Pine Needles, DMC 422, 611, 3012, and Weeks Light Khaki (3 skeins), Havana, Swiss Chocolate (3 skeins), and Bark, it is full of charming design details! The courting couple at the top, those lavish flowers all over the place, and the pretty house on the bottom section, it actually could be a wedding sampler! Faith, Peace, Hope and Love are stitched into the corners.
Heaven & Nature - This one finishes 14 x 18 on 40ct Parchment Linen - so larger on 32 or 36. It features three distinct sections along with the border, so you could split this up and make several charming pieces from it! Look at the dividing bands above and below the house... and did you notice the raccoon on here? Among other threads you'll need 3 skeins each of Bright Leaf and Collards, and 4 of Brick! Lots of stitching on this one!
Pet All The Dogs - This is darling! It finishes approx 15 x 8 on Weeks 35ct Tin Roof Hand-dyed linen. The border is bold and organized, the trees feature a neat pattern in them, there are dogs all around those trees, and check out that fun border along the bottom with 16 more doggies on it! DMCs of 221, 3032, and hand-dyeds of Beige, Palomino, Cocoa, Chestnut, Charcoal, Tarragon and Kudzu.
New Castle Bouquet - This one finishes approx 17 x 10 on 40ct Weeks Straw Linen. It uses Licorice Red (2), Glazed Carrots, Pine Needles (2), DMC 167, 437, 739 and 801, as well as 2 skeins each of Bark and Cayenne. A bold border, the lavish flowers coming from the basket, this has been quite a favorite new release of Teresa's.
In Command - This is the 5th of Teresa's GORGEOUS angel faces... stunning colors, and enchanting faces... they are quite a challenge to stitch but worth the effort if you can! All those yummy colors are NOT hand-dyeds - those are all DMC colors that you are constantly changing in your needles. In Command finishes 9 x 11 on 32ct linen.
Struttin' features a happy Santa with his perky reindeer friend! Colorful Christmas design, this'll finish about 4-1/2 x 5-1/2 on 35ct linen. It'd make a nice block stand-up - especially cute as a door stop!
Bunny & Bee - This is a smaller design - its stitch count is only 63 x 36 - so a darling pin cushion finish awaits! She'll be a mere 2 x 4 on 32ct linen!
Lots more to see on below... I haven't SEEN all the charts yet, so info is sketchy!


Bee Kind - Finishes 5 x 5 on 35ct Cornsilk linen - this is coded for Weeks hand-dyed flosses.
Two Homes - A pair of small circulars. HOME is 2-1/2 inches round, the larger 'mansion' measures 3-1/2 inches. The only colors used are Schneckley, Havana and Pecan!
Santa Knows - 118 x 139 -- 6.75 x 8 inches on 35ct.
Peaceful Snow XS207 - This one is a little more on the regular-side of cross stitching! Approx 5 x 6 on 35ct, it uses Weeks and DMC flosses, it actually has several 'areas' that you could pull out and stitch just by themselves! Just the house and trees; or the sheep, peace and a few of the penny border rounds... or even just the snowman! Pretty primitive colors.
Fox & Friends - 121 x 112 -- 7-1/2 x 7 on 32ct.
Belsnickles - 125 x 101 -- 8 x 9 on 32ct.
Snow Penny - 88 x 112 -- 6 x 7-1/2 on 30ct
Click down to the Punch Needle Section of this page to see the other 4 new designs.


New Designs
Ms Teresa does things in both Cross Stitch and Punch Needle... here are my favorites of her new ones... looks like she's in a Holiday Mood! Click down to the Punch Needle Section of this page to see the other new designs. Work of Heart XS3400 Good Tidings
This could be a CHALLENGING undertaking to cross stitch! A gorgeous 10 x 12, solidly stitched piece you probably assume this is worked with hand-dyed threads to give you all that wonderful color variation, depth, and shading. Well... it's YOU and regular DMC thread - 60 different shades! Santa is decorating a little tree for his snowman friend, can you see that he's hanging the topper star and he's holding another tiny snowman face ornament to hang next? A charming picture... I took a look at the chart... some might find it charming too, just a heads up!





Rejoice & Oh My Soul


Teresa's newest pair of angels... these join Angelic Vision and Pray... but are slightly larger than those first two. Finishing approx 9 x 9 on 32ct, they are NOT stitched with hand-dyed flosses like Teresa usually uses. These are a little more on the challenging side to work because those are all solid DMC colors and you change them OFTEN! (Rejoice features 40 colors!)

Anyway, totally delightful, make sure to see Pray and Angelic Vision if you like these but need a bit smaller of a project!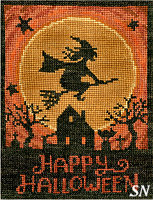 Happy Scarecrow and Happy Halloween
Happy Scarecrow is here charted for Cross Stitch, and you'll find him farther down the page under the Punch Needle section as well! He is spectacular! Finishing approx 5 x 8 on 35ct linen, it calls for Cornsilk, but Lambswool or Natural would be great alternatives. Just LOVE this guy!
Happy Halloween also has a punch needle counterpart. What we love about THIS design is that it has a couple of AWESOME companions to it. Moondance follows the same dramatic orange and black colorway. Nothing else like these! Happy Halloween finishes about 6 x 7, stitch it on something light beige so your threads will cover well.



Ol' St Nick, Flying Lessons and Believe


A trio of Christmas in Cross Stitch...
Ol' St Nick finishes 6 x 6-1/2 on 18/36ct. Border is Indian Summer Red, his coat is Terra Cotta - easy to change that color if you like a richer red.
Flying Lessons - I love the charming double-layered border! This finishes about 7 x 11... choose a fabric that lets your sheep show up a little against it.
Believe - What a cool blustery-windy background on this! I like all the creamy-green colors too. He finishes about 5-1/2 x 7.
Bloomin' Hens, Carrot Row in Cross Stitch
Bloomin' Hens - LOVE LOVE these! The punches of color are awesome. Finishing almost 7 x 9... the little bees look like little blimps flying around!
Carrot Row - Also in Punch Needle - that pattern was featured in the Spring 2019 Punch Needle and Primitive Stitcher Magazine! Just sweet, you could stitch your bunny with Wisper Thread to make him furry.
Spring, Summer, Autumn and Winter -- 4 New Charts
American Primitives -- This is a fun design to celebrate Summertime... Uncle Sam in his finery, another piece that is entirely covered in stitching... another chance to change your fabric 'safely' if you want! Finishing approx 5 x 7 on 35ct, beautiful colors of DMC and Weeks.
Harvest at the Mill -- Coming into Fall and the sunflowers, this is stitched on Weeks Parchment linen with Weeks and DMC floss. Finishing approx 5-1/2 x 8 on 35ct. the fabric comes in many sizes, so you have options. I love the flowers -- they'd make pretty pin cushions!
Season's Greetings -- A warming Winter Greeting... only there's no snow yet!!!! I think you need to 'frost' the trees and grass with a little white stitching... otherwise this snowman greeter won't stay happy for very long! Finishes approx 11-1/2 x 4-1/2 on 35ct... Teresa chose Cornsilk-colored Weeks linen which has a yellow-green cast to it. It all has a retro-vintage feel to it... so I am not sure you'd want to change that part to a winter gray... the colors are pretty the way they are!
Halloween March


This is the cutest!!!!! Teresa Kogut has a new chart that is so colorful and charming with an old-fashioned personality. Solid stitching on 35ct linen (18 Aida would work too especially since you are covering all your fabric with stitching) this finishes about 8-1/2 x 7-1/4 inches.

The background calls for Weeks Dye Works Onyx hand-dyed floss -- 2 skeins, but the rest takes a whopping 31 shades of regular DMC floss! The chart is a little involved because all that color shading is CHARTED -- there are no other hand-dyeds in there to do the work for you! Anyway, I love it!!!


Springtime Bunnies finishes 7-1/2 x 4 on Weeks Cornsilk linen. All of the background is filled however, so fabric doesn't really matter with this one!
Dance Party -- Cute little Jacks in their PJ's! They finish 8 x 6 on 35ct Weeks Confederate Gray
Flowers & Berries -- This one is small -- 3 x 5 on 35ct Weeks Onyx linen. That might be impossible to see... so a chalkboardy light black might be an option.
God is Good -- This finishes 10 x 7 on 35ct Weeks Tin Roof. It is almost solid stitching... so be aware that it takes more time and TONS of multiple skeins of floss!
Wooly Estate -- I've seen this as a hooked rug! Finishes 4-1/2 x 6-1/2 on 35ct Tin Roof linen, lots of solid stitching again that really highlights the hand-dyed floss!
Chicken Run -- This is so cute! Finish her into a little stand-up to grace your windowsill... she's running so fast that she matches her flowers! Finishes about 8 x 5 on Weeks Dye Works 30ct Havana hand-dyed linen, and stitched with Weeks hand-dyed flosses.
Pray & Angelic Vision


This is a pair of beautiful angels charted from Teresa's original watercolor art. Stitched on Week's Cocoa 30ct Linen, these are coded for regular 'ol DMC floss! Such pretty colors and such a neat look...

Pray finishes approx 6-1/2 inches in size, while Angelic Vision measures 5-1/2 x 7-1/2. Lovely!


Prim Santa


Isn't he cute? Stitched on Week's 30ct Cocoa Linen, with regular DMC flosses, he finishes approx 5-3/4 x 4-1/2.

He'd be great finished as a little door stop block!


Bee-utiful Garden


Here's the same pattern from Punch Needle into Cross Stitch!

Same yummy colors, this is stitched on Week's 30ct Mocha linen in Weeks' hand-dyed flosses. It finishes approx 9 x 6-1/2 inches.


Eight New Designs by Teresa Kogut!!!


Hens in the Garden and Daisy Hill are two of Teresa Kogut's newest cross stitch releases -- I love the contrast of the black with brick reds, mossy greens, golds and taupe. Everything is presented in chart format and coded for DMC or hand-dyeds.
Hens in the Garden -- Finishes approx 9-1/2 x 5-1/2 on Week's 30ct Cocoa linen. Can you see the carrots and radishes growing underneath the ground???
Daisy Hill -- Finishes approx 6 x 4 on 30ct Weeks Onyx Linen. You could always stitch this on light fabric so it's easier to see and fill in that background with over-dyed black!!
The Greatest Gift


Oh... love from one to the other!

Finishing approx 6-1/4 x 5-1/2, lots of easy, solid stitching in this one.


Sam Snowman


A crooked little smile on this guy -- he is worked on 30ct Weeks hand-dyed Mocha linen, and finishes about 6 x 5.

Those stripes in his scarf are the perfect place to add a wild varigated!!


Santas Tree


We just love this classic Santa design -- previously only available in Cross Stitch -- he'd be neat with Wisper thread on his beard and some matte-finish beads on his spindly tree.

Finishes approx 7 x 5... take off the words if you want him more square.


Moondance in Cross Stitch


Oh, I absolutely LOVE, LOVE this design. I was sort of sick when it came out in Punch Needle because I knew it would be cool in Cross Stitch, but I knew I couldn't convert it. NOW here it is!!! Stitch count is 90 x 130, so it will finish approx 5 x 7-1/2 on 35ct. You are supposed to work this on black fabric -- which is a **real challenge to see** especially on 35ct.

You are stitching only the color... all the black is the unstitched fabric showing. You COULD choose a medium neutral beige or khaki color to work on -- and solidly stitch everything, but part of the beauty of this is that NOTHING shows through and that black area is BLACK. Anyway, a charming design, I might just frame the cover picture!!


Give Ye Thanks


Here's another one that has great *bones!* Over two on Week's 30ct Cocoa Linen, it finishes approx 7 x 5-/14 in size. Pretty autumnal overdyeds and a couple of DMCs... add some JABCO buttons all over the place on here!

The border would be a good place for leaves to be scattered... you could even do Satins in there, or on the barn. And then there are always the berries on the branches... lots of god design elements in here.


Merry Halloween


This is pretty cute! Finishing approx 6-1/2 x 7 on Weeks 30ct Cocoa (Teresa LOVES that fabric!), it'd be awfully cute with a bunch of JABCO pumpkins and jack-o-lanterns on there over the stitched ones -- or instead of!

You could add metallic to the moon and stars, as well... and make her face greeeeeennnnn...!


Primitive Halloween


RETIRING! When they're gone, they're gone!
Oh... we've had this little guy in punch needle for several years! He's very cute, and now finishes a whopping 8 x 12-1/2 on Weeks 30ct Chocolate linen.

You'll need both Weeks and DMC flosses... and if you have some cool old buttons, those would make neat eyes on the pumpkin!


Winter Blessings


Another cute one, this is worked over two on Weeks 30ct Havana, and it finishes approx 5 x 10-1/2.

The only overdyed in here is the orange on the door!


Sunflower House


Work this on 30ct Weeks Cocoa Linen with hand-dyed flosses to create this 9 x 12-1/2 inch piece.

I love everything about this... the oversized sunflowers, the butterscotch house, the rolling hills dotted with sheep, and even the relaxed lettering in the sky. Classic!


Santa Bear


RETIRING! When they're gone, they're gone!
Oh, this little guy has been a favorite in Punch Needle for quite some time -- and how he's been charted for Cross Stitch!

Finishing approx 5 x 7 on 30ct Cocoa Linen, he's just Santa's tired little helper waiting by the Christmas Tree!!! He might need a hug!


Punch Needle Designs



Rabbits


A new Punch Needle Design, 5 x 6 - very folk-arty! The model is punched using Valdani threads, but pattern is coded to DMC, so you can then make yours more solid looking, or go to your stash and find more pretty hand-dyes you already have to match!

Line drawing ready for you to trace and transfer onto your punching material.





Stitchy Bluebird & Rhombus Lace


Two new punch needle designs - each finishes 5 x 7 and is punched using DMC floss.

She has them shown as box toppings on painter paper mache boxes... they also look good mounted like that to the front of an old book - not to stuff on a shelf, but to perch the same way you do a box!

The designs are hand-drawn patterns for tracing onto your weaver's cloth.


A Pair of New Punch Needle Designs!


All presented as line drawings ready to be traced onto your weaver's cloth.
Christmas Sheep - Finishes 8-1/2 x 6-ish.
My Country, My Home - Finishes approx 5 x 5-1/2.
New Punch Needle Arrivals
Folk Quilt Stars - This finishes almost 9 x 5-1/2.
Sweet Land - This one measures 6-1/2 x 5.



This is the Day



This is an endeavor!

It finishes about 9-1/2 x 12 - so you'll be punching for a while!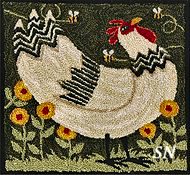 Brahma Mama


A glorious hen in her summer garden. She finishes approx 5-1/2 x 6, and is punched using Weeks Dye Works hand-dyed flosses... or DMC. The pattern includes the line drawing for transferring and the needed cut of weaver's cloth base fabric.






Home


Wow, how pretty! This punch needle design finishes to 5-1/4 x 7 inches - the line drawing design is ready to be transferred onto the weavers cloth.

This little piece will look stunning framed!



Teresa has New Punch Needle Designs
Then the Punch Needle Patterns! All of Teresa's come with the punching fabric.
Carrot Row - We already have this in Cross Stitch - and it's charming! Finishes 5-1/2 x 3-3/4 inches.
Halloween Jack - This is full of bold color, and from the shape of it, it looks fairly easy to punch! 7 x 8-1/2 inches.
Wilbur - Well ISN'T HE THE CUTEST? He's little Wilbur from Charlotte's Web, and he finishes about 5 inches square.
Tilly - Another cutie! Same size as Wilbur - you need them both!
Santa & Reindeer Ornaments and Snowman & House Ornaments - This is a set of 4 punch needle ornaments that each finish approx 3 x 6. I love the striped triangles at the top and bottoms of these, but if you need to make them a little shorter - leave one off! Coded for DMC and Weeks hand-dyed flosses, the weaver's cloth is included in the package as well as the actual sized line drawings to transfer. Remember that we have the Sulky Stick 'n stitch transfer film - and you CAN use it for needle punch! Cute, cute, cute!
Neighborhood - This is charming! It punches a whopping 7 x 11 inches and uses a TON of floss - 33 skeins of Weeks hand-dyed and 9 of DMC! Look at it... it's a 4-sided scene of a village - a different landscape each way you turn it - so there is no definite top, sides or bottom! Rich yummy colors, just the neatest design! Weavers cloth is included, as is the actual-sized drawing to transfer - another good candidate for the Stick 'n Stitch film.

Teresa Kogut has Five New Designs
Ms Teresa does things in both Cross Stitch and Punch Needle... here are my favorites of her new ones... looks like she's in a Holiday Mood! Scroll up to the top of this page to see the two new cross stitch designs.
Merry Hill PN204 and Holly Hill PN205 - A pair of punch needle pieces - each finishes about 6 x 6. Following the same color schemes, these two are presented as the line drawing that you transfer to the included punch needle fabric. Teresa gives lots of punching tips, and full color key for each area. These are both kind of simple with regards to design detail, so should punch really fast and be really fun to do.
Lumina Dreams PN206 - Approx 5-1/2 x 6, this one's neat because of that white pumpkin! You'll need multiple skeins of thread - Teresa used SEVEN skeins of Taupe on that awesome pumpkin! Pattern is presented in line drawing format you need to transfer to provided fabric. Conversions from Weeks hand-dyed flosses to DMC are also included.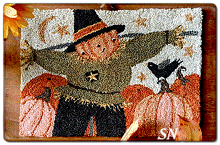 Several New Punch Needle patterns as well...
Santa Knows


Teresa Kogut has a delightful new Punch Needle design that is aimed straight at all of us WOOL LOVERS! *Santa knows your heart that's true... so he's bringing wool for you!*

What a fun decoration for a wool applique nut, or a knitter or a spinner. Presented as a line drawing to be transferred onto the provided weaver's cloth, this is punched with a #3 needle using Weeks and DMC flosses. It finishes approx 6-1/4 x 8-1/2 inches. 4 New Cross Stitch charts as well... more fun things to add to your stash! (Remember, please, that the Punch Needle designs are grouped together on the bottom half of her page.)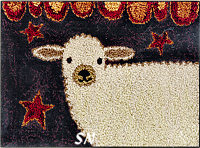 Vintage Circles - RETIRING! When they're gone, they're gone! - 8-1/2 x 5-1/2, she's not happy with her colored pic on the cover of this, and warns that it is stunning in person! This one is coded for Weeks hand-dyeds if you wnat to use them.
Sweet Little Ewe - RETIRING! When they're gone, they're gone! - 6-1/2 x 4-1/2, this one includes TWO different colorways, because she couldn't decide and neither could everyone on Facebook!
Dance Party finishes 8-1/2 x 6. Available in Cross Stitch as well!
Primitive Cats - RETIRING! When they're gone, they're gone! - Finishes 6 x 4... you could add some color to the background... lots of black and brown in this right now.
Bloomin Hens -- 6-1.2 x 8-1/2, I love the colors in this. So fresh and bold!
Funky Chicken - RETIRING! When they're gone, they're gone! - 6 x 4-1/2 -- This one has fun colors the other way around -- soft and summery!
Prim Santa -- 5 x 3-3/4, this is just a bitty one! He was featured in the 2016 Christmas Mega Issue of PS and PN Magazine.



A Trio of New Punch Needle Designs


Super-Cute designs presented as line drawings to transfer onto provided weaver's cloth, each of these is punched with hand-dyed or DMC flosses.
Happy Halloween -- Wow, talk about eyecatching! Finishes approx 5-1/2 x 7, punching around the circle gives you all that color variation!
Beeutiful Garden -- Charming floral border surrounding a beehive -- everything is muted in color on this... just gorgeous! Finishes 5-1/4 x 7.
Halloween Duos -- Cats and Jacks, and crows! I love the white outline she's added around everything in this! Finishes approx 8 x 6.
Moondance


WOW... this is an awesome Punch Needle design! Offered as the line drawing that you'll have to trace onto the included weaver's cloth, it finishes approx 4-1/2 x 7. The tracing part is kind of a nuisance... not hard... just an extra step that I hate doing when I ready to punch instead! The Weeks flosses in here are only Kohl and Onyx. All the rest of the oranges are DMC colors! 3826, 975, 434, 921 and 977... you do all that mixing in the background areas.

Teresa draws out the areas for you and tells you which colors are blended into that area. So... I am thinking that if you are a beginner Punch Needle Artist... choose another pattern rather than this one. Punching is easy... the color blending on this one is a little more individual than on lots of other patterns. It IS lovely though!





My Black Hen


Super-cute, we have this in Cross Stitch as well! 4 x 4, pre-printed on weaver's cloth, this is coded for Weeks or DMC.





Kind Kitty


RETIRING! When they're gone, they're gone!
Oh, he has a heart on his chest and is looking lovingly at a little bird on his back!

Only 2-1/2 x 3, design is pre-printed on the included weaver's cloth.


Santa's Tree


RETIRING! When they're gone, they're gone!
Finishing approx 4 x 4, this is stamped onto very dark and distressed Weaver's cloth, so if you leave a bit of border showing... it'll look old and neat. Santa takes 15 skeins of Weeks overdyeds -- lots of deep reds and greens!


Halloween Greetings


Another fun Halloween piece -- we have a lot of these in Punch Needle.

Great Fall colors, you could leave off the lettering and Jack's face if you want to keep it our longer than just Halloween...


Kitty on Jack


RETIRING! When they're gone, they're gone!
Oh... the tottering little kitty is having such a good time atop that smiling Jack-o-Lantern! Finishing approx 2-1/4 x 3, this silly punch needle pattern is new from Teresa Kogut, and is presented as the line drawing stamped onto weaver's cloth. Punched in Weeks overdyed flosses, its just precious!

Teresa Kogut is a new addition to our Punch Needle Department! Her designs have such personality... you can just 'hear' what all the characters are saying in her pieces! Check out the rest!