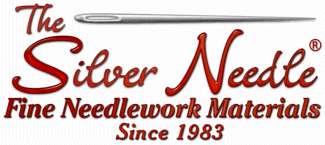 6068 S. Sheridan Rd. Tulsa, Ok. 74145 (918) 493-1136 (888) 543-7004
E-Mail
| | | | | | |
| --- | --- | --- | --- | --- | --- |
| Christmas Stockings | Pin Cushions | Large Kits | Leaflets | Small Kits | Accessories |
Leaflets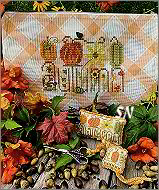 The Stitched Pouches by Teri Richards
This is an ever-growing collection of cute Shepherd's Bushy designs that Teri has stitched over two 'threads' of the Sew Emma 'Mad For Plaid' Plastic Mesh Pouches. The pouches themselves come in nine colors - Olive, Berry, Gray, Peony, Bluebell, Misty, Burlap, Pumpkin and Lilac... and measure about 10-1/2 x 13 x 3-1/4 with a zipper top closure. Scroll down a tiny bit to see them all. Really nice as project pouches, Teri has added a Shepherd's Bush Charm to them!

Each of her designs is done with #5 Pearl Cotton - all the same colors you've used in their Christmas Stockings - a combination of solids and hand-dyeds. Along with your stitched pouch, there are designs for tiny stitched scissor fobs as well that will match. Simple and quick to stitch... they'd be neat gifts for stitcher friends!

Keep in mind that you CAN mix and match these bag colors to the stitching! It's Ok to put FLAG on the Bluebell, or Quilt on the Berry, or Scary on the Olive... you get the idea!




Mad for Plaid Project Bags by Sew Emma


MORE colorful mesh project bags! Joining our Gingham-on-the-Go set of Aqua, Pink and Gray multi-sized pouches, we now have Berry, Gray, Olive, Bluebell, Peony, Misty, Burlap, Pumpkin and Lilac zip pouches as well! Shepherd's Bush is stitching on these - you can see 'Stitch' done on the Olive pouch. Quilt is the newest design, shown on the Bluebell Bag.

Teri is using her 'Shepherd's Bushy Colors' of #5 Pearl cotton on these... so now we have SIX different pouch options! These Mad for Plaid bags measure 10-1/2 x 13 x 3-1/4 in size. They are a perfect project size... you can see through them to keep track of what's in what, and they are a soft, pliable plastic.


Thoughts of Home - 'Family, safe, love and joy -- those are the thoughts of home!' Presented in a leaflet format with button embellishment, this finishes approx 6 x 6 and features that lamb and house button as the central focus.
Be True To Your Heart - Presented in a leaflet, this 4 x 6 design is smattered with tiny buttons that accent your stitches. Button Pack available separately.
La Vita e Bella - A sweet little design presented in single chart format, this finishes approx 3 x 5, stitched with asst hand-dyeds on 32ct. A few Satin and Rice stitches... here is another of Tina and Teri's designs that my eye can divide into little pin cushions for a really cool big bowl! I see that cute little hill picture all by itself!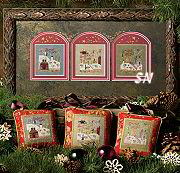 All is Well -- This one is presented in a leaflet. Bees in the garden, sheep in the dell, flowers in the meadow, all is well. It finishes approx 7 x 8 on Weeks 30ct Parchment and is stitched with a variety of hand-dyed flosses.
October Comes - Here's a delightful trio of 40 x40 stitch pieces that finish approx 3 Inches square -- each. The same size as all the Christmas ornaments and other sets of designs the girls have framed in their long Jill Rensel mats... October Comes features a pumpkin patch scene, a creepy haunted house and a graveyard scene complete with alive ghost! If you stitch these on 10ct there is a JABCO button embellishment pack available. If you stitch them on the smaller fabric... they fit the mat. Offered as a leaflet - raid your ha d-dyed floss stash!
Hive and Home - The leaflet in this set, you have two different fabric options - 10ct Tula to make your designs 4 x 4 each, or 2-1/2-ish on 32ct Cream Belfast. Each is stitched with Weeks, Gentle Art and Crescent overdyed flosses, and the larger pieces (not the small!) have a few small button embellishments featured. Make individual pin cushions, those larger pillows, or frame the entire trio! Cute little bees buzzing around their gardens.
Santa's Flight - Oh, THIS IS CHARMING!!!!

*Starry Night, Santa's Flight, Earth's Delight!*

That is the verse shared between this trio of 3 x 3 ornaments... the same size and flavor as 2000 Years Ago and In a Stable! Each tiny scene is stitched on Weeks 30ct linen - Dolphin, Tin Roof and Kudzu - and we have them all! Frame in the hand-done Jill Rensel Mat shown in our pic, or make individual fabric ornaments. Snowy hills, busy snowmen scenes... I can see Santa flying through the sky in the center design -- just TOO DARN CUTE! Offered as the leaflet, fabric, charms and threads are all offered separately.
Home for The Holidays - This one is offered in a leaflet format - just the chart. The model is worked on Week's 20ct Putty linen... 18ct Natural would be a great alternative - and it would match all your SB stockings. There's a little set of JABCO buttons you'll need as embellishment... those should be here by the end of the week, as well! Just a cute, smaller Holiday design.
Love is Where you Plant It! - Teri's newest design this is a spring garden full of happy, cheerful wildflowers. Stitched on 28ct Antique White linen, (28ct Lugana or 14ct Aida would be great with this, too) it is coded for overdyed flosses or DMC's -- your choice. Finishing approx 8 x 12, it features a smattering of Just Another Button Company buttons, little bees, bugs and flowers. You'll notice that this companions with her newest Tiny Garden Scissor Fob and her little Free-Bee bumble bee charm along with it's freebie pin cushion design! A super-colorful, *quick stitch!*
2000 Years Ago - 2000 Years ago, the Angels sang, Shepherds watched, and Wise Men came. This leaflet is a compilation of the consecutive set of Shepherd's Bush ornaments that have appeared in previously published Just Cross Stitch Magazine Annual Ornament Issues! Now out of print, the designs have been released back to SB, and are now here as the set... and sooo endearing! Stitch each individually, or stitch the set. These are full of Shepherd's Bush charm and color. Angels Sang features the horn. Shepherd's Watch has a darling lamb, and Wise Men Came features a tiny Arabian-looking lamp! Each ornament is stitched on 32ct Linen, and has been 'digitally remastered' to include overdyed threads that weren't originally called for! Verrrry nice!
In A Stable - Shepherd's Bush continues their 2000 Years Ago quartet of designs with this next set... published together, just like 2000 (and the new 'She Tends' Shepherdess pattern!). Originally published in the Just Cross Stitch Magazine's Annual Christmas Ornament Issues all of the past 8 years... if you can find your magazines, you might have the early versions of these charts. Now, they are together, and charted for overdyed flosses. Each little block is stitched on 32ct hand-dyed linen, and then mounted into the 4-opening hand-painted mat by Jill Rensel. In a stable, Bethlehem sleeps, Mary and Joseph, Their sweet baby kept. The patterns are so endearing... the colors - now hand-dyeds - are exquisite... and the mat makes it a stunning collection! Offered as a leaflet, the flosses are available individually. Over the past 4-ish years, 2000 Years Ago has been a FAVORITE in the shop!
Santa's Christmas & Bethlehem Christmas - Two charming Merry Christmas greetings, you can stitch both or choose your favorite! Stitched on 28ct linen in shades of Weeks Overdyeds and Gentle Art Sampler Threads, each features a pack of handmade clay buttons from Just Another Button Company! Finishing approx 2 x 14"... Santa's design shows teeny stockings, snowflakes and holly, a candle, snowman, and a few other things, like stars. Colors used include some of the deep holiday shades of Garnet, Cranberry, Blue Spruce and Juniper.
Bethlehem Christmas - which features a stitched angel, shepherd and tiny city of Bethlehem - uses the Shepherd's-Bushy Antique Rose, Highland Heather and Plum color scheme. I love both of them!
Available as individual leaflets, with separate embellishment packs... your fabric color choices can vary with these... depending on your personal preferences. Our shop models are being stitched on Lambswool, but if you'd like a pastel mauve or lavender for Bethlehem, or a deeper taupe or mocha for Santa... just let us know!
Stitching Notes - A single chart design, this is enchanting to us stitchers! It's just a wisp of a design... full of our 'vocabulary' of needle, backstitch, sampler, wool... in between itty bitty motifs. Worked on 32ct, it finishes ONLY 3 x 4-1/2... so it'd make a darling pin cushion, or a small needle case... there are three tiny take-outs in the picture too... more cute ideas for this.
Summer Notes Chart
Winter Notes Chart
Merry Notes - This 5 x 6 series continues with Santa in his sleigh flying over a tiny sleeping village... only the little snowman below knows he's there! Look at it... you might even split the design, and make two smaller ornaments out of it... the village as one, and the Santa, holly and words as another! Presented as a chart with 12+ buttons in the official button packet. (We are offering the chart with buttons, to make your life easier!)
Autumn Notes Chart
Spring Notes - The next charted design - a seasonal sampler measuring approx 4 x 7. Chart with small button set.
Spooky Notes - The new mini-sampler of backstitch words - leaflet format.
Liberty Notes - The 4th leaflet design in this series of designs - finishes approx 3 x 4 on 32ct. Coded for hand-dyed flosses, there is a button pack available for embellishment!
Lucky Notes - Just a little 4 x 6 medley of lucky motifs! Pretty green colors, little green buttons to garnish... make a largish cushion or maybe a easel-stand-up thing to decorate for the season. (Although LUCKY is always in season!!!) Presented as the chart, buttons separate.
Love Notes - This year's leaflet series - small samplers - Love Notes is a tiny medley of hearts, keys, arrows, just everything petite for Valentine's and Love! Chart format, this is stitched on 32ct with hand-dyed flosses, and features a JABCO clay button embellishment pack. Finishing about 4 x 7, you could actually stitch this whole thing and literally CUT IT through your stitches and make it into 4 pin cushions that could nestle together in bowl - then let someone arrange them back together like a puzzle!
Bee Trifles - Three bee-themed cushions, each is worked on different colors of linen. Cute and summery... there are buttons scattered here and there, that come separately from the pattern.
Stitching Trifles
Travel Trifles -- We think this is one of our favorites this time around! Each cushion is small, and they celebrate Paris, London and Tuscany. The JABCO button pack includes a tiny British flag and of course there is a little sheep button to graze the lavender fields! (might be Provence!) THIS ONE IS A MUST!
Easter Trifles - Oh, a darling trio of small cushions for Spring, bunnies, baskets and eggs... stitch these and tuck them next to foil chocolate eggs in an Easter Basket! Choose pastel lines form your stash, and get some of Teri's hand-dyed ribbons to trim them... HEAVEN!
Easter Trifles - Oh, a darling trio of small cushions for Spring, bunnies, baskets and eggs... stitch these and tuck them next to foil chocolate eggs in an Easter Basket! Choose pastel lines form your stash, and get some of Teri's hand-dyed ribbons to trim them... HEAVEN!
Thanksgiving Trifles - Another pin cushion trio presented in a leaflet format - JABCO has a button pack to embellish - always fun fabric choices in these small designs.
St Patrick's Day Trifles - The newest Trifles leaflet - here are three festive pin cushions to celebrate *the luckiest day of the year!* Joining all the other Trifles cushion collections - these are perfect for using up all your assorted fabric cuts. Just Another Button Company buttons are featured as the garnishment!
Winter Trifles - Well... this little guy is the 4th in Shepherd's Bush's seasonal set of Trifles. Tina and Teri have another trio of small pin cushions worked on an assortment of fabrics, just as cute as can be, each is garnished with a few Just Another Button Company clay buttons.
Autumn Trifles - A trio of pin cushions offered in leaflet format, choose just about any small scraps of fabric from your stash, or get what the patterns call for - each is garnished with a few clay buttons by Just Another Button Company. Stitched with a mixture of 10 hand-dyed flosses by Weeks, Classic and Gentle Art, the clay embellishments are offered separately.
Summer Trifles -- Another seasonal collection of pin cushions, this is a single chart that includes a trio of small designs. As with all the companioning leaflets in this series -- everything calls for bits of different fabrics so you're sure to have something on hand. Our JABCO button pack for this arrives this week as well... you'll want that.
Spring Trifles - Another trio of seasonal pin cushions, this chart compliments the Christmas, Halloween and Valentine Trifles. Three charts, light blue, lime green and light pink fabrics, these all call for DMC and overdyed flosses. There is a separate button pack available that you'll need - you can see the flowers on the pink cushion and the purple center on the green one... real cute! Each cushion finishes approx 1-1/2 x 5, 2 x 2, and 2-1/2 x 2-1/2.
Christmas Trifles - Teri Richards has another *Trifles* leaflet - Christmas - to go along with Halloween and Valentines - a single card chart with a trio of small designs worked on a variety of unique fabrics. A darling swirly bulb on 30ct Aztec Red, a little house-on-a-hill on the new natural/polka dot linen, and Happy Christmas on 32 Olive, this is a nice set of smaller designs that you can do a lot with. Just for fun, there are JABCO buttons to garnish, and you can even work in bits of metallic.
Halloween Trifles - A trio of pin cushions -- the long one, Halloween, is worked on Fabric Flair's Spider Web 28ct Linen! Lightly printed with spider web lines, they aren't real bold on there... but you DO get a little extra personality in your background! EEk is done on Zweigart's new Natural with cream spots linen, as well! Just another fun treatment, I hope you can see the dots in the picture! Embellish all three with your Just Another Button Company clay buttons! Offered as the single chart with fabric and buttons separately.
Americana Trifles - Here's a cute trio of small pin cushions by Teri Richards. Calling for only 7 different overdyeds, each is stitched on a 32ct fabric - but you are welcome to choose any colors or counts you like. Since they are so small, just a scrap will do. Garnished with a few clay star buttons, they finish only 2 x 2-ish to 2 x 6 for that darling floral 'flag.' Very cute and quick, clay embellishments are offered separately from the chart.
Valentine Trifles - Shepherd's Bush's Teri brings us a trio of smalls for Valentine's Day! Just three easy, sweet designs... finish them into pin cushions or ornaments or even fobs. There are a few clay heart buttons on each - definitely see what you already have on hand - these will handle lots of other cute charms just as easily as hearts. Offered as a single sheet chart, buttons separate.
Small Kits
Flag Day - A cute pin cushion - just 2-1/2 x 4. Mount the finished piece on top of a box or cushion it... whatever. A fat little blackbird is perched atop his favorite sheep - who is wearing HIS favorite striped hat!
Boughs of Jolly
This is one of their small kits stitched on 10ct Tula that finishes about 3 x 4. Frame it or pin-cushion it... these are small enough for a beginner stitcher, and would make a fun stocking stuffer. Kit includes the chart, fabric, threads and smattering of button embellishments.
Liberty Needle Case - Long may our land be bright with Freedom's holy light. This is a fold-over design stitched on 32ct with hand-dyed cotton flosses. Again a tiny button embellishment, the design has the tiny village on one side and the verse on the other. You can always 'cushion' both sides if you want... but you do get that fun red flag fabric you see in the pic and the felt lining and star... just not the scissors! The Lady Dot hand-dyed rik rak is also special and included!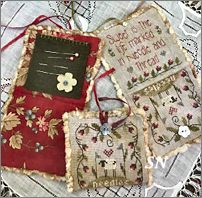 Sheep Needle Case Kit - Oh, this features a different color palette from Tina and Teri! Reds, mossy greens and beige! It is a complete kit and is stitched on 32ct Picture This Plus Wren linen with Weeks hand-dyed flosses. It features an interior wool needle page, backing calico fabric, fluffy vintage chenille from Lady Dot, a mother-of-pearl flower shell button, a few other little buttons, hand-dyed silk ribbons for tying, and even a tiny wool flower piece. The whole thing measures 45 x 92, so when closed it's only 3 x 3! And - the kit contains everything I mentioned!
Sew - Needle Pulling Thread Bag Kit - The complete kit contains the 5 x 7 PRE-MADE ticking-stripe pouch with zipper closure and 32ct linen panel for the design, the floss, chart and button embellishments. Stitched area is only 26 x 75 stitches so it'll take no time at all to make!
Happy Life Pin Cushion Kit - A sweet heart-shaped 3 x 4-ish cushion, this is stitched on 32ct Country French Linen with Weeks Dye Works hand-dyed flosses. Trimmed with Lady Dot hand-dyed chenille - you get that in the kit along with the celery-green polka dot backing fabric they featured. The clay pin set if offered separately, but the button embellishments are included with the kit. Very pretty!
Boo to Ewe -- Is a BLACK SHEEP! New concept for these gals! The pumpkin button is cool. Chart w/button or limited ed complete kit.
Heart of My Heart - Well... if you are in our A Little Help From Our Friends Stitching Circle, you'll recognize this one! It was Tina and Teri's contribution to our club! It finishes into a framed piece or a pin cushion - I have that very cushion on my bedroom dresser... it's about 3 x 6 in size. Pretty mauves, greens, and more little buttons, of course we think this is dynamite! Complete kit of chart, linen, flosses and buttons.
Ewe Are My Sunshine - The annual seasonal small design to make into a pin cushion... We always get these for Spring, Patriotic for Summer, something for Fall of Halloween and something for Winter or Christmas every year... so your basket of stitched cushions is growing all the time! (We have a million of these farther down on the pages... see how many you can spot!) 18ct White linen, hand-dyed flosses and grass green rik-rak trim, this kit's special button is a handmade clay sun -- about an inch in size -- with a swirly on it. Offered as the complete kit of linen, threads, button and trim.
All is Calm - A Kit - finishes aprox 5 x 5 on 32ct.
Alphabet Basket - A pretty floral basket with lush blossoms, you can stitch just that part, or the alphabet... it's on 32ct Country French Linen and is worked in Weeks flosses and a bit of hand-dyed silk. Finishing approx 5 x 7, yummy greens and lavenders, a couple of easy specialty stitches and two bitty buttons are all included in the kit.
Over The River - A pretty Autumn vine of leaves surrounds the tiny cabin in the woods - complete with evergreen trees (and of course) -- a few grazing Shepherd's Bush sheep!!! 'Over the River and through the woods' is the verse -- but this time, we're not talking Christmas - it's AUTUMN! Gorgeous 30ct hand-dyed Harvest of Plenty linen and Weeks hand-dyed flosses in 12 awesome autumnal colors, there is a packet of bitty button embellishments as well. Finishes approx 5 x 7, offered as the complete kit.
Hope For Peace -- 'Stitch this on those long summer evenings'... 5 x 5-ish with a billowy and super skinny flag, this is a complete kit of overdyed silks and cottons stitched on 32ct Belfast linen.
A Tisket * A Tasket - Such a snappy, stylized Spring basket of flowers, Tina and Terri share childhood memories of making paper baskets and filling them with flowers -- a gift to their mother. This 5 x 6 confection features a lavish array of florals in the oversized basket, with a tiny village beneath. The basket itself looks like it's full of textured stitches, but it is the play of the threads. Offered as a complete kit of chart, 32ct hand-dyed linen, silks and cottons and button embellishments.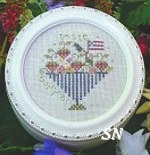 Jolly & Wish Stockings - Little 8-inch PRE-MADE striped stocking ornaments are the perfect backdrop to your stitching! WISH (green stocking) or JOY (red stocking) is stitched on the 30ct linen panel in yummy overdyed flosses - and garnished with either a holly berry or star button. Put that stocking on your tree, and fill it with floss - for a Good Little Stitcher! Complete kits include the fabric stocking, chart, flosses and button!
Taste of Summer -- Another small design that looks great finished as a pin cushion or as a top inside one of our round antiqued white resin boxes. Same basket as other seasons... different flowers billowing... these are ALL cute! Complete small kit... box comes in cream or black.
Get Scared - Here is a companion sheep to the little guy in SB's new Creepy Pin cushion. This little sheepie is dressed up for Halloween, and visiting quite a cheerful graveyard -- complete with rotting bones in the ground! Pumpkins, a crow and a couple of bats flying around, it is just as full of tiny motifs as the Creepy Cushion. Finish any number of ways... but you might recognize the black resin box that is in the pic... it's the same boxes Tina and Teri have used in several of their other small designs recently! Darn Cute, the complete kit comes with chart, linen, needle, flosses and a bit of hand-dyed silk. Black box is available separately.
Take Joy - A festive little urn is filled with Christmas Holly Greenery, stars, candy canes, glass ornament balls, and even a teeny-weeny sheep! Approx 3-1/2 inches round... this is stitched on 30ct hand-dyed linen in more of Tina and Terri's favorite color palette of silks - berry and juniper. It is shown finished into a sleek little round black box, with a decorative beaded edge rim. Just a simple thing, hide something precious inside? Offered as the kit of chart, linen, silks, the box is available separately.
Friends - This is a sweet piece, dedicated to any special friend you have! Stitched on 28ct hand dyed linen in 6 shades of silks - two hand dyeds - it features just Smyrna and Cross Stitches in it's petite 3 x 5 finished size. There are three tiny charm embellishments included, along with a charted alphabet for personalization. Wouldn't it be fun to add initials of some special people along that vine? You could change the word 'Friend' to a name... you could add heirloom buttons here and there... just anything. VERY quick to stitch, it is offered as a complete kit, so it's even faster to grab and take along when you're in a rush! Real cute.
Lucky Sheep - Ohhh... another of Tina and Terri's tiny sheep... all dressed up... and waiting to go somewhere special! Lucky Sheep is adorned with your personal luck in mind. (We have casinos in Oklahoma... wonder if I should take the model along with me to one of them!?) Just a small 4 x 4 thing... always cute, he is a companion to something like 12 other little sheep who are busy wishing you Happy Birthday and things like that! Lucky's other companions are all on our SB pages! All are complete kits of linen, flosses and really cute hand-made clay embellishments... made for each one of them!
Get Eggs - Such a bitty thing... this complete kit brings you a dinky 9 x 9 Cut of 32ct Baby Lotion linen... a few lengths of DMC and Weeks flosses...and a trio of buttons... all to stitch the tiny 25 x 27 stitch count piece! Make it into a fob... tuck it into a box top... iron it onto some felt and make a flat ornament... or go super-duper and make it a cube stand-up! Cute and Quick and LITTLE!
Little Red House Tin Kit - Joins their other little round tart tins... this time around the shepherd has tiny reindeer instead of sheep! Small complete kit contains the tin, and they are super cute hanging on your Christmas Tree.
Little Black House Tin Kit -- Companions the others they have... 3-inch cushion design... you get the tin in the kit.
Little Pink House Tin Kit - Well, this is cute! Just one of those little metal tart tins, but it's stuffed with a 2-inch bit of Shepherd's Bush charm! A snap to stitch, it's only 33 stitches in size! Complete kit offers the 32ct Flax linen, hand-dyed Weeks flosses, button, needle, little finishing board and the tin. Gotta have it!
Happy Thanksgiving Box - A cute little 3 x 4 design featuring a turkey, pumpkins and a bright sunflower - it'd make a cute pin cushion or cube stand-up. Presented as a kit of linen, flosses and possibly a button embellishment!
Lucky Treasure Box - Little Bitty designs, these each measure only 26 x 39 stitches... so in doing the math you'll get less than 2 x 3. But if you go over one on something easy to see - like 28ct Jobelan, you're going to get a teeny 1 x 1-1/2 piece! Complete kit of chart, hand-dyed flosses and a needle... these are really great for a new stitcher to begin with. Cute and finish-able for them.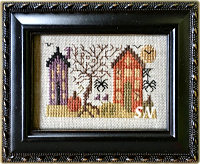 Harvest Home - This is a great kit for a beginner stitcher. It comes complete with the 10ct Tula fabric, flosses and a bird button embellishment. It'll finish about 3 x 4, and be just enough to give that stitcher a sense of accomplishment! Packaged nicely, and full of Shepherd's Bush's charm!
Boo Hollow - This is a 3 x 4-inch ish design that is shown in the top of a little box. Make an ornament, or a pin cushion... it's just a bitty thing. Complete kit includes the chart, linen, and threads.
Bloom Where You Are - The latest little 10ct Kit... forget getting PLANTED somewhere... just bloom NOW! Lovely beginner kits, easy on the eyes, but fun as a small thing to work up in between your huge projects as well. Complete kit of 10ct tula, flosses, chart, needle and a clay doodlebug!
Merry House Tag - Another 1 x 1-1/2 inch design that can be finished into a gift tag... but needs to be mounted onto one of the miniature Foxwood Crossings wooden sled ornaments, so it lasts forever! Presented as a tiny kit, you get the chart, green perforated paper, threads, button, hanging twine and even the decorative backing paper to make the tag. Sleds come separately ($4.50 each). Cute and very quick.
Jolly Santa Tag & Joy To You Tag - OR SLEDS! More small kits that feature a 1 x 1-1/2 inch design that makes a perfect gift tag size piece... or perfect Foxwood Crossing wooden sled ornament! JOLLY looks like a Santa face... he's stitched on a bit of red 14ct perforated paper, and mounted on a bit of striped paper - both of which come in the package. If you like, you can glue the little guy to the top of a bitty sled instead. JOY is the same way... more cute paper and something cute and colorful to stitch. All of Shepherd's Bush's Gift Tags (we have several others for Christmas, Valentines and Halloween farther down the page) come with the chart, both papers, a button, and hanging ribbons or string. Sleds are offered separately, and remember we offer a Bakers Dozen special on those - buy 12 and get the 13th sled FREE!
Flag Tag - A fun little flower basket waving a bitty flag, your kit comes with the chart, flosses, the perforated paper for stitching, and the striped backing paper... use this for a cute little plant poke!
Love Ewe & Be Mine Gift Tags... OR... Tiny Sled Beds! - Just like their small Christmas designs, these measure just 1 x 2-ish, and are stitched on 14ct perforated paper. You can simply cut out the design and mount it onto the piece of decorated paper in the kit - making a little hang-tag OR... you can cut out the design and glue it onto the bed of a miniature Foxwood Crossing's sled ornament! Whatever you want! BUTTTTT... if these are sleds, change that green grass underneath the little sheep to SNOW! Small kits contain the chart, decorative paper, perforated paper and the flosses. Sleds are available separately.
Snowman Tag Kit - We love these! Tina and Teri have several other mini-sled designs, this one features a little snowman with a big candy cane longer than he is tall! You get the chart, flosses, a teeny cut of 14ct perforated paper, and that red and white polka dot paper. You can opt to make him a flat paper tag ornament, or get a little wooden Foxwood Crossings wooden sled (paint it if you feel like it), cut around the stitching and simply glue him to the sled! Zip Zap! Sleds are addictive, and offered separately!
Halloween Tags - DARLING, these actually fit on those Foxwood Crossing mini-sleds, but you can make anything out of them 2 Different tags... they come with perf paper.
Santa Sled Kit - Darling, this companions Noel Sheep Sled. A small kit to make a gift tag, or a topper for one of the Foxwood Crossings mini-sleds, this comes with the chart, cut of 14ct perforated paper, the cute printed holly paper (in case you are making the tag), floss, and hanging ribbon. If you want to make the sled - those are offered separately.
Noel Sheep Tag/Sled Kit - The kit comes complete with the perforated paper and threads as well as a cute paper tag on which to mount it. It is also designed to fit on the little wooden sled ornaments by Foxwood Crossings. Sleds are sold separately.
Explore Your World Fob Kit - The little sheep on this is standing on top of the world! More gorgeous dusty blue hand-dyed Lady Dot chenille trim - this is a two-sided design.
All Seasons Scissor Fob Kit - Seasons change and begin anew, Treasured Friends stay dear and true. This tiny 2-1/2 inch square pillow features four sheep in the center perched on their hills - but each is in a different season! So DARN CUTE, you'll be doing an edge treatment of beads along with baby hand-dyed rik-rak trim. Offered as a complete kit of everything except the stuffing... this runs only $16.00!
Harvest Home Fob -- Bright sunflowers and pumpkins surrounding the brick red house, this small kit comes with the overdyed threads, bit of 32ct linen, bead and button embellishments and super-cool apple green hand-dyed rik-rak trim that you can see in the pic. Finishes about 3 x 3, offered as a complete kit.
Safe Keeping Scissor Fob - features a winding vine of those round roses on one side, and room for the verse or names on the other side. Both kits include the 32ct hand dyed linen, all the raspberry and olive silks, beads, charms, needles, and the elegant hand dyed silk ribbons for the edge treatments. You'll LOVE that little fob if you fill it with plastic pellet filling... it adds weight, and makes it 'softer and lazier' in your hand!
Scaredy Sheep Scissor Fob - Cute, cute, cute! The same little guy as in 'Here We Go A Haunting', this is a stitched as a companion to the main sampler - same 32ct Country Mocha linen and pretty flosses. The ric-rak edging is attached with tiny orange petite seed beads - both are included to stitch your fob that features different designs on each side!!! Offered as the complete kit.
Glory Fob - OK... this is cute, and you're going to need the scissors to go with it! Your 2 x 2 fob is stitched on 28ct Country Cream Cashel Linen in brilliant shades of DMC floss to match the scissor colors. Especially cute is the edging treatment on this! Look closely... it is red ric-rac that is attached with petite cream beads! Complete kit contains the chart, linen, flosses, ric-rac and beads. You supply the scissors, (we have those little red and blue ones, too... a less expensive option to attach to this fob, it you want it strictly for display!) Really cute and quick!
Accessories

Teri's Hand-dyed Silk Ribbon
Oh, a fresh shipment of Teri's gorgeous hand-dyed silk ribbon has arrived... and we have a lovely, varied selection this time around! Packaged in 4-yard lengths each piece is different and unique. Colors vary so much from the Sheherd's Bushy mauves, greens and lavenders to creams, taupes, and this time some oranges and turquoises!

We get whatever we get... so we'll send you lots of fun colors... we never know just what! Teri can dye only when the weather in UT cooperates, so we ARE out of this from time to time. We can't get enough of this... GORGEOUS one-of-a-kind 4-yard lengths of Teri's ribbon... use it to trim something special!