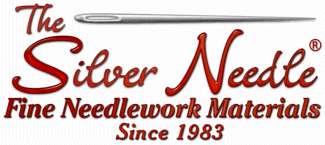 6068 S. Sheridan Rd. Tulsa, Ok. 74145 (918) 493-1136 (888) 543-7004
E-Mail

Welcome to our Sale Page!

Just a few things that have been past favorites... or little things that have been forgotten over time. Maybe the last one of something? Possibly something we can no longer order from Designers?

Our Sale Page is full of fun, LAST-CHANCE Treats! You can see the original price in the dropdown, as well as the Sale Price.
All Sales are Final. In-Stock only! Enjoy the Browse... we hope you find something that needs a new home in your stitching stash!




We've cleaned off our old Sale Table in the shop, and re-freshed with a whole new batch of cool stuff! A lot of this is on our Sale Page of the website - but not all of it. I took some quick pics right after we fluffed and buffed... but this is a busy table in the shop... and will change daily! I've put tons of it on this SALE PAGE... all 50% Off. Have fun browsing... we're continually adding to this page, too!
Anna Tench 1819


I am always thinking I am going to describe some of the history Nicola presents with each of her samplers. But this one has 4 solid pages of excellent reading about the family featured in the sampler, where they lived, and what the 'signs if the times' were then.
Just fascinating, I can't even to begin to summarize! So... a beautiful sampler charted for DMC or silk threads, the stitch count is 266 x 301, so it will finish approx 15 x 17 on 36ct.

Ann Forfitt 1812


Nicola writes that nothing can be found about Ann Forfitt in family records of England! She did, however, stitch this gorgeous sampler that measures an impressive 519 x 570 in stitch count!
Finishing approx 29 x 32 on 36ct, the verse was first published in the 1700s. Nicola has recharted this from the original sampler, which is part of her personal collection. The booklet is lovely as always, there is a lot of fun history about the village listed on the sampler, and the chart covers several pages, and is presented in full color.
Ann Webb 1829

Finishes approx 16 x 17 on 36ct - full of balanced motifs but an very irregular strawberry border. Small spiral bound half-size pattern, but still contains 3 pages of fascinating history!
Ann Roberts 1842
A Welsh Sampler - Nicola has 6 pages of history in this one! They know where Ann was born, you get tons of interesting info about motifs in here, colors... everything about her village life and times. It finishes approx 9 x 13 on 40ct.
Frances Grassby 1845
Part of the verse reads 'pleasure in perfection is...' 4 Pages of history, Frances lost her mother in childbirth, I just have to stop reading all of the stories in these charts... so fascinating! This one is charming, a little over 10 x 10 on 36ct.
Hariet Hartland 1782
A favorite at 'Hands Across' this is large - about 14 x 16 on 40ct.  Lots of special stitches along the little hills - the flower chart are all really pretty in here. 6 Pages of info about Hariet, her life and life in her time, the verses she used, on and on... I think I'm going to summarize the history a little but after the first paragraph of 6 pages, I'm overwhelmed at the info Nicola has just give me!
Hannah Coates 1848
A pretty 'remember me!' Finishes about 16 x 17 on 40ct.
Mary Lea 1793

Finishes a generous 18 x 22-ish on 40ct! Lots of fascinating info oh who had affairs with who inside this one!
Elizabeth Beaven 1835
A very cheerful verse! 311 x 461, 14 shades of thread. Awesome history in here, along with 36 close-up pics of the Satin stitch details in the flowers. This is gorgeous!
When Thou Art Rich
239 x 257, 12 shades of cottons or silks. The pic is too red, fabric is really buttercream.
Jane Hopkins 1875
A Welsh sampler, when you read the history in here it is unbelievable that any children lived to be educated in the 1800's. Lots of info about child labor in the iron mines in here... and info about the roses Jane honored in her piece. Finishes approx 11 x 14  on 40ct!
Amy Cann 1831
307 x 276 Charted for silks or DMC -- 15 shades. Cross over one and two, Satin, Four Sided, Double Running and Algerian Eyelets.
Hannah Gaskill 1823
Jesus on the cross in this one. 478 x 517 -- large -- 23 shades of silk or DMC for your 66,000 stitches!
Sarah Borton 1815
Gorgeous inner floral border -- really! 258 x 304. 23 shades of cotton or silk, Crosses over one and two, Chain, Satin, French Knots, Four Sided and Algerian Eyelets.
Ann Gardner 1723 - A sampler from a young beginning stitcher! Finishes about 11-1/2 x 13 on 36ct linen; the birds are full of Satin Stitches as well as the border.
Eliza Rule 1824 - This finishes approx 12 x 14 on 40ct
Miniature Sampler Needle Minders


These are sweet bits of antique sampler images shrunk down and down and down... and mounted into 1-1/4 inch 'bottle-cap-type' miniature pie plates!!! Really neat, each features a pair of rare earth magnets on the back, so you can stick them to your metal chart board, the fridge (if yours will still do that!) the filing cabinet -- just anywhere magnets like to be. It'll hold your needle at the same time, and simply make you happy!
Lovely images of the samplers -- we have at least 20 different pics on these, so we'll mix up the designs!





Harry Potter, Star Wars & Frozen II Scissors!


Wow... something fun through our doors this week! Licensed by all the right people... (Disney, WBEI and LFL) we are excited to offer these fun 6-inch scissors in protective 'pleather' decorated sheaths! Each pair measures 6 inches in overall length, and their companion (plasticy-leathery) sheaths measure 5 inches. Tips are not super pointy, and I wouldn't use these to cut fabrics... but the blades are sharp and they work great on paper and threads.

We think Santa needs to bring these for ANYBODY who loves Star Wars, Harry Potter or Frozen (now sold out). (They'd make great stocking stuffers). Each style's decorations are enameled on the handles, and they look really nice. We think because of the 6-inch size they'd be good for anyone in 5th or 6th grade and older - definitely not for little-little kids. I tried to shoot pics of them with both front and back sheath decorations showing... we just think they're pretty cool around here!





Colorful Novelty Scissors


Joining our collection of fun scissors are these new designs! Enameled designs on 4-inch embroidery scissors, while the scissors aren't DOVO or WASA quality, they are cute, sturdy, very functional, cut fine, and look dynamite attached to stitched fobs.

Fun designs, perfect to stuff into stitched needle cases or to display on stitch mats or in scissor blocks. Sometimes you just don't want your $70 scissors 'too available,' so these are wonderful stand-ins!


Floral Embroidery Scissors

from Premax of Italy
Oh, these are delightful little 3-1/2 embroidery scissors that feature colorful floral patterns enameled onto their handles! Stainless steel, they feel really good! Nice shape, sharp tips with a good taper, not too heavy and not flimsy feeling... they have a nice, smooth cutting action. Brought to us by the same company that did our 'space-ship-scissors' (the Premax Ring Locks), they will be lovely inside all your stitched scissor cases, and extra-pretty with a coordinating stitched fob!


They feel like the Seasons to me!!! The purple ones are half-way between blue and purple, very 'Summer' with lots of color. The white ones feature little flowers of pinks, yellows, purples, blues... they're an overall medley of floral color... just like Spring! The cream pair has lots of gold, cinnamon, mossy greens... I get a late-summer/early-autumn feel from those... they have a little dusted mauve on them, too. Then, the red and white... definitely Winter! (But then, again, they could be summer!) A light red -- like the DMC 350 corals... NOT deep burgundy red... they're just a cheerful red and white! Sunflower Yellow is definitely a 'Summer!' Definitely new, unique, FUNCTIONAL, and pretty!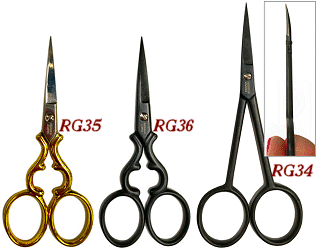 Task Scissors
Heart Shaped - Shiny gold or matte black finish (black now sold out!), these are 3-1/2 inches in length and feature that pretty handle design. VERY sharp tips, nice sturdy scissors.
4-Inch Black Curved Blade - these are 4 inches in overall length. The cutting blades are slightly curved. Because the finger holes are slightly farther away from the blades (because these are 4 inches instead of 3-1/2) you get more power in your cutting, and because of the curved blade, your hand is slightly 'up' from your fabric or threads, so it's easier to aim the tips right in there to get a really close cut. (Now Sold Out!)



More Colorful New 2022 Scissors of The Season


We have a delightful collection of decorated scissors that are super cute to accent special fobs and tuck into fun sewing cases.

They are sharp and do cut... but are not at the' top of the scissor-quality food-chain'. They ARE, though, colorful, fun and look great with your stitched projects. The added 'plus' inside a cute case!
From left to right: Kisses, Honeybee Blue (now out of stock), Autumn Trees (out of stock), Honeybee Yellow (also out of stock), Shamrock (now out of stock), Candy Corn and Cherries.





Cute, Novelty Scissors!


We have 6 patterns of 3-1/2 inch embroidery scissors that are cute and colorful - fun for little cases and fobs. Not real *high* on the cutting quality end of things, (meaning they are not DOVO quality) they are, however, cute and colorful, and perfect for lots of things! Designs are enameled on the handles so they will not rub off or fade, and will maintain their charm! I had actually never seen pineapple and cactus scissors before... feels like we need a stitched flamingo or something for them!

Pictured from left to right are: Owls (now sold out), Stars, Pumpkins (closer to 4"), Yellow Heart, Anchor, Pineapple, Cactus, and Holly.


Noel Feutre


This is a darling little design that features some bits of wool felt applique as parts of the design. Stitched in Gentle Art Sampler Threads and bits of DMC, check out the mushroom top, the tree and the gifts... they aren't stitched! They are bits of wool sewn on! The chart does have them charted... and in those instructions, I also noticed the charted greens at the top and bottom -- but in the model they are primitive stitched! REALLY cute!

So... you can stitch the entire piece, or add the buttons and ribbons and bits of fun fabrics if you like! Noel Feutre is presented in French -- so I can't read a word of the instructions except the thread names and DMC numbers. Stitch count is163 x 100, this is a chart.


Miss Paris


Stitch count of 109 x 87, she's full of pink, and black charm! She's the consummate shopper, don't you just want to be in Paris with her and her little white dog???? Finishing approx 5 x 7 on 32ct, she'd make a darling photo album cover, or look great on the front of a little pink polka-dot tote!

Just a delightful design... a favorite of mine!


Les Trois Sages




'Three Wisemen.'

A trio of little stitched Santa Elves! The stitched area on these is approx 45 x 90. You stitch the face and body, stuff them, and add the charming curly-q legs and some stick arms... and you have a precious trio!

There are finishing instructions inside printed in English; she calls the stuffing 'wadding!' All three are charted in the pack.


Toc Toc Toc


We're not sure what the title of this means, as one site translated to fake, fake! Another translated it as

Knock, Knock Knock.

We think it's a darling piece -- Santa is there with Rudolph (see the red nose!) -- there are snowflakes scattering across the sky, we just like the whole 'flavor' of the 122 x 126 design.

This one uses lots of Sampler Threads -- Onyx, Piney Wood, Weathered Barn, Cherry Wine and Sarsaparilla.


Le Nuage de Pere Noel




'The cloud of Father Christmas'

... he's saying that he sees the wise children. In other words, that means that Santa is watching and seeing all the good children before he visits on Christmas! (even without his glasses on -- see them by his boots!?)

So whimsical and cute, stitch count of 120 x 171, just charming!


Quand le Chat est la...




When the cat is...

(out, the mouse will play!) Oh my gosh, check out the CHARM of this piece! The cat is rotund, with that awesome curly tail, the mouse is wearing a pink Tu-Tu!

The tiny bluebird is just singing away... he's not worried about life at all!!!!! Over-the-top personality in these two 90 x 75 pieces!


Shepherd's Bush Bargains!
Spring Peeps Box Kits - Little Bitty designs, these each measure only 26 x 39 stitches... so in doing the math you'll get less than 2 x 3. But if you go over one on something easy to see - like 28ct Jobelan, you're going to get a teeny 1 x 1-1/2 piece! Complete kit of chart, hand-dyed flosses and a needle... these are really great for a new stitcher to begin with. Cute and finish-able for them.
Sweet Friend Tag Kit - A small gift tag design... this includes the chart, flosses, but of 14ct perforated paper, the pretty colored paper tag, polka dot ribbon as the tag tie, and a little button embellishment!
Thankful Tag - Here's a small design stitched on 14ct perforated paper. There are a whole seasonal set of these; they originally were presented as toppers for the Foxwood Crossings Mini-Sled Ornaments. But then, when the Valentine's one came out... and they realized your Christmas Tree should probably be down already, so they turned then into small 1 x 2 gift tags! Small kit contains the chart, flosses, 14ct paper, pretty striped backing paper you see in the pic and a small button. This would make an AWESOME Hospitality Thank-You gift - especially if you tie it around a bag of your home-made goodies! (which are shown on the cover, but are NOT included in your kit!)
Bless Our World Box Kit - Kit contains the 32ct natural linen and hand-dyed and DMC flosses. This would make a really good beginner design as the whole area is only 26 x 39 and it's cute!
More Shepherd's Bush Bargains!
Red White and Blue - This season's 10ct design - presented in a little kit - it finishes about 4 x 5 on the 10ct Sand Tula. The kit includes the fabric, threads and button. These make great beginning kits for new stitchers - cute, easy to see and fast.
Say Thanks Kit - Saying Thanks is the true message of our Harvest Season - so the girls designed a cute box-top design that you COULD take to the dinner hostess on Thanksgiving! No box handy? Make another squishy pin cushion!!! (A dozen or so look stunning in an old basket with a doily!) Anyway, complete kit, 32ct line, pretty threads and cute design!
Friends Bloom Kit - A smaller kit, you'll be working on 28ct hand-dyed Garden Blend Jobelan, with DMC flosses, adding a row of Crescent Colours' hand-dyed baby rik-rak trim right into the piece. Just a mere 2-1/4 x 3-1/2, this is a real cute friendship piece full of berry and avocado color!
Happy Halloween - This is one of Tina and Teri's 10ct Tula designs. PERFECT for a beginning stitcher, it is packaged with the same charm as the rest of their things... so it *looks* enticing for someone young to tackle. Cotton floss and buttons for the eyes are included... it'd be cute simply mounted on a bit of felt, and hung from a bedroom doorknob!

Sale Designs from Thistles!
Cats and Peeps - Oh, the cats are going to raid the hen-house! Measuring about 8 x 8 on 32ct, this is coded for Gentle Art or DMC. It's hard to see all the baby chicks below the house... maybe a little wool thread to make them fluffy?
Halloween Collection - A spooky little shelf... I think it'd be fun to add glass beads to the spiders for eyes, and some furry for legs and the kitty, and maybe some opalescent metallic for the web! Stitch count is 136 x 212, so it finishes approx 8-1/2 x 13 on 32ct - actually quite large.
Halloween Pumpkins - A unique-ly shaped pin cushion finishing treatment... might be fun to tuck these into a bowl of traditionally-shaped cushions and see if they are discovered! Worked with Gentle Art Sampler Threads, these are actually pretty good sized - about 5 x 6 on 32ct. Not a ton of stitching on them, but finishing is cute, and you could do a lot of decoration up by the stems.
Merry X-Mas Welcome - Oh, there are pigs-in-love for Valentines and a black cat on Halloween that go with this - isn't this plump gingerbread cottage the cutest? Hansel and Gretel live there! It measures about 5 x 9 in size, I think, and is stitched in Gentle Art's Simply Wools of Tea Rose, Raven, Harvest Basket, Buttercrunch, Ruby Slippers, Cidermill Brown, Chives, Morning Glory, and Chalk.
Rail-A-Way - An old-fashioned train platform... might be kind of fun to hang over a row of coat hooks, or in a guest room. Coded for Weeks Dye Works hand-dyeds or DMC, it's a bitty 4 x 10 on 36ct Picture This Plus Ale Linen.



Needlework Village #2013

from Thistles
This is a little row of needlework shops, a Yarn Shop, X Stitch shop and Quilt shop.

The stitch count is 188 x 111 (13 x 8) on 28 count.


My Sister is the Bester... Than the Bestest!

from Thistles
Thistles has a couple of cute charted designs that we brought home from Market last month. My Sister is the Bester - You could switch out that Sister reference to a friend... this is stitched with DMC or Sampler Threads and finishes 10-ish inches on 32ct.





Home Is Where My heart Is

from Thistles
Thistles has a new design - a cute little pink and brown house surrounded by Cupid's arrows!

It is shown finished into a heart-shaped cushion - it's actually rather large at 4 x 9 so that pillow is probably 8 x 11.

Stitched with a smattering of Sampler threads, the chart is coded for DMC as well.


Crows & Pumpkins

from Thistles
A fun medley of pumpkins, squash and crows... this displays a fun finishing idea. Each 'side' of the curtain is 80 x 185 stitches -- the design is reversed on the opposite side. (So, you only have to stitch this once if you want to make a pillow or something, and it could be 5 x 12 on 32ct.) Actually, it is finished as a curtain valance worked on 20ct linen. It features woolen hanging tabs at the top and penny-rug-flaps along the bottom for decoration.

Really, really cute, I see this hanging in a cabin kitchen window, or a tiny powder room. Worked on 20ct linen, our 18ct will work as well... it just needs to be washed and dried in the dryer to get it soft and drapy. You can use DMC or hand-dyed floss -- at least 3 stands in the needle -- or size 5 Pearl Cotton. If you choose to make the curtain... just hang it in the most charming little window you can find!



Rosy and ABC Fraises from The Tralala Collection





The Last of the 4 Seasons of Floral Pots and Vases


Wow... these are gorgeous!! Each chart has 6 different pots, urns or vases of seasonal florals surrounded by a fillagreed border. The cover pics are very small, but opening the charts -- they are printed beautifully in color and can easily be stitched individually. The actual florals run about 50 x 50 stitches each, without their borders and names. Charted for DMC, this is a lovely collection, you could split them up and make a whole bunch of pin cushions for one basket... or a long row to hang horizontally or vertically on a skinny wall... so pretty!

Autunno has pretty oak, maple and elder arrangements -- just beautiful!







Halloween Menagerie


A quick design for Autumn. Halloween Menagerie is actually stitched as a flat band that is then wrapped around a felted wool drum-shaped pin cushion. Just 5 or 6 colors of hand-dyed threads... neither one will take you long to stitch.


Penny America

from Tree of Life Samplings
Freedom*Liberty*Justice! What a perky and cheery pot of Americana! The lavish bouquet of stylized flowers bursts like fireworks from that little pot and the blowing flag is extra-festive. The edge treatments look like the edges of penny rugs -- small circles of wool -- pennies. These are stitched instead, but mirror the swirls and stars from the flowers.

Stitched on almost anything you like, the threads called for are Weeks hand-dyed cottons and your stitch count is 163 x 78. Just something cute that came through the shop this summer!!!


Fade as a Leaf

from Tree of Life Samplings
We all do fade as a leaf -- Martha Ann Sheffield -- aged 8 -- in the year 1832... WHAT did SHE know?! It's kind of funny -- there are very few leaves IN this!!! It is an adaptation of an antique sampler, however, and considering it is still here after almost 200 years... it certainly deserves our respect!

She has a neat border here... all four corners are different! You don't catch that at first glance because this is so organized and balanced. Stitched on 32ct, this finishes approx 7 x 8-1/2 -- not very big at all -- and is charted for Sampler Threads or DMC floss. Presented as a chart.


Penny Treats


from Tree of Life Samplings
A cute Halloween-themed scene by Tree of Life Samplings, she does 'Penny Rug' inspired designs, so this is a companion to our Penny America.

Presented as a chart, it's stitched with Week's hand-dyed flosses on any mangy fabric you want. It measures approx 10 x 5 on 32ct... if you're super-crafty, you COULD make a felt Penny Rug border for this -- it'd be stunning! Think about JUST the flowers, jack and cat in a pin cushion!!!




Ebony and Ivory from Tempting Tangles



Kitchen Gadgets from Tiny Modernist
Another fun thing for a first new kitchen! It'd be fun to find a retro set of glasses and lemonade pitcher at the flea market -- kind of like those pictured on the cover -- and use this as a housewarming gift! Offered as the chart, stitch count is 56 x 146.







Easter Bunny House


Tiny Modernist has finished her 4-part set of this darling little Egg House! We have all 4 charts bundled together now, so you can have the whole thing at one time!

Measuring 136 x 179 - it finishes approx 10 x 13 on 14ct... actually pretty big in size. Charted for DMC thread, the whole thing is full of sweet little motifs, but I like the egg-painting table the best! Set of 4 charts.





Keepsakes One, Two and Three


Sue Hillis has a 12-piece set of cute stitcher-related ornament and pin cushion designs. Presented in three separate leaflets, you would never guess that EVERY ONE of these is the same stitch count - 50 x 50... she's just shown you 12 different finishing options!

All DMC, no special embellishments... you can check your stash for old buttons and cute embellishments... she shows some Puntini Puntini pins on the beehive model - (now, there's a collection of CUTE pins and buttons to choose from!) Sue has also shown a layout on her back covers to join all 12 designs together in one framed piece. LOTS of possibilities with this set!!



O'Santa
Can you see Santa's face in the Quaker motifs? A real different design take on Santa, you could do just his hat... if need be. Karen has included the Ho Ho Ho pillow and the tiny peppermint cushion charts in here as well.

Coded for Weeks Dye Works hand-dyeds, there is a bit of opalescent metallic in here too for glitz!


Love Always

- A sweet smaller piece - this could be a wedding sampler, or just something fun to hang in your family room. If you don't have a pink and red house - change it!

Stitch count is 101 x 76, so this'll finish just 5 x 6 on 36/18 ct. Clay Pot, Cocoa Bean, Cobbled Peach, Cherry Cobbler Oscar and Graphite are the featured colors.


Christmas Robins Scissor Fob


A charming little design -- it's a double-decker fob!!! A trio of chubby winter robins -- dressed in Christmas finery with their Santa Hats on -- they are so simple, yet so cute! THEN... why haven't we thought of this before???? DOUBLE fobs??? What a cool way to use coordinating designs?! What a neat way to use cool beads from your embellishment stash?! (With so many designs... you could stitch a tiny bit of the larger design as an accent... and attach it to the main piece!)

Anyway, Christmas Robins's top design measures 39 x 46, while the bottom is a mere 25 x 25. Choose your fabric of choice... grab DMC floss from your stash and get BUSY! Offered as a chart.


A Shepherd's Care I - These are small take-outs from Linda's larger Christy Barron antique reproduction sampler. Pretty colors, classic motifs... Chart #2 releases late this summer and will have more smalls!
A Shepherd's Care II companions its first chart of pin cushions all inspired by Linda's antique Christy Barron Sampler. Pretty smalls to display near a larder stitched piece...
Blessings Be More May your trouble be less and your blessings be more and nothing but happiness come through your door. Pretty housewarming gift!
Christmastide


Linda presents a lovely silk qauze piece that stitches a mere 2 x 6 on 40ct! Of course, you can stitch it on something larger... and it'll be pretty either way... but the charm of the 40ct silk qauze is simply its finished presentation.

Joining four other designs in her Petites Collection, Linda is using overdyed flosses in her gauze designs -- something that we haven't been treated to before.

Christmastide is a stunning Holiday piece that has a bold, moving background, behind the 1930s verse she's taken from an old Christmas Card. Check out 'Winter' as well... it's the second season, and joins Autumn, which has been a shop favorite since it arrived!


In the Garden


With Mimi-Pig! By Fairy Wool in the Wood, this charming 140 x 140 design features Mimi with her watering can surrounded by 6 blocks that feature scenes from her garden. Stitched on Fairy Wool's own hand-dyed 32ct linen (finishes 9 x 9), she has funny little blotches on here that look strange when nothing is stitched on it, but when you're finished, they look like little splotches of garden dirt! The fruit trees, the veges and tools, something about this is really charming.

Everyone was into stickers this year at Market (I believe this is a limited edition market exclusive) and along with the linen I bought for each pattern, they all come with a sheet of Cassandra Fairywool's whimsical artwork on the charming stickers!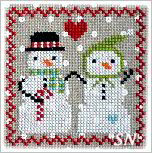 Snowy 9 Patch - Complete!


All nine small parts to this design are now here... our sets are complete! A whole medley of little snowmen doing Christmassy things, they are all stitched on 32ct natural/polka dot Belfast Linen.

Each section measures 3 X 3... stitch them individually or together! Presented as nine separate charts, we have them all, but you can choose any or all that you want!





Crazy Dog and Cat Ladies!


Two of AB's new designs... we all have that friend who is NUTS about their cat or dog... they dress them, they cook real people food for them, they skype with them, they even stick them in their purses to go shopping together! (well maybe not the CAT!) Anyway, she needs this! Dog was released a few weeks ago -- Cat just came.

Offered as two separate charts -- both measure 61 x 133 in stitch count -- about 6 x 14 on 14ct. CAT comes with a felt fish for trim, DOG comes with a felt bone. Cute as can be... you could skip the top two cats to save stitching time... but not if that offends that Crazy Cat Lover!


Pincushion Street - What a fun piece to hang in your foyer or guest room! Come in the evening or come in the morning -- come when you're looked for or come without warning. Friends always welcome on Pincushion Street.
Not an original verse and it turns out that there are several *Pincushion* streets and avenues around the world as well! Doesn't make this any less charming! The big blue house is a combination of Brethren Blue and Bayberry Sampler Threads -- and this finishes approx 15-1/2 x 9 on 32ct.


Be Mine Biscornu features bluebirds and love letters. Choose a neutral linen, this is stitched with Weeks Baked Apple, Beige, Deep Sea, Dove, Hibiscus, Molasses, Moss and Whiskey. 107 stitches square, you can stitch just the top piece and make a little square cushion if you want!
Small Samplings - This is a full-sized multi-page book featuring 5 small samplers and 3 pincushions - all being Beth's reproductions of antiques in her personal sampler collection. Full color photos, clear charts, all the fabrics and counts, as well as threads vary throughout, it looks pretty good! This is a limited Market release book - probably not generally released till May, but we brought ours home from Market.
Just Bee: Bee More


This is a sweet set of yellow, gray and black designs -- all matching, finishing approx 3 x 3, with a bee theme. JUST BEE was introduced a few years ago -- a limited edition kit long ago sold out and retired. Cathy has re-introduced it with two companion pieces in this chart of the three designs.You get the bee charm featured on the rectangular cushion, and the yellow chenille trim on the Hexie Pin Keep. Stitched on white, you'll need only DMCs of 413, 414, 415, 676, 677 and 729!
Farmhouse Chalk #3 Jack-O-Lantern Junction Farm

Turnip the Beet

- This is so cute, it's a play on words - all vegetables! *Lettuce Turnip the Beet Peas* which translates to Let us turn up the beat, please!

Cathy shows this stitched on both white and chalkboard colored fabrics - it's cute on either one, and finishes approx 5 inches in size. Presented as a chart.
The Fruit Thief -- Very primitive in flavor, teal and cinnamon colors, definitely choose a hand-dyed black for that huge crow, I think it needs that variation. 181 x 82 Stitches.
Part of the Black Cat Hollow Trio. Three Witches finishes approx 12 x 7-1/2



Winter Garden, Token of Fall and Klara Hansen

by Liz Matthews
Winter Garden - Wintery blues and a pair of deer... this finishes about 6 x 9 on 36ct. Coded for Gloriana silk or DMC of 3859, 3750, 3051, 3011, 680, 822, 938, 3790, 932 and 535.
Token of Fall - Kind of a fun bird with swirly 'feathers.'
Klara Hansen - What a pretty piece! Choose a fabric, then a thread - this is DMC #502. Can you see how the sampler is divided and stitched? The bottom half is the drum, and the top half is a pincushion. Now, look at My home in the Garden again and see how you can divide that up - using the different finishing techniques!
Phantom Plantation
Glendon Place has a spooky Halloween piece of a place I never want to visit! Phantom Plantation measures about 12 x 19 on 28ct... would be a little smaller on smaller count fabric. Worked with 63 different shades of DMC floss, there is actually no metallic in here - but I bet you could find fun places to add it! Everything is creepy in here... the moss on the trees, the monsters crawling out of the pond, the horse, the snake in the tree, and the eyes hidden inside the hollow tree... it's really kind of a fun piece!

I don't think this is new - copyright date says 2019 - but she had it on display at Market, and we had to have some copies! So... if you're in an 'edgy mood', get this - it'll make you HAPPY!


Swan Queen Needle Slide


A graceful swan sits in a flower nest with a little gold crown on her head. The crown and flowers are enhanced with touches of gold and amethyst glitter.

Nan's Needle Slides all include a strong magnet inside to hold needles and pins... or beads... or other tiny things!


Witching Hour Cube
Wow... A companion to Nan's other stitched cubes, Witching Hour is charming and enchanting... the perfect spot to perch ANY of your Just Nan Witch Mice! In Nan's words: It's that eerie purple hour on Halloween eve when witches ride across the moon. All of the usual Halloween suspects turn out to watch on this moonlit cube: a wide-eyed owl, bats and cats, Mr bones in a witch hat, a ghost lingering in a tree, grinning jack-o-lanterns, spooky spiders and 2 little mice wearing their witch hats.

Presented as a chart with embellishments and finishing instructions. Embellishments include midnight hex beads to dance around the base, a black satin witch on her broom that you attach to the moon, and 4 orange crystal beads to decorate the tops of the side seams. Stitched on Weeks Dye Works 32ct Peoria Purple linen with DMC and Week's flosses (Moss, Pepperoncini, Persimmon, Peoria Purple), the little cube finishes approx 1-1/2 x 2 inches! So cute, it's SCARY!
October Eves


Just Nan's Fall releases will be arriving any day! A verse by poet Humbert Wolfe: 'Listen! The wind is rising and the air is wild with leaves. We have had our summer evenings now for October Eves!'

Stitched on 32ct Country Mocha Vintage Belfast Linen with DMC and Gentle Art threads, this finishes a petite 4-1/2 inches square. Nan has scattered black and bronze glass beads here and there, and accented the garden gate with a hand-painted-by-Nan pumpkin! Offered as a leaflet with embellishments.


Gingerbread Mouse Elf Stocking
Well, if this isn't the cutest thing... I don't know what is! All the Gingerbread Mice asked for a stocking to snuggle inside while hanging on your tree. Here's the first stocking design!!! Measuring just 2-1/2 inches tall, this features peppermint candy, snowflakes, a decorated tree and a little gingerbread elf posing with a candy cane and holding his tiny elf mouse!!! (The little mouse is even wearing a teenier hat!)

Nan says the stocking is quick to stitch and easy to finish. Backed with red felt and trimmed with a snippet of red silk ribbon, both are included with the chart along with a gold jingle bell, 3 colors of beads, and tiny gold flower bead to crown the tree. Stuff the mini-stocking up to the cuff line, then sit your mouse inside. Add a few pins to secure and Stocking-with-Mouse are ready to hang on the tree (by his little mouse tail!) Stitched on 32ct hand-dyed Picture This Plus linen, the design area is 2-1/2 x 2-1/2.


Introducing *Little Hedgie*


Oh my gosh, is this little guy the CUTEST???? Straight from the hedgerow... he fits right into your hand! A bitty little guy, he is stitched on 32ct Natural linen with bits of DMC floss from your stash.. He features a textured coat bristling with black beads and a set of little pins for his quills. Nan is offering him as a small chart with his beads, bristly pins, his brass button base for weight, a green leaf (because he lives in the hedges!)

VERY cute indeed... if you are on our Just Nan Ornament Auto, you will be getting this little guy. If you aren't.... reserve him NOW! (If you can't remember if you get that auto... just reserve him anyway -- we'll look you up in our system.)


Ready Set Go! #319 TOO CUTE! This is full of bright colors and lots of tiny 'wheel' buttons -- 22 of them!!! Cars, planes, trains and lots of other things to get your little guy from one place to another in his imagination, this would make a really cute bedroom decoration -- especially with a special name on it! Stitch count is 198 x 40 -- finishing approx 2-1/2 x 12!
Alphabet Owls - #314 - An owl of alphabet letters! Stitch him in just about any colors you want... there are several options for charms to hang off the bottom... yours will be an assortment of 4.
Alphabetique is presented as a small chart, it is stitched in one color of hand-dyed (Cherry Wine in this one) and finishes approx 5 x 9 on 32ct Platinum Belfast Linen. Lots of bitty French-flavored motifs in here, the letters are all swirly and pretty, everything is charming! Think about stitching some bits separately for small cushions... you could turn this into a whole set of small cushions! Judy suggests antique button embellishments here and there... none come with the chart... but find some old white ones to dot your needlework!
Summer House Pinkeep

from Stacy Nash
This finishes into a generous 5-1/2 x 7-/12 inch pin cushion! Stitched on 36ct Natural linen with Gentle Art Sampler Threads of Apple Cider, Freedom, Straw Bonnet, Carriage Black, Chives and Cranberry.

I like the uneven border all around. It adds to the primitive feel of this. Instructions included for age-staining when you are finished.





Pin Disks... Two-sided pin storage pieces!


These ovals are stitched on both sides, the floral urn on the front and a smaller design on the back, then joined together, wrapped with silky hand-dyed rayon ribbon.

Included in the charts are the two cardboard oval cut-outs and the silky-rayon ribbon. Measuring 3 x 4 in size, after you glue the two wrong sides together and wrap with the ribbon, then add some cool pins.


Halloween Week

from Madame Chantilly
Here's a cute little piece with a lot of small design elements that you can pull out and stitch individually. Glass jars... each features either a yummy desert, little witch, scared cat or that skull. You can put them on the shelf with the keys and greenery, or leave off the shelf and add the checkerboarded details. Those ghosts are so darn cute, too.

The front of the chart has one pic, while the back features it stitched differently - so you can do a lot with this! Worked on 32ct gray linen, the individual jars are about 30 x 40, the ghosts are about 20 x 20, and everything just begs to be finished into a whole set of little pin cushions or ornaments for a Halloween tree!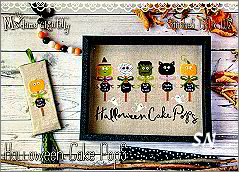 Mademoiselle Autuomne is painting the Autumn leaves -- her little squirrel friend is holding them for her, and the birds in the trees are hanging them on the lines to dry! What a pretty piece to showcase different colors of your hand-dyed flosses from your stash!!! Measuring 209 x 91 stitches -- this finishes approx 5 x 12 on anything 36/18 ct. Rosanna doesn't suggest any particular fabric, so you have options. Coded for DMC... think about shading those leaves with all the pretty hand-dyed flosses you already have!
Halloween Cake Pops - Wow, this is cute! Stitch a row of 5 lollypops with their hovering ghosts... leave off the words if you feel like it! 5 cute little pokes, see how cute they'd be if you did them on paper, cut them out, mounted on a stick,tied a bow, then stitched the little word block and added it... then stuck them into pumpkins or the candy bowl! I think the mummy and Frank are my favorites!
Two Homes - A pair of small circulars. HOME is 2-1/2 inches round, the larger 'mansion' measures 3-1/2 inches. The only colors used are Schneckley, Havana and Pecan!
Whimsey Halloween - 4 x 6 on 40ct... this one is upside-down!
Up on the Housetop - Choose a wild and fun blue hand-dyed fabric for these little guys! They're up there dancing on the rooftop - they'd better not fall! 6-1/2 x 7-1/2.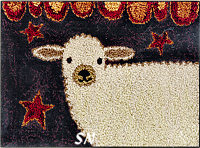 Sweet Little Ewe - RETIRING! When they're gone, they're gone! - 6-1/2 x 4-1/2, this one includes TWO different colorways, because she couldn't decide and neither could everyone on Facebook!
Primitive Cats - RETIRING! When they're gone, they're gone! - Finishes 6 x 4... you could add some color to the background... lots of black and brown in this right now.
Pumpkin & Crow


A grinning Jack, you can barely see the crow on top -- so watch the color of your background. Pre-printed design on weaver's cloth, finishes approx 4 x 4.


Let Freedom Ring - 7 x 5, a fun Americana primitive!

American Emblem PN198
Christmas Sheep - Finishes 8-1/2 x 6-ish.
Two new Punch Needle Designs
Halloween Tuxedo - 7 x 5-1/4 inches in size
Folkart Eagle - 6 x 5 in size.



Regina Haible and Elizabeth Hunt


A trio of new and reproduction samplers... Brenda has given them all gorgeous colors and new lives! Each of these is presented in a full color leaflet format
Regina Haible - What a pretty sampler - it looks like an antique French piece. Full of soft feminine colors - just DMC - Brenda has pulled out the bird motif and made a pretty pin cushion as well. Finishing approx 11 x 11 on 40ct, just gorgeous!
Elizabeth Hunt 1845 - An English sampler stitched by a 7-yr old girl... it features a pretty border, lots of fun motif detail... and will companion another piece this same little girl did when she was 6! Brenda will release THAT one later this year, I believe. Elizabeth's sampler finishes approx 11-1/2 x 15-1/2 on 40ct, and is stitched mostly with DMC!
Tree of Life Sampler - A lovely sampler - not too big either! Rose, butterscotch and gray colors, Tree of Life measures just 89 x 112, is worked with DMC and all three hand-dyed floss companies. On the 32ct Weeks Beige hand-dyed linen it calls for, this will finish just 5-1/2 x 7-1/2. Pretty floral motifs and the cute little house, Brenda shares that while taking the antique needlework out of its frame to better see the colors on the backside, she found a Spencerian Penmanship Lesson hand-sewn on the backside of the sampler. Was it a school lesson by the same set of hands as the sampler? Did she learn stitching and penmanship at the same school? We'll never know. Choose a smaller count of linen if you like... this will be charming no matter what you choose! Presented as a leaflet.
Mary Ann Copp 1839 - Oh this is so pretty - a reproduction by Brenda. She writes: 'A beautiful sampler with a stately brick house complete with brick/iron fence upon a brick wall. The basket above the house is simply gorgeous.' The history about the sampler tells that Mary is described as living in a brickyard in Jersey Channel Islands. The Copp family was a well known name in the brick business - so she's included a history write-up in the leaflet! I like that big floral border on this... just gentle and meandering! Measures 252 x 288 - so 14 x 16 on 36ct. Yummy colors in this - you'll need 3 skeins of Oscar hand-dyed floss!
A Weaver's Work

- Inspiration for this came from a coverlet woven by Adolph in the late 1800's. A male profession, the motifs used were their personal trademarks, and sometimes the customer's name was woven into the corner.

A little history in this chart... Henry Adolph was a French weaver who settled in Iowa and wove until he died at age 92 in 1907. 36ct Linen with one shade of thread, this finishes approx 6 x 7 -- isn't this lovely???
To Quote Shakespeare - *And in a tedious sampler sewed her mind* Just goes to show that Shakespeare knew NOTHING... if he thought samplers were tedious! Another paper mache' box finishing treatment like Brenda's Seasons in Baltimore, stitch the outside band and mount the fun quote inside a 3-inch hoop - or make it into a cushion! Both designs are in this chart.

Merry Yuletide

- Check out the font used for the lettering in this. It looks scribbled... but it is actually cross-stitched over one fabric thread! An Olde Worlde Santa with his snowman companion... maybe they're shopping for a Christmas Tree??? Offered as a chart, this is stitched on (anything you want but big in the pic!) 28ct linen in the shop. Our model makes an 11 x 18 pillow... Mona has started making an inside case of ticking that shows through the stitching linen... and it's a really cool look. Very sophisticated and fresh looking.
Essamplaire Petite Collection II -- Here are two different sets of 4 tiny samplers each. Models are on 40ct, and they finish about 2 inches each. You can work them on anything... they are small to begin with, so nothing will make them huge and gangly. Just sweet pieces that are fun for a medley of tiny framed samplers to all gather together on a wall... or a set of pin cushions in a basket... you decide.
Basketful of Spring - What a pretty little design tucked so cleverly onto a linen pillow! (Pottery Barn has really pretty ready-made linen pillows...) This is actually just a tiny design stitched on 40ct Weeks Parchment linen in 6 shades of hand-dyeds. On that fine fabric, it measures approx 3 x 4. After stitching is complete you IRON it onto freezer paper, cut out the basket shape (this might be scary for us non-finishers!), and then applique (little tack stitches) onto the larger linen pillow fabric. Then... add the buttons and ribbons, and construct the pillow, complete instructions are included. A really pretty finishing treatment... something different for that pile of luscious pillows you are making!!!
Say You Have - This is a Cross-Stitcher's Confession! A play on words taken from *Keep Calm and Carry On.* The original poster was printed in 1939, and intended to raise the British people's morale in preparation for WWII. Brenda says the poster was rarely displayed in public and little was known about it until a copy was discovered in 2000 tucked within the pages of a book in a used bookshop... and as they say, the rest is history. She continues to explain that there was a crown above the wording on that poster from 1939, so she thought it would be fun to design this little 'Rippit Frog' guy, and give him that royal crown! So, her advice for 2021... The next time the Frog visits... no need to 'rippit' ... just fudge it and carry on! His little crown is silver metallic - Petite Treasure Braid PB04, check your stash, most any thin silver thread will be perfect to help carry on!
Marie Flavin 1872


Here's another stunning antique sampler by Reflets de Soie. Just like some of her others -- this is presented in chart format. The border is different on three of the sides, color everywhere, lush alphabets and the motifs at the bottom are incredible.

This particular sampler has some religious-looking motfis... may be hard to see in the pic... but some of the others that seem to companion this piece have other florals you could sub. A reproduction of a sampler stitched in 1872... I hope some of my needlework stays gorgeous for 150 years, like this one has!





Victorine Chenevas-Paule 1869


A beautiful sampler - full of floral pots and borders. The stitch count for this is 262 x 242, so it will finish about 13 inches square on 40ct.

A lot of soft cremes and beige shades, it is coded for Silks (which we have) or DMC - ecru, 945, 415, 3813, 833, 522, 3362, 831, 543, 309, 842 and 732.

The individual urns would make gorgeous individual pin cushions. Presented as a full color chart with silks optional.


Wedding at Mermaid Cove


Oh a wedding on the beach... lots of attendants, a candle-lit church, a visiting whale in the sea, and billowy winds blowing the clouds and waves! Your hand-dyed fabric will be giving the sky its drama, so choose a pretty, happy colored piece... (don't want to start the bride and groom off with stormy skies!)

Susan and Pam always put a lot of cute little motifs in these scenes - this one is no different. Measures 282 x 160 - almost 18 x 12 on 32ct, it features lots of hand-dyed and DMC colors, as well as a little metallic and some glass beads.


Memorial Park


Praiseworthy Stitches has a new Summertime design -- an old fashioned ball game in the park! Stitched on 32ct light green linen with DMC and Weeks flosses, this finishes approx 12-1/2 x 6 on 28ct.
It's Spring and the whole town has turned out to cheer for their teams at the first baseball game of the season. The wooden stands are packed and there are children in wagons and on the fences -- even the dog is in the outfield ready to catch one of the balls on the fly! Can't you just smell the peanuts, popcorn and the hot dogs? Yummmm! It's time to play ball!

The Just Another Button Company buttons that garnish are *everywhere* in here... striped stars, the baseball, and all those little triangle flags -- those are buttons!





Just SOME of our New Arrivals

by Teresa Kogut

Oh My Bird is presented on Graham Cracker Linen - so choose a pretty golden brown you like to highlight your colors! DMCs and hand-dyeds, it finishes about 8 x 12 on 32ct.
Above All - Love one Another! This is shown on 35ct Cornsilk Linen by Weeks - kind of a green-ish gold color - and uses both DMC hand-dyed flosses. It finishes square - 10 x 10.
Fraktur finishes 8-1/2 x 10-1/2 on 40ct over two. Super traditional colors and motifs!
Family Fourth


Pat and Peggy have been super-creative these past few months dreaming up all sorts of cute new cases and Peyote Beaded Scissor Fobs! They are all due in the shop this week, and until i can get my hands on the actual kits - I cannot tell you fabrics and colors... so will fill in that info ASAP! The stitched cases are all completely kitted - finish about 3 x 6 and then fold. The completely kitted beaded fobs (which take between 3 and 4 hours to complete) are generally an inch and half log, BEFORE all that lavish beaded fringe they love to add. The kits are stuffed full of cool stuff... and they are including pretty good inside pics for your finishing info.
Family Fourth - Looks like a schoolhouse - I think the green beads on the fob are sculpted flower shapes!




Summoning is the back of a little witch working on her spell!

The artwork on the outside of the case is the same as the beaded fob... cute charms too!


The Wedding Sampler - Lots of repeating motifs in this busy and happy Marriage sampler. The little tiny farmhouse is surrounded by so much love! The border moves back and forth, the roses are sprouting out of the pots - like 10 children!

Those evergreens in the yard are so even and calming, but then there is all that commotion going on in the yard... it's John and Zella's homestead! Stitched on 36ct linen, this will finish a generous 14 x 16, and it uses A LOT of thread! (at least 6 skeins for that busy yard of grass.)
Really Friends - Another release of a previous exclusive design, inspired by Jane Austin - it measures approx 7-1/2 x 11 on 32ct. The bottom band looks really charming with the castle and carriage on it, but we'll know more when the patterns are in our hands! Available in a chart format.
Mercy Megginson 1849 - Beth describes this as a 'bright and cheerful' piece: Mercy was 11 when she stitched it, and it finishes approx 10 x 12 on 32ct. Chart includes lots of genealogical research into her life story - which always makes the stitch more fun and the finished piece more special. Weeks and Classic Flosses, 32ct Fox and Rabbit Hogbristle.
Five Songbirds - An adaptation of part of Mercy Megginson's sampler- I see Adam and Eve on there, so I think it's part of the bottom area. Good colors, cute trims... Same fabric as the main sampler.