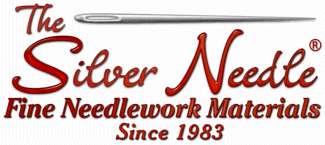 6068 S. Sheridan Rd. Tulsa, Ok. 74145 (918) 493-1136 (888) 543-7004
E-Mail
A small but delightful selection of cross stitched primitives by Wendy Stys-Van Eimeren, I've chosen my favorites to highlight here! All are offered as charts, everything stitch on hand-dyed linens in Gentle Art or DMC flosses. Just love *The Look!*




Fancey Blackett Little Fancies


Pineberry Lane sent a cute new chart - a trio of spooky Halloween smalls. Each measures less than 4 x 4 and is stitched with DMC flosses.

Instructions are included inside for aging your fabric and finished piece with walnut crystals.

Just cute and little, that big moon one is entitled Moonlight cocktail, and is stitched on a mangy dark background!





Merry Christmas


White angels and white florals, this is stitched on a brown color fabric using 5 shades of Weeks hand-dyed floss and 4 colors of DMC. I would never have guessed 9 colors in this... but Peach Fuzz, Charcoal, Oscar, Whiskey and Cognac join the DMCs of 739, 822, 3022 and 3023. The featured trim is Lady Dot's Vanilla Chenille Trim, and we have wools and velveteens for backings as well.

Wendy has given you a tree template in the pattern to cut out a bit of felt or other backing to cover your stuffing slit! A soft, pretty and petite piece, this measures 90 x 90 in stitch count - so 5 x 5 on 36ct.





The Witch's Garden



Just a sweet little piece, I'm not as excited about the 'witch side' as I am about the 'cute little kitty on the fence with the vines' side!

Just a few Weeks or DMC flosses... pick a mangy fabric that looks like a bleak day, or choose a bright sunny fall day background - either one would be cute! Presented as a small chart, the whole thing finishes a petite 4 x 4 on 36ct.





Three Little Witches



You get a trio of pin cushion-sized designs in the package - each finishes only 1-1/2 x 2 though!

Find some fun trims, finish them back to back... super small and quick.


Merry Little Stitches & A Sprig of Holly


Pineberry Lane has two new designs... one is Christmassy, and one isn't as much... but both are big on charm!!!
Merry Little Stitches is a trio of ornament designs which measure just 2-1/2 x 3 on 35ct. Santa, three angels and a Mrs Christmas... it's charted for regular ol' DMC!
A Sprig of Holly features a seamstress with her scissors and spool of thread. Finishing 3-1/4 x 4, she's stitched with regular DMC, just like Merry Stitches. She'd be cute finished as a little needle case or pin cushion.
Sister's Farm Fresh Eggs


Pineberry Lane has a new chart that finishes approx 4 x 5-1/2 in size on 36ct. Coded for regular 'ol DMC floss (and nothing else!) we especially like the chicken, basket of eggs, the greenery and pair of chick around the basket.

Not so crazy about 'Sister' - she's pulled out all her hair taking care of her chickens! Stitch the whole thing, or leave Sister off... that basket, hen and chicks is pretty neat all by itself!


Fancey Blackett's Brooms


What a fun name for a witch... and kind of a fun piece to stitch! Ms Blackett is flying around with side-kick kitty on her broom... is she *brewing* her brooms... or cooking up new ones??? A whimsical scenario, this is stitched on Week's 30ct Beige Linen in 10 different shades of regular DMC floss.

Approx 9 x 9, it is offered as a chart, and includes the distressing instructions to make your piece look like IT has been *brewed* by Ms Blackett!