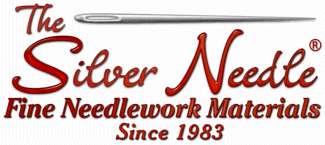 6068 S. Sheridan Rd. Tulsa, Ok. 74145 (918) 493-1136 (888) 543-7004
E-Mail
Pepperberry's Halloween Lucky 13 - The Halloween Lollipop Series
We have all 13 charts in this fun set now. All are stitched on weeks Dye Works linens of Chartreuse, Pumpkin, Sky or Peoria Purple, with DMC, Weeks hand-dyeds and a few metallics tossed in. Each finishes about 4 or 5 inches in size on 32ct. The contour shape on the finishing treatment lets you concentrate on the designs without too much extra fabric showing. They've trimmed them all in the same edging... you could change that if you want... and all of them are stuck onto sticks - like little lollipops.

I'm thinking they need to be poked into a big 'ol bowl of candy... but I'm not sure the candy would last to hold them up! A real cute collection... choose just a few favorites if you don't think you can finish them all!


Pepperberry Bunnies & Chicks for Springtime!
The Easter Lollipop Collection!
This is a delightful set of cross-stitched rabbits, bunnies and a sheep, all finished *on-a-stick* to poke into your Easter Basket, but could hang as ornaments as well. By Pepperberry Designs, they started out as painted needlepoint canvases, but they are stitched on all the bright Tropical Linens or Aida from Wichelt Imports - and they use regular, ordinary DMC floss!

Super cute, each finishes approx 4-1/2 x 5... they are all slightly different. I see metallics on these, some furry threads from Rainbow Gallery, some buttons and beads... lots of potential for cute embellishing. Choose between Tropical Blue, Green or Pink... we have 14 Aida or 28ct Linen... and the colors are CHEERFUL! Each of these is presented as it's own chart.