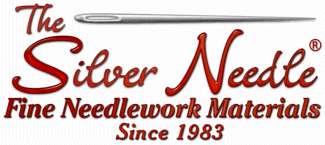 6068 S. Sheridan Rd. Tulsa, Ok. 74145 (918) 493-1136 (888) 543-7004
E-Mail
Lori Markovic of La-D-Da has a collection of primitive designs that seem to offer just a touch of whimsey. Unusual color selections sometimes, unusual design shapes... we like her things... because they look unique and fresh! Available as individual charts, here are a few of her things!



Little Annie Lewis


La D Da has a new sampler - lots of alphabets, but pretty fonts and a playful bottom panel.

Measuring 226 x 219, it finishes a generous 14 x 14 on 36ct. Coded for DMC and Weeks, it is a reproduction. Something about it is simple and charming! Presented as a chart.





Witch Hazel

- Just a single cutie from La-D-Da
Isn't she a busybody looking bird? Hazel is dressed in her Witchery Finery, complete with wild and decorated hat and mystic wand. Stitch her on something dark and mangy - she's coded for silks or DMC, and calls for a little antique gold metallic for her decor accents.

Measuring 75 x 93, she'll finish about 4-1/2 x 5-1/2. She needs to be a cushion tucked between your pumpkins or perched atop your candy bowl! (Kind of like a guardian of the candy!)


A Few La-D-Da Treats
Needle Book, Needle Book - Lori has re-printed her Summer Stitcher design and added a companion - Autumn Rose to the leaflet. (You might remember we had a few very limited edition kits of that Summer Stitcher inside a little brown wooden box - Gone! But that box is an unfinished wooden card box from Hobby Lobby - so there's your second chance.) Anyway, both of these designs have a stitching 'flavor' in them... Lori has made them into 3 x 4 needlebooks. Darling on the outside, you can line these with pretty hand-dyed wools and antique buttons and trims - the sky's the limit! Finishing instructions are included for the cases.
Sweet Scissor Mat - Love this! It's a stitched linen piece with beautiful cut and drawn thread hemstitching around the edges... you use it as your stitching placemat! You could always frame the whole thing under glass if you want... or go for it... and actually USE 'the good guest towels!' The stitching measures only about 6 x 8... but then add the borders and hemstitched area - so this might be 11 x 14. Worked on 36ct... some hand-dyeds and DMC, hemstitching and finishing instructions included. Presented as a leaflet.
And They Were Not Ashamed - A classic Adam and Eve Sampler for you collectors... pretty colors... you could be a sinner like A & E and skip the whole alphabet thing! Presented as a leaflet.
New & Old Christmas Offerings

from La-D-Da
Look what came along with Lori when she came in November for our Stitch Retreat Weekend!
Christmas in My Heart - Mr Scrooge at his best! *I will honour Christmas in my heart and try to keep it all the year!* This is super simple but just charming! Finishing about 4-1/2 inches square, it is stitched on 32ct Chocolate Raspberry Linen. Lori stitched it with one strand of floss over two threads using just Erin Go Emerald Classic Colorworks or DMC 500. She dotted the 'stars' with #901, but suggests metallic if you like that option. Just a quiet little piece!
Tidings of Great Joy - This is an older design - from 2017. Stitched on Picture This Plus Wren hand-dyed, I can hear Linus in a Charlie Brown Christmas reciting this while they are all in front of the little spindly Christmas tree.*And there were shepherds abiding in the field... Ye shall find the babe wrapped in swaddling clothes lying in manger.* I'm not sure the brick house resembles a manger... but maybe you can tweak that a little! The verse is a bible classic - this finishes approx 8-1.2 inches in size and is worked in a variety of just 6 shades of hand-dyeds and DMC.



To Gather Again


La D Da has a limited edition kit that we brought home from this Spring's Market!
ToGather Again With needle and Thread will finish as a long piece, or standing drum-shaped pin cushion, with that tiny matching fob piece.

Lori's kit includes Weeks 36ct Confederate Gray hand-dyed linen, Weeks flosses, wool for the drum topper, ribbon for the fob, fabric for the bottom, and a fancy trimmed (made-by-Lori) stick pin for good measure.





Five New Designs

from La D Da!
Beloved - 224 x 109 On 36ct this finishes approx 12 x 6.
U & Me 123 - Can you find the dinky U & Me in here? 200 x 146, on 36ct this measures approx 8 x 11.
Catherine's Big Heart - This is a little one - just 5-1/2 x 8 on 36ct - Weeks Straw Linen and Weeks hand-dyed flosses.
Flower Pot Roll-Up - This looks charming. Source some fun things for that inside - cool thread rings, pretty hand-dyed wool, and something special for that cushion down at the bottom... this is only 5 x 10 when fully opened!
I Choose You Marking Sampler - This one is fun! Lori makes you choose your own fabric and fav thread... and YOU fill in YOUR information! You could get carried away and stitch a whole family tree into this! Lots of possibilities to add marking stitches between the rows, and you could always change up the alphabet letters with Smyrnas, Rice, Algerian Eyes, or Satins!




Flowers for Beatrice


A classic little marking band sampler - in the olden days, little girls stitched these to practice forming letters so they could legibly label the family linens. Stitch with a combination of DMC and Weeks hand-dyed cotton flosses, Lori has used all the favuorite stitches found in these old samplers - everything divided a band.

Smyrnas were usually the alphabet letters. Double Backstitch, Open Herringbone, Fly, Diamond Eyelets and Rices abound as well! Skip the special stitches or do them all... this 91 x 215 piece finishes a narrow 5 x 12 on 36ct.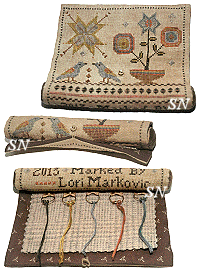 A Pocket for Potions, Nutcrackers 3, and Birdy Stitching Roll from La D Da!


Three designs by Lori - Potions is new, Nutcracker-Time is coming, and Birdy Roll is old, but still cute!
A Pocket for Potions provides you storage for your toad's wort, spider venom, eye of newt, hogwart, cod liver oil and witch hazel. Just in case your family doesn't like what you made for dinner - now you can find *just the right ingredient* to 'add that little something extra!' What a fun piece to make into a little bag to hang on a kitchen knob or perch on a windowsill. Stitch it on anything you want - Lori used only 310 and 838 - brown and black.
Nutcrackers 3 - Christmas is coming... get these little guys done - they'd make a cute block stand-up decoration. Measuring 119 x 108 - they are only 27 x 85 - so individually on 36ct they are 1-1/2 x 4!
Birdy Stitching Roll - We cleaned in the inventory aisle and found that we have several of these charts - and they weren't on the website anymore! Originally offered as a kit (I believe about 7 years ago!), the birds and basket stitched area you see is the backside - the outside - of the roll. Lori has turned it over for you to see that she's lined the backside with fabric and Week's hand-dyed wool... and added thread rings for her flosses. You can see her name and date stitched there - that is really on the other side - below that row of diamond-shaped motifs. Really a pretty little piece stitched with Weeks flosses of Adobe, Cocoa, Molasses, Dolphin, Seagull, Charcoal, Olive and Teal Frost.
New Lovelies Coming Our Way!
Elizabeth Charnelay W - Stitched on 36ct, this measures a generous 12-ish inches square. Worked with Weeks flosses of Havana, Dolphin, Terrapin and Red Rocks, there are 8 DMCs tossed in as well.
Little Virginie 1837 - Stitched on 36ct, this one finishes approx 10 x 10. There's a windmill in here... a peacock and that cool sailing ship... kind of a 'family established' thing!
Kindred Spirits of the Thread - This is a pin cushion for a stitcher! Stitched on 36ct Confederate Gray is calls for Weeks blackboard, Lichen, Caper, Cinnabar and Arrowhead. Easy to change colors though... any stitcher will love to have and use it!
Sophia Church - What a pretty piece! On 36ct, it finishes approx 17 x 7, and is stitched with Weeks Dirt Road, Adobe, Terrapin, Sanguine, Oil Cloth, Flat Fish, Bees Knees and a few other DMC flosses. Blackbird Designs has a sampler like this pictured on the back of their Sewing Club book... different pots of flowers, but the same layout. The two would be pretty hung together!
Francis 1863 - Well, isn't this the cutest little sampler bunny? Lori has a couple of other stitched and stuffed alphabet rabbits - they are ALL charming! Francis measures 80 x 80 - so on 32ct he's only 5 inches tall. He needs to sit on your shelf in a place of honor! Stitched with Weeks Cranberry Ice, Classic's Calico Kitty, and Gentle Art's Wood Trail and Cast Iron Skillet.



A Pumpkin Parade


New from La D Da, this festive design features all the carved pumpkins stuck on sticks and a couple of them aren't happy about it! Stitch just one if you have no time, three if you want a little more impact, but still not enough time in the stitching day... or do them all and add your family names underneath them!

Coded for DMC and a few hand-dyeds, this is worked on Week's Dye Works Gunmetal linen - but we have some hand-dyed aida fabric that is easier to see and works just as well for your eyes. Cute design, it finishes about 6 x 10 on 28ct.





A Two Rabbit Sampler, Little Summer Sampler, La-D-Da Quaker, Kinder Than Necessary and Blueflower Drum


Lori Markovic's most recent offerings include these designs...
A Two Rabbit Sampler - Well, it does have two rabbits! 175 x 151... it uses 10 shades of DMC floss!
Little Summer Sampler - Just beautiful in 'stitched person' this is done with Putty, Battleship, Seagull and Tarragon hand-dyed floss or DMC of 371, 414, 646 and 3011. I can't figure out why it has anything to do with summer... but it is just the prettiest little 6 x 6 piece!
La-D-Da Quaker - Pretty straight and organized for Lori --it's done in only two colors - 3371 and 632. The four corners of the border are all different - you'd never guess it!
Kinder Than Necessary - Done with regular DMC floss, 'Be kinder than necessary and love beyond measure!' That bottom area of the zig zags is done with eyelet stitches - they did that a lot on antique samplers - really gives it rich look.



Aunt Amy's House


I think this was released by La D Da in 2016 - that's the date on the sampler. We have a shop model of it, and when we went to the website the other day to look it up, we discovered it was never ON there! It's really charming... so we need to pay attention!

Stitched with DMC and Weeks hand-dyed flosses on 32ct Parchment linen, it finishes approx 9-1/2 x 11-1/2. The house is cool, the alphabet is pretty, the border is balanced, dump the date and put in your family name instead! (Lori won't be upset!) It's lovely!





In The Sweet


...by and by.... This is classic La D Da... 4 x 4 on 36ct Confederate Gray... DMC of 831, 3021, 3772, 801.



Auspicious Hope


... in thy sweet garden grows. Wreaths for each toil and charms for every woe."
165 Square in stitch count, this finishes 10 x 10 on 32ct.





A Merry Christmas Sampler


Lori Markovic's newest design finishes into a Christmassy pincushion or pillow... depending on your fabric decisions. You could choose a cream and distress it, or something closer to a natural color.

On 40ct this finishes 5-1/2 x 6; on 28ct it finishes about 8 x 9. Stitched with just 5 shades of regular 'ol DMC floss, this is a sweet little piece! Might be kind of fun to toss in special stitches somewhere!





A Murder of Crows


Somebody Google this... what makes a flock a flock, why is a murder a murder, why is a herd a herd? We checked out Crows, and wow... it was morose!

La D Da's newest design features three crows on their own pin cushions. Shown on Weeks 32ct Putty linen... choose something dark, mangy and Autumnal. They are all coded for Weeks and DMC flosses.





A Happy Life Sampler


Lori Markovic has a new design... colorful and very geometric in feel to me. She's incorporated Eyelet and Smryna Crosses into it, and used only 2 hand-dyed flosses and 9 regular DMC colors!

This measures 140 x 164 in stitch count... there are lots of pretty golden or brown fabrics would be pretty for this. It is shown on Vintage Meadow Rue by Lakeside.





New From La D Da!


Lori Markovic has some unique designs. Can't wait to see the real things stitched - in person -- at the show!
Love Abide -- Pretty Welcoming Sampler -- maybe for your front hall? Chart. 254 x 243 on 36ct (14 inches square), looks like you have good fabric options with this one!
Awake My Soul -- 'and sing.' Chart... more pretty hand-dyed colors, this one would make a pretty pillow without the wording...
B is for Bunny -- Chart, this one looks cheerful and bold! 171 x 115 -- so 9-1/2 x 6-ish on 18/36ct... I'm sure she's not going to do the whole alphabet... so just enjoy B!
Sweet Pea -- This is a FAVORITE so far! Companion to Lori's little standing bunny from last spring, Sweet Pea will stand about 6 inches high stitched on 32ct.

The Fetishes -- This is a set of 4 small designs, 100 x 100 stitches.

Patterned after different types of samplers, Lori thinks she'll do a set of 12 of these!


La D Da has 6 new things... these two are my favorites!!! (And they came home with me!!!)
Samplar Hare - Mr Samplar Hare is here in chart format!!! Finishing a petite 5-ish inches... isn't he darling! GET this little guy! He was a hit at Market this year, and I didn't buy nearly enough the first time, but more are here! He's a bitty thing.. we took a picture of him in my hand! Stitched on 32ct Parchment by Weeks, he measures about 5 x 5 but is smaller because he's stuffed.
Complete assembly instructions are included -- Lori showed me that she added lots of random stitches over the top seam -- so he would look very hand-made by a young seamstress. His tail is made of your linen threads. Absolutely charming!!!!
Wow! Presented as a chart.


Fraktur Flowers - This is stunning! Bayberry Sampler Thread and 6 DMC flosses... it's burgundy brick red, teal, golden and taupe. Finishes approx 10 x 10 on 32ct, it would make a beautiful pillow or a framed piece! Presented as a chart.
Lovely Letters


This is all worked on YOUR assorted linens with YOUR assorted threads!!! It's meant to be a lovely set of letters that you mix mix together in a lovely collection!

Make your bowl filled with letters spell something special... or get a big bowl and do the whole alphabet!




Humble & Kind -- Finishes approx 6-1/2 x 5 on 36ct, Stay Humble & Kind. Silks or DMC floss.



Virtue


A petite 6 x 8 piece... this is an organized little thing! A border of 'pennies', the abundant tree... the tidy house... we aren't sure what 'Virtue' has to do with a house... so we think this one is NOT one of ill-repute!

Choose a neutral fabric, this uses 3 hand-dyed flosses and some DMCs.


Briar Rabbit


Something old and something newer by La D Da... one for Spring and one for Christmas... both are presented as charts. Briar Rabbit is from 2007! He came in our Trunk Show last week, and we were enchanted with him! How I missed him 9 years ago, I don't know... but he's lovely! Mangy hand-dyed linen, DMC or silks of 3858, 730, 833, 612, 3866 and 613 -- you might have hand-dyed cottons you can use instead. He finishes an impressive 6 x 7 on 35ct!


Bless Our Home


La d Da has a pretty new sampler design, Bless our home on every side, bless our door that opens wide. Presented as a chart, it is stitched on a medium brown colored fabric, and calls for a medley of DMC, Sampler Threads and Weeks hand-dyeds.

289 x 233 in stitch count... this will finish approx 18 x 14-1/2 on 32ct... so adjust fabric count to adjust finished size! The alphabet font is lovely on here, the border is very bold and organized, and the tree leaves and flower petals are soft and rounded... very charming!





Me & You


*Come sit down... just me and you.* How sweet is this?? Presented as a chart, this features a charming two-sided floral border with a really cool alphabet font in the center.

Choose a neutral fabric -- Aida or Linen -- this is worked in regular DMC floss!!! 646, 407, 680, 422, 610, 3021 and 632, Very sweet!


Cat & Dog


Another pair of small antique-y flavored pieces, these measure 54 stitches square -- so less than 4 inches on 28ct. Pretty in the frames, they'd be nice in tiny cushions too, especially with some soft chenille trim around them.

A neutral fabric the chart calls for DMCs or Gentle Art Simply Wools -- which are WONDERFUL to work with! Apple Cider, Bayberry, Cidermill Brown, Garden Gate, Harvest Basket, Old Purple Paint, Portabella, Raven and Woodtrail. If you haven't stitched anything with the wools, this is an easy one to experiment!





Where My heart Is


*Home is...* Just 113 x 85 in stitch count, this is charted for both DMC and a few hand-dyeds.

Nothing fancy, everything is worked over two threads except the verse -- which is over one.


Peace on Earth


La D Da's Lori Markovic has a new piece -- Let there be peace on Earth and let it begin with me.

Offered as a small chart, it is worked on Weeks 30ct Straw Linen with DMC colors of 926, 3011, 844, 918, 831, 632 and 3032. It'll finish approx 7 x 9 -- and the frame in the pic -- an 8 x 10 -- came from Michaels! Pretty colors, a restful design, it'd be pretty in a hallway or foyer.


Honeysuckle Birth Sampler


Little Isabella was born on New year's Day last year -- the first baby in the hospital for 2014! Lori's granddaughter, her sampler is an adaptation of the Eliza Mitchell 1824 sampler!

Stitched on 32ct Weeks Beige Linen with Weeks flosses of Havana, Teal Frost, Juniper, Baked Apple, Caper, Spanish Moss, and Tarragon, this is definitely a sophisticated birth sampler that won't be outgrown! Offered as the chart, it finishes approx 13-1/2 x 7.


Garden Birds - The Picture


The same design as on the Garden Birds Tool Case Piece, this is shown mounted into the top of one of Lone Elm Lane's square boxes finished with a 'concrete gray' finish.

Stitching 6 x 6 on 30ct confederate Gray linen, it is coded for Needlepoint Silk or DMC floss.





A Pocket for Posies


Grab some Weeks 30ct Confederate Gray linen and Weeks Gunmetal, Baked Apple, Havana and Cadet hand-dyed flosses to stitch this 8-1/2 inch alphabet design.

Lori includes instructions to make it into this hanging pouch -- complete with the rope ties and top pleating treatment. Simple and really pretty, I can see this as a door decoration! Offered as a chart.


Soul Birds


This is a cool pattern... it is meant to be a tribute to those near and dear to you. Choose the different birds from the six offered in the chart, along with your friend or relative's initial and stitch a small pillow. Lori has used 28, 30 and 32ct linens in her assortment -- so it's OK to use any counts you want to, as well! She's coordinated her fabric scraps with the hand-dyed flosses she calls for so this is just a lovely medley of mis-matched but coordinating fabrics and colors!!!

She put a false bottom into her basket, so you can see the little cushions are standing up high in there -- nobody is lost in there! Add buttons or lace or charms to anything -- buttons off a wedding dress or a baby dress...! Offered as the chart of six pillows with alphabet for more personalization.


Harvest House


An organized acorn border beside a saltbox house, this is worked on 30ct Confederate Gray with both Weeks and Gentle Art flosses.

Finishing approx 15 x 5-3/8, you might think about a *House Established* or *Family Established* sign for this instead of simply the alphabet. Neat housewarming! Offered as a chart.


Wee Bundle -- Alphabets and Numbers


This is a double-stacked little pin cushion! 1*2*3*4 -- the Numbers part measures only 2 x 2-1/2 inches. The Alphabet pillow is bigger -- 3 x 4 in size. Both are stitched on Weeks 30ct Confederate Gray linen in Gloriana silk. Dames of the Needle's hand-dyed "Grunge" Pom Pom fringe and dyed silk ribbon are the trims you embellish with, and tie the pair together.

Just a precious tiny set of pillows, the colors are soft and muted. Offered in chart format, a very neat design presentation.


Spring Hare


An old fashioned rabbit bringing a nosegay of posies... LOVE that elegant alphabet in the background! Stitched on Week's 35ct Beige Linen in Gentle Art's Garden Gate and Sable flosses, he finishes approx 6-1/2 x 6-1/2.

Would make a beautful pillow bordered in luscious raw silk fabrics!!


Little Brick House


Very organized and balanced... I like the heavy black lettering around the edge, and then the bold checkerboarded bricks on the house.

Very rose, cream and black in flavor, this is worked on Weeks 30ct Straw in nine hand-dyeds of Gentle Art's Simply Wools or DMC flosses. Totally yummy and soft colors of Barn Gray, Tradewind, Parchment, Cidermill Brown, Old Purple Paint, Old Red Paint, Forest Glade, Espresso Bean and Garden Gate, the wools really add softness and depth to your stitches. You can use the same colors in the flosses... but very rarely are all the colors listed available in the wools, too. This is a good opportunity to try them out on a petite, charming piece. Finishes approx 6 x 9.


My Country


Oh... this is NEAT! Stitched over 2 threads on Weeks 35ct Putty using only 4 shades of silk of DMC... Lori has this finished as a large pin pillow. DMC colors of 3858, 931, 869 and 3021, it'll turn out approx 4 x 9.

Stuffed with walnut shells, and trimmed with cute ball fringe trim, we fell in love with the stitched model. We like that trailing flag, and the verse!


Praise Jesus


A 5 x 6 piece delivering a powerful message, everything about this is eyecatching.

Bold lettering is accented by a pair of bold borders, this finishes only 4 x 6-ish in size. Very classy!


Big Red House


Worked on Week's 30ct Straw in DMCs, Week's hand-dyed flosses or silks, this finishes approx 8 x 6, and features such a classic sampler verse! Let me live in a house by the side of the road and be a friend to all.

This would make a neat housewarming gift if you added an address or Family Established Piece if you included the Surname.


Krissy Nelson and My Little Sampler:
Krissy Nelson Aged 8 needs to be stitched by a budding stitcher!!! (Actually Krissy was Lori's next door friend when they were 8!) 94 x 145 on 30ct Confederate Gray -- coded for Needlepoint Silk or DMC... we have a small packet of the silks for this one! Very pretty denim blues, a pink, gold and greens.
My Little Sampler: Just a cute little piece, measuring 109 x 127 on Week's 30ct Capuccino Linen, charted for silks or DMC, we have the Needlepoint Inc silks for this one, too!
A Bird in Hand


This is a sweet piece that we stitched and finished into a small pin cushion -- nothing earth-shattering, but very charming none the less! Offered as a small chart, it is worked on Week's 30ct Straw linen in regular DMC flosses! We trimmed the edges with a chenille trim.

Stuff yours with crushed walnut shells (lizard litter at the pet store.) It is very heavy for its density, and it settles really well into your hand. Everything feels better with that inside vs the lightweight poly-fill. Dmc colors used were 3857, 646, 3772, 832, 844 and 830. Just a pretty thing!


Spot the Cat


La-D-Da had some cute releases a few weeks ago -- I love this little cat-guy -- kind of standing there like a dog! Cute as can be, stitch him on the 30ct Weeks Confederate Gray linen called for with DMC floses... or change the cat colors to make him match your kitty... he finishes approx 4 x 6.

Offered as the chart, he's a quick stitch. I'm looking a this, and the Gentle Art Simply Wool would be an excellent thread choice for the cat!





New offerings from La D Da!


4 Sweet things to stitch and make into pin cushions or frame, they all follow Lori's relaxed, antiqued style, feature soft and faded over-dyed color, and sometimes a sentimental saying of old! All offered as charts...



Flowery Alphabet

finishes 4-1/2 x 6 on Weeks 35ct Confederate Gray, and is worked in DMC 844, 3011, 612 and 3772.


Yellow Bird

is a smaller chart, and stitches 3 x 4 on Weeks 35ct Parchment. Choose a single silk or cotton you love!


Toil & Trouble


Something Wicked had the witch's boot... this one has her nose!!! Quite the gruesome verse, but if you have just the right person to stitch this for... it works!

Offered as a chart, finishes approx 4 x 9 on Weeks 35ct Havana hand-dyed linen, uses DMC flosses.


Something Wicked


Everyone LOVES this little boot... it's stitched on Weeks 35ct Havana linen in black and gray, with a touch of green accent.

It finishes approx 4 x 9-1/2, and is just the most unique little piece! Offered as the chart.