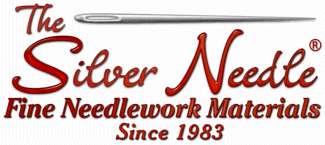 6068 S. Sheridan Rd. Tulsa, Ok. 74145 (918) 493-1136 (888) 543-7004
E-Mail



A Few New Offerings

by Heartstring Samplery
Beth Twist has some fun the designs arriving in the shop the first week of November...
Advent Season Ornament Set is a contemporary-flavored 4-part design. JOY, PEACE, LOVE and HOPE are the words that correlate with the lighting of weekly Advent candles. She's stitched these 41 x 68 pieces on Fibre on a Whim's 36ct Dusk hand-dyed linen - which is just the most gorgeous deep, rich blue color. (We have it in several counts... 36 makes them about 2 x 3-1/2) She's trimmed these with red and white striped butcher's twine that looks like peppermint!
Hear the Angels Sing features the lyrics from the 4th verse of 'It came upon a Midnight Clear.' She's charted Satin stitches in the angel's wings, and used DMC and Weeks flosses.
Hope Song celebrates the song of winter Chickdees that Beth loves to hear. She's included 5 more charts in here for the 5 most common Chickadee varieties found in North America - so your birds can be the right ones! Worked on 36ct Country Vintage Mocha Linen with DMC and a few Weeks, 127 x 127 in stitch count, just something to brighten the gray winter days.
Joyous All Together - a companion to Love & Joy, these lyrics are from 'Deck the Halls.' Choose a simple fabric, and one single hand-dyed thread color, this finishes approx 3-1/2 x 7 on 36ct.



New Offerings

by Heartstring Samplery

Sunday Stitches - This is a book filled with 15 different and favorite church hymns. You might remember that Beth released 12 of these over a year period a few years back - with limited availability. Individual charts have been retired, but now that whole set PLUS three more are together in this really nice book. She has history about each hymn, the chart, finished pictures and even a few vintage church pics in here! Beautifully presented, each is stitched on different fabrics, and all are different shapes and sizes.
Sunday Stitches Thread Board - Beth's husband created these pretty thread boards to help keep you organized while stitching! He added that gold super-magnet on there for needles, and wrote the hymn titles featured in Beth's Sunday Stitches Book! Measuring about 5 x 5-1/2 in size...very pretty!
Sting Like a Bee - This the Beth's half of a collaboration with Plum Street Samplers. Inspired by a quote from Muhammad Ali - 'Float like a butterfly, sting like a bee' - we have two halves that work individually, but go together. Finishing about 4 x 5 as a pin cushion... stitched with DMC flosses on Country Vintage Mocha linen.
Float like a Butterfly, Sting like a Bee Thread Board  Plum Street Sampler's Paulette and Heartstrings Beth collaborated on a stitched design featuring this motto... and here is the matching thread board!
French Flea Market Biscornu - Actually quite large in size, this features gently denim-blue flowers on one side, with stripes on the reverse - which remind me of French Tea towels. Weeks flosses, there is a DMC conversion, but this measures 114, so on 36ct this finishes a generous 6 inches! Beth has a little history in here about the origin of Flea Markets - kind of fun to read. Does this design remind you of our recent 'A Little Help From our Friends Stitching Circle?' Our Bee Biscornu companions this!
My Sweet Home - This piece can be stitched a couple of different ways... one with trees and a house, one without those but a picture inside instead. Using Weeks flosses, this finishes about 6 x 9 on 36ct... but if you are going to use a photo in the center - you might have to adjust your fabric count to make sure it fits. A really cool way to showcase a special family photo, it could be a 'family established' piece.
Look at What Heartstring Samplery has sent!
Love & Joy - A excerpt taken from The Wassail Song - also known as Here-We-Come-A-Caroling - this is worked with one shade of hand-dyed thread, on any neutral color and count you want! Measuring 119 x 61, it'll finish about 6-1/2 x 3-1/2 on 18/36ct. A pretty little thing, it has a few quilt-inspired motifs on it... and would look lovely in lots of other colorways. Lots of options for you!
Winter Comes - Wow, here's an example of what different fabric colors will do for a piece! This is the same design - stitched on black or a lighter neutral! Inspired by Beth's love of the season and children's poetry, she wrote a few rhymes to highlight her snowy winter scene. The house with glowing windows, smoke wafting from the chimney, animals in the yard, and falling snow... it all looks so different on each of the fabrics - but the thread colors are THE SAME! Stitch it with or without the words - 'with frost and snap and gust and snow... with branch and howl, and drip and blow... with wool and boot and mitt and mug... with curl and book and hearth and snug.' Charming!
Heartstring Samplery's Beth Twist has sent new designs!
Scary Sampler is the BEST! Beth designed this and stuck in all sorts of references to spooky stuff - all from all her favorite movies and TV shows. 18 Different scary things in here... can you find the Beetlejuice snake, the alien heads and seed pods, the LOST numbers, Cathy's Ghost from Wuthering Heights? Beth lists them all inside the chart, so after you read all that, this is a MUST HAVE! Stitched on Weeks 32ct Cocoa with a variety of hand-dyeds, it finishes approx 15-1/2 x 13-1/2. Stranger Things Demogorgon heads... shovels and hands from The X-Files, even the Death Star! It is really a fun and creative piece!
Say Coffee - Beth's next installment in her Coffee Elixir series... it features a red, green and 'various-shades-of-brown-coffee' color palette, and charming quaker-inspired motifs all with another fun quip concerning coffee! *If you can't remember my name, just say COFFEE and I'll turn around!* Presented as a chart, 36ct Hogbristle linen, various handyeds, it finishes approx 9 x 11 on 36ct.
Seahorse Soiree Biscornu - Beth is in love with the 'quirky, bizarre and crookedness' of biscornu cushions. Since she loves the ocean, she decided a water-party was in order... and invited seahorses, mermaids, whales, turtles, crabs and jelly fish who seem to float everywhere! Colorful and just for fun!
Heartstring Samplery's Beth Twist has sent three new charts.
Love Letter is dedicated to all the different people - US - that Beth meets at her stitch events. Having a lot of fun with her design, she talks about changing skin tones or cuff colors if you need to, just to match YOUR nation of stitch friends. Move around the rings, stitch a different number of hands... her pin cushion measures 4 x 4-1/2 as it is on 40ct.
Baby Got Backstitch - The third in Beth's series based on lyrics of songs from the 80's and 90's. You get a whole lesson about it inside the chart... makes the whole thing really fun to study! She talks about changing colors of fabric and thread... and wouldn't that repeating pattern that surrounds the middle be cute just as a small pin cushion?



New Releases

from Heartstring's Samplery's Beth Twist
Bee Still My Heart - This is the release of our project that Beth did for us at our Summer 2020 retreat! SO pretty, she made a sewing roll decorated with Quaker motifs and floral sampler motifs... all with a bee theme. Picture This Plus Legacy Linen, Weeks flosses, the colors are pretty - Havana, Lancaster Red, Oscar, Red Pear, Twilight and Whiskey. The case has a matching strawberry cushion by Erica Michaels - which was also part of our retreat. (See that matching design on our Erica Michaels page.) Beth's design is presented in chart format.
Festive Little Fobs Travel Edition - Beth has 12 other Festive Fob collections - they are the CUTEST things! Travel joins the collection with a dozen tiny designs suitable for small fobs, cushions, needlecase decorations, whatever! I can't see them all in here, but I see sunglasses, palm trees, an airplane and I think The Collesieum, so it will prove fun to use for vacation momentos!
New Offerings from Heartstring Samplery's Beth Twist!
Merry Birds - A set of 4 pin cushions, each features winter birds doing festive things - (not really SURE they do them in real life, but lets imagine, here!) Beth says she's used bright vintage-inspired colors.
Christmas Bells Sampler - A festive border of green and red bedecked with silver bells surround a portion of the lyrics from 'I Heard the Bells on Christmas Day.' Stitched on 36ct, this will finish a generous 11 inches square!
Until We Meet Again - Beth's basket of flowers surrounded by fluttering moths - she's inspired by her flower beds and their 'Visiting October Pollinators!' Stitch count is 148 square.
My Wish for You - A Small pin cushion - make it for someone you love! Weeks flosses...
New Patrioics

from Heartstring Samplery - Due Any Day!

A Plant of Rapid Growth - This sampler features the quote by George Washington of Liberty being the 'plant of rapid growth'), a vining floral bower over a white house, bald eagle motifs, an Americana shield and a pretty floral border. Measuring 211 x 157, it finishes approx 13 x 10 on 32ct Picture This Plus Heartland Linen and is worked with varied hand-dyed flosses. I love all that busy-ness in the background!
Liberty Pin Drum and Justice Needle Berry - this is a matching set of cushions both stitched on Heartland linen as well. Hand-dyed flosses from Gentle Art, Weeks and Classic, they make a charming set!
Oh The Deep Deep Love of Jesus is the 5th installment of Beth's series of Sunday Church Hymns. (See it below with the rest of the series.) On the plainer side of some of her designs, they seem to fit the music rooms at church don't they? We have an auto-ship on this series if they are something that you want to collect... stitching is always optional. ;)



Next Door, Be Mine Biscornu and My Necessity


Heartstring Samplery has new releases that are fun.
My Necessity continues her set of big, long band samplers inspired by old music. Lyrics from the old song, she's tucked them in between all sorts of neat stitched borders, so you don't even notice them at first!

Choose one hand-dyed color of thread (but you can change that if you want), and a fabric you like. On 36ct this will measure 7 x 13.
Next Door is something you HAVE to stitch for every friend that has moved away... or never lived close in the first place! The model is stitched on 32 Oaken using Weeks hand-dyed flosses. It measures 107 x 69 in stitch count... fun colors of Banana Pudding, Boysenberry, Charcoal, Clockwork, Grasshopper and Islamorada.



Ding Dong Merrily on High, Joyful Joyful


Heartstrings Samplery has a trio of new designs to help boost your Christmas Spirit!
Ding Dong Merrily on High can be finished two different ways - you can see that on the chart cover pic. The main piece measures about 5 x 9 on 32ct, while the smaller out-take ornaments measure just 40 x 40 stitches - so under 3 inches! Make small cushions, little block stand-ups, or the cute banner in the pic. I love how different the smaller bits of the bigger piece look when they are separated!
Joyful, Joyful - A Quaker-inspired piece, choose your favorite color of hand-dyed thread for this, and fabric that makes you happy. Go over one or two... the trio of smaller ornaments in the pic are finished into 3-inch hoops.



Farm Folk & Penny Cushions


Farm & Folk Penny Cushions features two designs with little round 'penny' designs on their edges.
'Here a Peep' measures about 5 x 6 on 32 - it has the CUTEST little farm animals all over it! Pigs and cows and sheep - it is super cute.

The 'Folk Bouquet' is smaller - about 4-1/2 inches square. It actually has the same flower on it as the Farm one... but Beth color-coded it NOT in sunflower colors!


Bee Garden and Honey Bee Pin Drum

Beth is a beekeeper! So... she MIGHT BE out in her bee garden!

A delightful little flower scene complete with lots of flowers to pollinate, this measures 192 x 74, and is stitched with hand-dyeds or DMC flosses.


Flanders Fields Biscornu and Honey Bee Pin Drum
One of the new charts by Heartstrings Samplery, Honey Bee Drum is a small medallion design that is finished into a little drum-shape stand-up. The top features the small hive design, that quilt star with the initial is on the bottom of the piece. Stitched with Weeks Bees Knees, Cattail, Deep Sea, Dirt Road, Grasshopper, Havana, Lancaster Red, Oscar and Red Pear. It finishes only about 3-1/2 inches in diameter and 4 inches high.
Flanders Fields Biscornu - A tribute to fallen soldiers of WW1 and the poem by John McCrae, this 102 x 102 square design is stitched over two on 36ct Weeks Confederate Gray Linen with Weeks hand-dyeds of Caper, Carolina Cecil, Concord, Loden, Onyx, and lots of Red rocks. The biscornu features slightly different designs on each side, and is presented as a chart



Sewn in Friendship


These are a collaboration between Heartstring Samplery and Plum Street Samplers. We'd seen Paulette's half... and now we have a pic of Beth's half - they meet amidst the motifs! (The Heartstring half is shown on the left, and the Plum Street half is on the right.)

They are sweet pincushion-sized things - probably about 4 x 6. *A Pin Keep or a Pin Give!* We love them!




Berry Bowl Sampler, a Collaboration between Heartstring Samplery and The Scarlett House
Wow! This is her collaboration with The Scarlett House! *Life is sweeter when shared with Friends.*

This is stitched on two different pieces of fabric, then joined together. SO... you can each stitch your half... and share it... so your stitching is on one side, your friend's is the other!

Stitch Count for the Entire Piece is 200 x 200... I think this will NOT get lost on the wall!


Consider the Lilies & His Eye Is On The Sparrow



Consider the Lilies


Oh my goodness... Beth has created her companion sampler to His Eye Is On The Sparrow! (Lilies is on the left... Sparrow is on the right.)

She is celebrating her first 'book' design - "complete with staples and 8-1/2 x 11 pages!" Consider the Lilies is HUGE - just like Sparrow. Packed full of charming motifs and tons of details... it'll be treat to have stitched in the shop! We don't have specific numbers yet or a color listing... but from the pic it looks stunning!



His Eye is on the Sparrow


Wow... is sampler is a KILLER! It is so large and eyecatching... you'll fall in LOVE with it! It's a Garden of Eden sampler -- with a bit of real estate in there -- but that's artistic license! *His eye is on the sparrow and I know he watches me*.

The stitch count of this is 435 x 363, so it finishes approx 31 x 26 on 28ct linen. It's stitched with Weeks and Gentle Art hand-dyeds and is just brimming with charming sampler motifs everywhere.

If you are an over-achiever... you could always take your favorite motifs out of here and make coordinating pin cushions out of them to display next to your finished sampler... or arrange some of them down the sides of a runner, or scatter misc things onto larger pillows... this piece is so charming, it can be the central decorating theme of a room!


A Stitcher's Bequest Project Labels - Well... kind of for fun - or for real? Stick one of these on the back of something special you've stitched... and it'll provide your wishes for all eternity!!!
A Dog's Last Will and Testament - This might make you cry! It's what a dog loved about his life and what he is wishing for the next little doggie that can come home in his place! It is REALLY SWEET and it needs to hang in EVERY Vet, rescue shelter and dog groomer's offices everywhere... not to mention a home that has ever loved a dog!



Kind Words


Beth Twist has a couple of new charts that have arrived in the shop. Kind Words is pin cushion-sized at 74 stitches - so about 4-1/2 inches on 32ct.

Simple and pretty... make it and toss it into that big bowl of mis-matched pin cushions you have... it offers great advice!





Tons of Fun


Beth Twist has been releasing all sorts of unique and creative designs these past several weeks.... float your mouse over the individual images to see their names.
Pins & Orts - A 4 x 4 pin-cushioned-sized piece... make it into a jar topper for Orts, a cushion, or maybe even applique the flat stitching to a little flannel 'stitching place mat!' Colors are pretty, and the florals look old-fashioned.
Thankful Life Pinkeep - This is a super-functional finishing treatment for a stitcher! Beth designed a little stitching sampler - reminding us to 'Count our Blessings Everyday'... and then she turned it into an over-the-arm-of-the-chair caddy and added a scissor sheath, a pocket for threads and a pin cushion on it! It can personalize your stitching chair! How cool is that! Presented as a chart, with finishing instructions... so neat!
T is for Turkey - This continues Beth's growing alphabet series. Not releasing in alphabetical order... they're all just cute, all measure 80 x 80 in stitch count, and they make you happy!



The Choose Your Own Motto Sampler


What a cool idea Beth had with this design... she's done a pretty floral border, and given YOU the option of filling in ANYTHING you want to say... instead of one of her verses. Of course, we can all do this with ANY pattern we have... but you never think of that. You're going to need some graph paper, and charted alphabets to use, but think of something fun and see what you can create! Stitch count of overall border is 205 x 171.

*On a side note... Rosewood Manor has a book of 101 charted SMALL alphabet fonts... which is just incredible. A wonderful reference book - regardless of whether or not you stitch her main sampler - it's the kind of thing that comes in really handy with a project like designing your own motto!


Where Liberty Dwells


Heartstrings Samplery has a fun little design that speaks Patriotic, but with pretty 'samplery' flowers and vines.

Measuring about 4 x 15, Beth has it finished into a 'Huswife' - a roll that features a lining of pockets to store sewing implements. It'd make a pretty basket band... and a neat long pin cushion as well to perch on a widow sill. Coded for Weeks hand-dyed flosses.


Heartstring Samplery has 6 new charted designs -- and some super-cute miniatures of her things in stickers!
Festive Little Fobs - Barnyard & Teatime Editions Beth reports that she is kind of *Fobbed-Out* these days, but did have two more subjects to add to her set of 12 OTHER Festive Little Fob charts. The tea cups are cute, but the Barnyard collection steals the show because of the goat on top of the barn and the tiny animal stack! 9 bitty designs in each chart, if you are an over-achiever, and you actually stitch all of these... they will bring your Festive Little Fob collection to 126 pieces! (If you were on our FF Auto-Ship, we did NOT continue it with these two, as they were not part of the promised original set.)
The Cat Sampler - *A house isn't a home without the ineffable contentment of a cat with it's tail folded about it's feet.* So there you have THAT! Measures 173 x 134 - approx 8 x 11 on 32ct. Coded for hand-dyed flosses, it's very cute and eyecatching!



Coffee Drinker's Confession



Coffee Drinker's Confession - The 5th Coffee Elixir design - this cutie measures 150 x 70 - so 10-ish x 4? on 32ct.





Presenting Festive Little Fobs!


Beth has now finished a set of 12 charts -- one every month -- doing a HUGE collection of really TINY cushions and fobs! Itty Bitty -- (less than 30 x 30) like 1 x 2... berries, fobs, cushions, disks, flats, whatever you want them to be! Chart 3's theme is Stitching. Chart 2 is Springtime. (#1 is Valentine, which has just arrived.)

When you are finished, you'll have something like 110 smalls! Give them to 110 friends, or nestle them all in an awesome wooded tray or woven basket. Make some two-sided, finish them flat for ornaments... ANYTHING!

Charted for Weeks flosses, do everything on the same fabric, or mix and match... you decide! Remember, they are small, so you can probably get away with 5 or 6 inch scraps, some even smaller! Get out your finishing velvets and trims... this is going to be an AWESOME set of designs!!!!
Joining from the beginning will include all the charts released so far at $10 each, subsequent releases will all be $10 each. This collection introduced in February of 2018... it finished early, in December of 2018.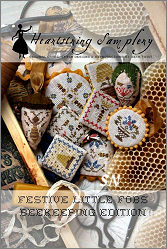 ---



C is for Coffee


Well that doesn't need more explanation! Heartstring Samplery's next Alphabet letter celebrates her favorite things other than family and stitching... COFFEE!

Stitched on Picture This Plus's hand-dyed 32ct Linen, presented as a chart.





New Designs

from Heartstring Samplery

Prarie Life Sampler This is Beth's special sampler available first to the shops that attend market this next weekend... so it came home with us! It features a family, their horses, wagon, homestead and a lavish garden of floral urn sampler motifs. The verse reads; *The real things haven't changed. It is still best to be honest and truthful, to be happy with simple pleasures and have courage when things go wrong.*12-1/2 inches on 32ct, hand-dyed flosses throughout.
Festive Little Fobs and Queen Bee Cushion Two more charts featuring smaller designs... the Stitching Edition of the fob chart is the first of a set! There are 10 different tiny (less than 30 x 30 in stitch count) designs in here, very cute finishing and trims are featured. Queen Bee Cushion measures about 3 inches round. The finishing uses two different Lady Dot trims -- stacked together!
Coffee Bean Sampler *My birthstone is a coffee bean!* Just a fun piece -- her 4th in her (*Magic Elixir Series*) -- do just the center section with the verse and your name... or add the other parts... it depends on how much coffee you've had to drink before you started stitching! Whole sampler finishes approx 6-1/2 x 10 on 18/36ct, and features all good coffee-colored hand-dhed threads.



M is for Mermaid


Heartstring Samplery has a new 'letter' design - it is her 6th in this ongoing collection. A simple circle that measures 80 x 80 in stitch count... this one features swimming mermaids amidst the billowing seaweed and little fish.

Pretty hand-dyed colors, this will finish only 2 x 2 if you go over one on 40ct... it'll be 5 x 5 if you choose 32ct. Cute ornament or pic cushion!





A Little Quaker


A Little Quaker measures 101 x 93 in stitched size -- or 6 x 6-ish on 32ct. Frame it, make a stand-up cube, or put it on something smaller -- like 28 over one and get a 3-1/2 inch pin cushion!

Hand-dyed flosses by Weeks, Gentle Art and Classic... just a pretty little thing!


All the Pretty Flowers


*... live forever in my heart.* This is a lovely pin cushion design that finishes approx 5-1/2 inches square on 32ct.

A few soft shades of hand-dyed flosses... it's simple, but very pretty!





The Apostle's Creed



This is the entire Apostle's Creed charted with some traditional sampler motifs and dividing bands tossed in for color! Beth has charted the original words from 1662. The stitch count is 131 x 425, so it'll finish approx 8 x 26-1/2 on 32ct.

Charted for DMC or hand-dyeds of Poblano Pepper, Calico Kitty, Gingerbread, Honeycomb, Brandy, Wood Smoke, Harvest Basket, Shaker White, Loden and Red Rocks, there are no special stitches on this, although you could add some if you felt like it!





Coffee Quaker


*First I drink the coffee, then I do the things...*
What a fun thing to hang on your kitchen wall near the coffee pot! Grab a smattering of different hand-dyed brown flosses... this finishes approx 9-1/2 x 11 on 36ct.

Great Quaker motifs, it just speaks for itself! Presented as a chart.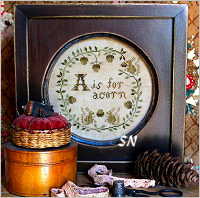 A... H


Beth's #2, 3 and 4 of the alphabet have released... each design measures 80 stitches in diameter. Presented as charts, coded for Gentle Art threads or DMC.
A is for Acorn -- there are little squirrels on there!
H is for Holly -- the wreath of holly is really kind of neat because it doesn't repeat easily to your eye.




Be Kind Always


*Everyone is fighting a battle you can't see.*
Well, I don't think it's the couple in the sampler, though!!! A charming courtship scene, everyone loves the pattern on her skirt!

Stitched over two on 32ct Gingerbread Linen, the colors in this are rich brick red with denims blues and browns. Finishes a little smaller than 11 x 11.


O is for Old Glory


By Heartstring Samplery... the pattern reads 'The Alphabet Series #1' -- so YES, we will be getting 25 more of these -- but not in ABC order, and NOT following a rigid-timed-released-schedule! YEAH! (who cares about schedules anyway?)

O is for Old Glory is stitched on 32ct with just seven shades of Gentle Art Sampler Threads. Let us know if you want a box!


Coffee Saves Lives


The first of the magic elixir series... this could be interesting! The 195 x 195 stitch count sampler finishes approx 12 inches square on 32ct, and features a rather unusual verse for an antiquey-looking sampler! *Coffee Saves Lives!* Cross Stitches, Eyelets and French Knots in here... it is charted for hand-dyed flosses with a conversion to DMC.

Just a 'sleeper design'... whip it up and hang it on your kitchen wall! It'd be really fun hanging in a coffee shop as well!!!


Handprint On My Heart
You'll always be with me, like a handprint on my heart Choose a favorite fabric and lovely shade of hand-dyed silk or cotton floss... this stitching measures 114 x 64 in total area... so approx 7 x 4 on 32ct.

Presented as the chart, Beth has personal thoughts in here, as well as info for finishing. One of several new designs we have, click the pic to see the rest!


Victoria's Garden
Heartstring Samplery's Beth Twist has reproduced an antique sampler that is full of pretty roses and mossy greens along with lavish flowers and floral urns. Choosing a 28ct linen, it'll finish approx 14 x 18... something smaller like 40 will give you a charming 9-1/2 x 12 piece! She thinks it's from England... no date on it... but that's for YOU to add to YOUR sampler!!!!

Offered as a chart, it is stitched with Pebble Beach, Roasted Chestnut, Old Brick, Country Redwood (2 skeins), Woodrose, Pomegranate, Caramel corn, Endive (4 of those!), Light Khaki, Goldenrod, Dove, Tin Roof, Dirt Road, Collards and Pink Sand. I don't know what's more fun... the color names or gathering them all together to imagine how a finished piece is going to be!





Permit Me Not to Stray, Rachael Holmes and Never Let You Go


Oh my goodness... I LOVE all three of these!
Permit Me Not to Stray is an Adam & Eve piece that has such a lavish Garden of Eden... I missed them in there at first! 197 x 197 Stitches... the colors are rich Pomegranate, Gold Leaf and Avocado... the border doesn't over-power that gorgeous garden...
Rachael Holmes... What a gorgeous little divided band sampler!!! There are straight stitches in the central band right below the row of the house and animals. It is full of detail, VERY pretty color, and actually quite striking because there are so many bands packed together in this 10 x 12 piece!
Never Let You Go -- I wish I was a little seed. I'd grow and grow and grow. I'd twine myself around your heart and never let you go. Isn't that the sweetest verse EVER????? This is a wonderful sampler -- it'd make a lovely wedding present, or housewarming gift... even a family tree piece. Alphabet at the top is elegant, row of flowers is pretty, the verse is so cool, and that whole bottom area is totally fun, especially with all the animals in the front yard!!



The Dog Sampler


With the exception of women there is nothing on earth so agreeable or necessary to the comfort of a man as the dog. How fun, you could remember some special family pets on this one... it measures 173 x 134 in stitch count and has satin stitched shingles.

Beth Tent Stitched the grass to save time. She and her husband have taken over her in-laws Labrador breeding company... and she's still found time to design and stitch a sampler about it!





On The Oregon Trail,


I love this one! In celebration of Oregon's 150th year as a state. Farewell our Illinois home... there are bison and covered wagons in here... chickens and quilts, and a STORY about a family making the historic Oregon Trail trek. There are 3 pages of story and sampler motif explanations in here -- it is really neat.

Stitch count is 140 x 342 and the chart is coded for DMC and Week's hand-dyed flosses. CHARMING once you read all the history and Beth's home-made story!





A Weaver's Shuttle, E Pluribus Unum and Summertime Coverlet


This is a trio of monochromatic pieces -- all on a light beige hand-dyed done with Gentle Art's Uniform Blue hand-dyed floss. Think about changing the thread color to a red or green or even a light golden brown -- look around your setting and see what would look good. No rules here about which color to use.
A Weaver's Shuttle -- My days are swifter than a weaver's shuttle. Stitch count is 153 x 126.
E Pluribus Unum -- A lovely patriotic piece, minus the red and white! 139 x 103.
Church Doll Sampler Roll


Heartstring Samplery's Beth Twist has a few new designs... I think this Sampler Roll Pocket is especially charming! With a stitch count of 123 x 210, this is a patchwork sampler that is finished into a rolled pocket to hold a precious fabric doll, and maybe a few miniature dishes!!! Inspired by antiques... Beth even supplies information abut the teeny dishes in here!

Stitched on Weeks linens, there are two different colorway options included in the chart, as well as basic doll instructions. (Olde Colonial's Miss Penny doll might fit in here...)


Sweet Land of Liberty


This is a sweet needle cushion... with a stitch count of 105 x 54. Worked on 32ct linen, Beth gives info on coffee-staining the fabric in case you want a more primitive look.

Pretty Sampler Thread colors of Country Redwood, Shaker White, Old Hickory, Uniform Blue and Endive. Offered as a chart.


Stitcher's Resolution Sampler


*1. When in doubt always buy more linen and thread.*
*2. Stitch all day and absolutely no housework allowed.*
*3. Always start a new project before the last one is finished, requiring a return to number 1.*
Well........ I'm not sure this is a recipe for a happy family life... but it sure would make a cute sign to hang on your stitching stash closet/room door! It'd be appropriate assembled as a sewing case too!

Presented as a chart, the stitch count is 171 x 139, so it'll finish about 11 x 9 on 32ct. Quite a fun subject matter, don't you agree???





It Must Have Been the Mistletoe...


Something to get started on for NEXT Christmas (if your stitching schedule is already full for this season!) ... this monochromatic piece features the words from Justin Wilde's Christmas song.

Stitched in only one color of a hand dyed thread, you can choose any fabric you like -- this model is worked with Gentle Art's Piney Woods floss -- and you can change that color, too, if you wish! Stitch count is 125 x 233.

*It must have been the mistletoe, the lazy fire, the falling snow, magic in the frosty air, that made me love you.* Offered as a chart.


Hibernation Day


Heartstring Samplery has a new sampler that's so endearing -- it talks about curling up at home during a snow storm -- A Hibernation Day! *I love the snap of winter air and snow flakes on my face. How snowdrifts make the world disappear without a trace. I'll take a day dressed in pajamas in a room without a view if I can spend the day curled up next to you. Lets have a hibernation day, me and you.* (But I want the frosty view too!)

Stitched on 28ct Natural Linen, the stitch count is 100 x 320, so it finishes approx 7 x 23, and is worked with 6 shades Gentle Art Cotton Sampler Threads. This would be stunning stitched in Simply Wools as well!! Offered as the chart, since it'll look good on TONS of different fabrics, instructions are included to distress it if you like that look! (Probably best to distress the fabric before, if you stitch with the wools.)