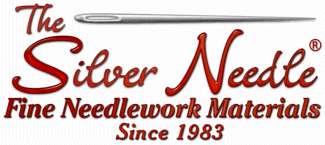 6068 S. Sheridan Rd. Tulsa, Ok. 74145 (918) 493-1136 (888) 543-7004
E-Mail
Poltergeist Pirates


Glendon Place's Cheryl has designed a friendly pirate ship that isn't as scary as the skulls on there would like! Stitched on Crossed Wing's hand-dyed BANG! linen... chart calls for 28, we also have 32... it finishes a huge 18 x 21 on the 28ct.Charted ofr DMC floss, Cheryl has featured 6 colors of Rainbow Gallery's Silk Lame' braid in this and several Just Another Company clay button embellishments.The Lame is a silk-rayon blend with touches of opalescent metallic in it - gives a shimmer!

So, the ghosts are glow-in-the-dark, and so is the skull on the flag. The lightest blue in the waves is stitched with the Lame in frosty blue. I like the shark in the water, the dragon on the front of the ship, the ghosts clinging to the masts, but the little skeleton crow steals the show! He's got his captains hat on, and he's on guard! Offered as the chart, we have the Lame' threads, the fabric (24 x 27 cut) and button set all gathered together as a set - because you really need all the right things to capture the charm of this cute piece. Choose from 28 or 32ct.





Day of the Dead & Hungarian Folk Art #4


Cheryl Granda has some fun new designs that are bright and colorful...
Dia De Los Muertos celebrates the Mexican holiday which is a celebration of life and respect for deceased family members. (I didn't really get it till I saw Coco - the Disney movie!) Something fun, if it's special to you, this measures a whopping 12 x 18, so get a fat quarter of the chalkboard gray color it is worked on. Coded for silks or DMC, there are lots of Mill Hill beads on here as well.
Hungarian Folk Art #4 - a lovely basket of colorful eggs amidst such a flurry of greenery and the wavy basket. Just pretty, festive and very eye-catching! Coded for DMC, Cheryl has chosen an opalescent white background, and has embellished the stitching with Mill Hill beads. This measures approx 12 x 12 on 14/28ct.
Medley of Carols


Wow... this is gorgeous! Glendon Place has a new piece that should put you in the musical mood at Christmastime! Celebrating vintage Christmas Carols, there are 12 blocks in this 291 x 220 design -- you can stitch them individually or all together. Each is stitched in white and features BITS of metallics, beads or red lettering -- not much -- just accents.

The fabric is the COOLEST! By Picture This Plus, it is a deep green hand-dyed 28ct Cashel Linen that has opalescent running through it. It is just yummy, sparkly, and a DEFINITE for this design. NOTHING else will do, so we are offering the fabric along with this chart. The cut is 1/2 yd, so it includes enough fabric to stitch at least three individual ornaments in addition to the main piece. Plenty, though, if you want to stitch only some of them.

Celebrated Carols include: Silent Night, Angels We Have Heard On High, Let There Be Peace On Earth, O Christmas Tree, We Wish You A Merry Christmas, Frosty The Snowman, White Christmas, Silver Bells, First Noel, Jolly Old St Nicholas, Deck The Halls, and Rudolph the Red-Nosed Reindeer.


Eggs Ala Round


Wow... you won't want to hide these eggs before Easter! Glendon Place has outdone herself with this colorful medley of beautifully decorated eggs! Eggs Ala Round features 16 different eggs -- all coded for 45 different DMC or Anchor flosses, 9 metallic #4 braids, and 12 colors of Mill Hill beads and even Gentle Art's Spring Grass hand-dyed floss for the greenery.

Finishing approx 13 inches round on 28ct linen, I think what makes this piece so incredible is that almost all the eggs are designed on a diagonal, which is really hard to do! So many different stripes and spots, each little egg is charming just by itself! Wouldn't they be pretty stitched (even on several different colors of linens) and finished into egg shapes, and all tucked into a basket of Easter Grass? The larger eggs all measure approx 2-1/2 x 3-1/2 while the smaller ones run a bit over 1 x 1-1/2 inches. Just pretty, pretty, pretty! Offered as a leaflet.


Murky Manor


This is quite the busy 'party-house'... all decked out for Halloween! By Glendon Place, Murky Manor finishes a whopping 12 x 13 inches, and is stitched in 47 shades of DMC with touches of metallics and beads. The colors are bright and bold, and the general activity of the house is charming!

See the skulls on the fence posts? You can either stitch them, or use Just Another Button company's skull buttons!!! Very festive!


Monster March


What a fun parade of Halloween characters! Offered in two different color-ways, you can stitch the colorful version, or do the silhouettes in just black and purple. Kind of neat that the same design can look so different, with simple a simple color change!

Finishing approx 6-1/2 x 21 on 28ct, wouldn't this be a cool pillow to stash on your couch at Halloween? You could even change the words, and label it for your family! Like 'Welcome to The Legeners' or put names below specific people, especially if they match personalities!


Gentleman Frost and Madam Snow



A charming couple of Snow Mr & Mrs... each is offered as a chart and finishes approx 6 x 11 on 28ct. Actually, little band samplers packaged inside a snowman personality, her cape and his scarf are particularly charming.





Five Simple Rules for Happiness


*Free your heart of hatred* *Free your mind of worries* *Live Simply* *Give More* *Expect Less*

Nothing else to add to this! Offered as a chart, this finishes approx 16 x 16 on 32ct, but can be stitched on anything you want!!! Worked in Weeks Dye Works flosses... each of the rules is stitched in a different color of Wildflowers thread... but think about following rule #3 and simplifying that a bit!

The gals in the shop LOVE the Weeks colors used in this piece, and we thought the Autumn-inspired colors carry the rules perfectly! Simple, very classy, the oak leaves and acorns in the border are graceful and flowing.


Pretty Pumpkins



Have you ever seen a more festive collection of pumpkins????? New from Glendon Place is this such an incredible design full of 52 colors of 'good ol DMC' floss! Swirls and paisleys, checkerboard stems and shaded leaves, the color and details are just wonderful!

Stitched on a light-ish green -- you can use hand-dyeds or some of the Zweigart green linens -- this finishes approx 10 x 15 on a 32ct. Just gorgeous, you could get ambitious and stitch the entire thing, or simply the right or left pumpkin by itself. Offered as the chart, it's a definite -- at least for your stash, if not your walls!