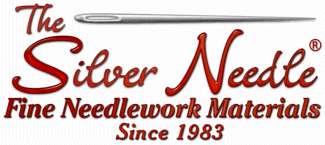 6068 S. Sheridan Rd. Tulsa, Ok. 74145 (918) 493-1136 (888) 543-7004
E-Mail
Stitches by Ethel is a new designer for our shop - she's just released her first 9 charts - and we've featured them here.
All are offered as single charts, with a nice stitched model pic (not a digitized image) on the cover and a clear, colored chart to work from. We like these!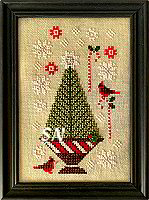 Autumn and Christmas Designs Are Here


Ethel K has two cute new designs that both finish about 3 x 5 on 18/36ct fabric.
Vintage Bird has deep browns and soft greens to accent that big orange pumpkin. She's coded this for DMC and handyeds.
Wintergreen has that same pot - but the lush evergreen with visiting cardinals. Very pretty, balanced and organized, I think there are a few stitches of gold metallic in the flakes and a bead in the tree topper. Hard to see but she's added a Just Another Button Company holly leaf button on the tree. We thought petite seed beads on those skinny candy canes would be fun too!



Meow-o-ween


Stitches by Ethel has a cute new kitty design to get you into a Halloween mood. Only 60 x 90 in stitch count, her little black cat is dressed for her Halloween party hat, with balloons and star confetti in the sky.

Coded for DMC it'll finish about 4 x 5 on 32ct. Might be fun to stitch the moon, confetti and jack's eyes in metallics. Presented as a small chart.





A Day For Freedom and Garden Friends


Summer is on the way, and so are Ethyl's pair of friends - Sewmore the Crow and Emerie Stitchworth the Mouse!
A Day For Freedom - Little Emerie is waving his sparkler and Sewmore is waving his flag. Finishing 4 x 6 on 28ct, this one features 4 JABCO button embellishments, available separately.
Garden Friends - Also finishing approx 4 x 6 Emerie is picking the flowers that Sewmore just planted! One ladybug button featured - offered separately.
A Hat for Winter, Snowballs and Icicles, Evergreens & Peppermint
A Hat for Winter - A cute new design - Mr Bunny is bringing his snowman buddy a hat to keep the sun off of him. Coded for DMC and hand-dyeds, it's garnished with a couple of snowflake buttons (sold separately). The bunny would be neat stitched in Simply Wool, and you could add some opalescent to the snowman... it measures 85 x 55, so finishes about 3-1/2 x 5 on 32ct.
Snowballs and Icicles is the third in this cute set of friendship designs between two unlikely souls. The sweet little mouse always finds something happy from the season to offer to his bigger - and very attentive friend! Finishing just 3 x 5 on 32ct... each of these designs in this trio are stitched with regular DMC floss, but against a pretty hand-dyed fabric to accent it's color scheme. Snowballs is new, Evergreen and Peppermints released a few weeks ago, and Candy Corn Pumpkin was brand new in September at Needlework Galleria. Just very sweet designs to help you decorate for Halloween, Christmas and now the dreary, frigid winter! Presented as a small chart.
Evergreens & Peppermint - Stitches by Ethel has a cute new design - it companions her Candy Corn & Pumpkins one. That little bitty mouse is offering his big friend a holiday peppermint! Finishing about 3 x 5, it's garnished with small JABCO peppermint buttons that are offered separately. Coded for DMC, presented in small chart format.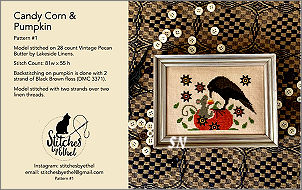 Day at Sea Shore, Sewmore the Crow and Candy Corn and Pumpkin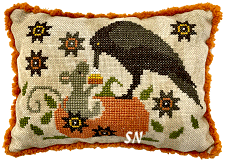 Day at the Sea Shore features a little sand crab offering HIS crow friend a starfish snack! Cute as can be, this one measures 95 x 60 - so 3 x 4 on 18/36, and can be done on a sandy, gray or bluish-colored fabric.
Sew More The Crow - Stitched on Weeks Tin Roof hand-dyed linen - you can make your tomato green like this one, or change it to red - just adjust your little button colors a bit. Super cute, I think this little guy could haunt your Autumn stitching. Measuring just 60 x 48, he's 2-1/2 3x 3 on 36ct!
Candy Corn and Pumpkin features a little mouse offering his crow friend a Halloween treat directly from his pumpkin snack! Measuring just 81 x 55, this finishes approx 4-1/2 x 3 on 18/36ct, and is coded for regular DMC floss.
Heartfelt Stitches - A valentine mouse - she's decorating a May Pole spool with tiny berries. Just a bitty thing - just 3 x 3 on 18/36ct.
Three Jacks and Cat - This one would love a little metallic glitz! Get that moon done in gold, the web in something black and sparkly. Our Petite Treasure Braid works well - and we have it in a million colors! Do Mr Cat in Simply Wool - so he's furry. Three Jacks measures 86 x 60 - so 4 x 3 on 18/36ct.
Mr Bean's Garden - Here's a bunny in his tulip garden. He might be fun to stitch with one of two flowers and make into a plant poke or a pin cushion to tuck into an Springtime basket of smalls.
Make a Joyful Noise - Quilt-inspired, the songbirds are perched atop the evergreens and that pretty red harp.Measures just 95 x 60 - so 6-ish x 3 on 18/36ct.
Holly Bird Ornament - A soft and gentle little peace dove, this uses only 5 shades of floss and measures just 55 x 55. Would make a lovely cushion, but small enough (3 x 3) for a tree ornament too.
Christmas Wishes - A patient little caramel kitty is holding up his little friend who just wishes to touch the stars! Another one that would be fun with special threads - Simply Wool for the cat, and even the mouse, metallic for the star and you could attach real clay candy canes as embellishments instead of stitching them - or add little round peppermint candies! Wishes measures 55 x 85 - so 3 x almost 5 on 18/36ct.