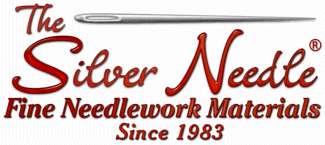 6068 S. Sheridan Rd. Tulsa, Ok. 74145 (918) 493-1136 (888) 543-7004
E-Mail
Welcome to The Silver Needle!
We've been a fun destination shop since March of 1984. Opening with just 600 sq feet... we are now 5,000 of everything your Needlework-Loving Heart could want.

We are just 2-1/2 miles off Interstate 44 - the old 'Route 66' running through Tulsa. It'll take you approx 5 minutes once you exit the expressway to get to our front door.

The shop is full of stitched models and the charts, fabrics and threads to go with them






Lots of Mill Hill to peruse... beads and kits and MODELS!






A few pics of our back room - everyone vanished when I pulled out my phone to take pics - but we handle all the website orders back here in our nest!






Presenting our She Shed! Our classroom adjoins our backroom, and holds 40-ish ladies for weekend retreats! We have several upcoming events scheduled in our little room - visit our Events Page for the current line-up!








We're home to Secret Needle Night every month. (Visit our SNN page for details.) Our own designs, they are small specialty thread kits. I concentrate on holidays and seasonal... I took a pic of part of our wall of past designs! We've kept every model since our first kit 25 years ago... they decorate the walls in our backroom!


We offer an e-mail newsletter every month or two. Subscribe on our Newsletter Page... and we update the website almost daily!

Meanwhile, the shop gals and I are here everyday answering your e-mails and phone calls.

It's absolutely the most fun when you walk through our front door and announce that you here here from "Main Street USA," and you've been following us on the web for years. You're traveling through on your way somewhere else, and your car just knew to stop. Or you came to Tulsa JUST FOR US! Sometimes we recognize your name, sometimes not, but we're SO glad you came our way!